Literally, the name of DeBordieu, a golf community about 50 minutes south of Myrtle Beach International Airport, translates as "near to God," the components being "dieu," meaning God, and "bord," meaning "edge." Coming up the 18th fairway on the community's Pete Dye golf course or standing at the sea's edge of DeBordieu's nominally private beach as the sun is setting, it is perfectly normal to feel an extra tug of spirituality.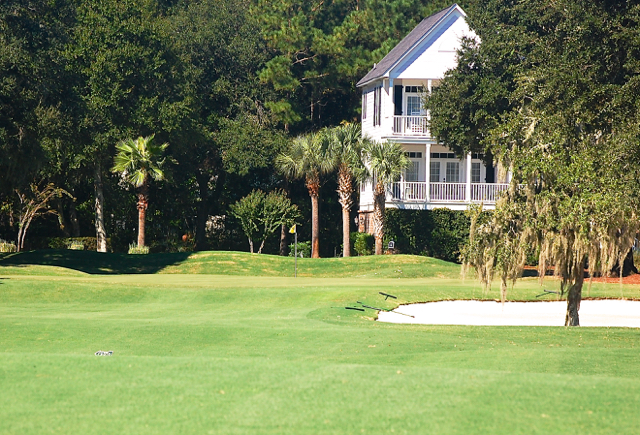 The opening green at DeBordieu's Pete & P.B. Dye course
In terms of golf communities, DeBordieu Colony, located just four miles from the old town of Georgetown, SC, has it all, unless you absolutely must have an elaborate fitness center inside the gates. (A large, fully equipped fitness center is less than 20 minutes away and includes indoor track and lap pool, steam rooms, and aerobics studio.) Of course, a morning run or brisk walk on the beach may be all the exercise many of us want. Some mornings, you may have the beach at DeBordieu virtually to yourself although, technically speaking, the three-mile stretch of sand is accessible to the public because all beaches in South Carolina are open to the public. But since DeBordieu is gated and guarded 24x7, the only way for a non-resident of the community to get to the beach is by boat, or to be dropped by helicopter (or the simplest way, to be invited by a DeBordieu homeowner). Since the stretch of sand from North Myrtle Beach to Georgetown, about 50 miles, is beautiful and almost entirely accessible by less exotic means –- car, bicycle, golf cart where permitted –- visits from non-residents to DeBordieu's beach are infrequent and "no big deal" even when they do arrive by boat, according to DeBordieu real estate sales executive Troi Kaz.
When I first bought a second home just north of DeBordieu nearly 15 years ago, some people I met in area golf communities referred DeBordieu residents as somewhat snobbish. My experience on the golf course at DeBordieu and in meeting a few of its residents has been the opposite; the folks I played golf with over the years, the pro shop employees, and the guys at the bag drop could not have been nicer or more outgoing.
"Debby Doo people meet on the golf course," says Ms. Kaz, "and it doesn't matter where they are from or what they did in their careers. No one cares about that." Everyone in the area, including DeBordieu residents, refer to the community as Debby Doo because it is easier to pronounce than the French name; and the stretch of land on which the golf community rests was formerly known as Debidue.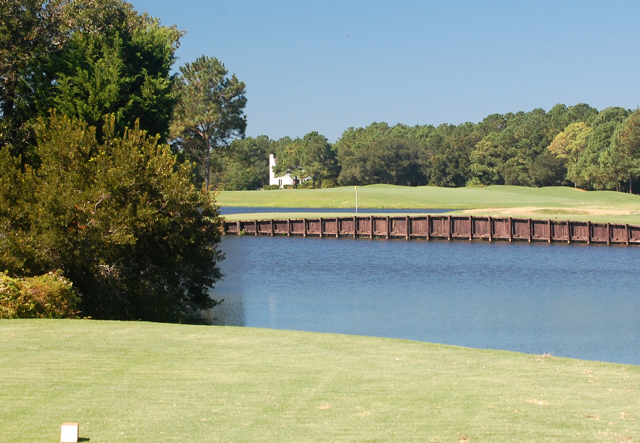 The "fairways" on some of the par 3s at DeBordieu are all wet.
Indeed, some of those who might have looked at Debby Doo as "uppity" have since moved inside the gates themselves in the aftermath of the recession, when prices in the community dropped significantly. A few $800,000 houses quickly became $500,000 houses when the economy tanked, and some who had thought Debby Doo was beyond their reach quickly jumped on the bargains. Since the end of the recession, however, prices have begun a steady march back. Last week, I scanned DeBordieu's single-family homes for sale and only three were priced under $500,000; in total, 28 homes in the golf community were listed at less than $1 million. (Realtor Kaz took me past one that sold recently for $450,000, a cute Craftsman-style home about a four-minute cart ride from the ocean.)
In the 30+ years since I made my first visit to DeBordieu, things have matured nicely. During our first drive through the community in the '80s, when my wife and I both remarked at how "open" the homes were to the elements, it seemed as if the dense oak and scrub pine forests that characterize this part of the coast had been aggressively cleared to make way for home construction -– or, perhaps, had never been there in the first place. But since then, DeBordieu has grown, literally, and today very few homes are exposed except, as it should be, for those directly on DeBordieu's clean and attractive beach. Homes on the ocean sold for as much as $5 million pre-recession, but today the most expensive home on the beach, with 5 bedrooms and 5 1/2 baths, is listed at "just" $3.3 million. (Troi Kaz would be pleased to give any interested party a tour of this magnificent house.)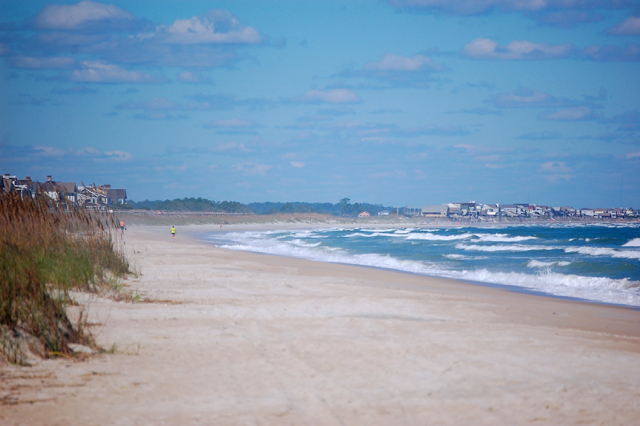 The beach inside the gates of DeBordieu is three miles long, clean and essentially private -- unless a member of the public gets dropped there by boat. When the tide is out, one could walk to Pawleys Island on the sand.
Of course, those with slightly more modest budgets can still live a beach experience if they purchase a home or villa an easy golf cart or bicycle ride from the ocean. Five villas, all with 3 bedrooms and all but one with 3 baths, are currently listed at under $500,000; the exception, a 2-bathroom unit, shares a 500 foot "private" beach with owners of surrounding units, as well as a private pool and tennis courts. For those who might be thinking about purchasing a home they can rent out much of the year, I noted that a 3 bedroom, 3 bath unit with ocean views and a golf membership was available for a week's rental at $2,400 next May. Count on up to 25% or so in management fees to handle the rentals (a reasonable rate, in our experience).
There is a lot to like about the Pete & P.B. Dye golf course at DeBordieu, unless you are a big fan of Dye trickery (e.g. fairway moguls and greens hidden behind mounds). DeBordieu is more straightforward than that, although many of the typical Dye touches, like railroad ties around some bunkers and wooden bulkheads separating lakes from greens are in strong evidence. But overall, DeBordieu is generous with the size of its fairways, and its greens are largely approachable, except for a few par 3s that are almost entirely water tee to green. Indeed, as one comes down the home stretch, the dominant feeling about the round is likely to be, "Well, this has been fun." That would be a big mistake before stepping to the 18th tee that juts out into a lake. The hole is a gargantuan par 5 made even longer by prevailing ocean winds that are almost always in the player's face. Water runs all along the right side, and its presence and the wind give pause as to how far down the fairway to aim. Try to cut off too much and you are in the water; play too conservatively to avoid the water, and the long par 5 can turn quickly into a par 6. At long last, when you approach the hole, a messy thatch of bunkers guard the front left of the green and the lake intrudes right up to greenside on the right. With justification, many Myrtle Beach veterans believe it is the toughest finishing hole of the 100 or so on the Grand Strand. I certainly do.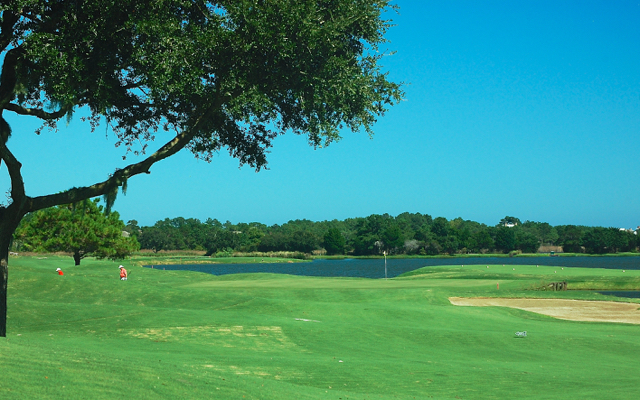 The Dyes channeled their inner Nicklaus with a tree that can easily come into play from the fairway at #17. Beyond the green is the tee box for the finishing hole, a long and difficult par 5.
DeBordieu is a golf and beach community where you can kick back and not worry about much. Located behind a gate guarded around the clock and in one of the lowest density areas between Wilmington and Georgetown, the community presents a "quiet" lifestyle in all the best senses of the world. As I returned to my car after a taking a few photos on Debby Doo's long and immaculate beach, a small dog eyed me from the open window by the driver's seat of a car parked next to mine. He didn't make a sound as I approached. Nothing disturbs the peace at DeBordieu.
The Essentials at DeBordieu
Location: Two miles south of Pawleys Island, SC, three miles north of Georgetown, 45 minutes to Myrtle Beach International Airport, 60 minutes to Charleston...Georgetown and its historic Front Street feature excellent restaurants, seafood markets, shops and art galleries. (Editor side note: The key lime pie at Georgetown's Kudzu Bakery is to die for.)
Stand-out features: A gorgeous beach inside the gates; you don't see that often...far from the neon and honky tonk of Myrtle Beach...if you can't relax here, you can't relax anywhere.
Be aware of: No modern fitness facility, but big one within 20 minutes...property owners assessed every few years for beach maintenance, which includes dredging...on a quiet day, you can hear and smell the ocean from the Dye Course, but you never see it.
Golf: Pete & P.B. Dye, 7,284 yards from back tees (Rating 75.0, Slope 141), 6,338 from middle (70.9/131), 5,131 from ladies tees (65.1/117). (Also "hybrid tees," mix of holes from different tee boxes.)
Real Estate: Villas from $465,000...single-family homes from $499,000...home sites from $109,900. (Some homes are available for ¼ share prices.)...architecture is mostly indigenous Low Country.
More info: Contact me.