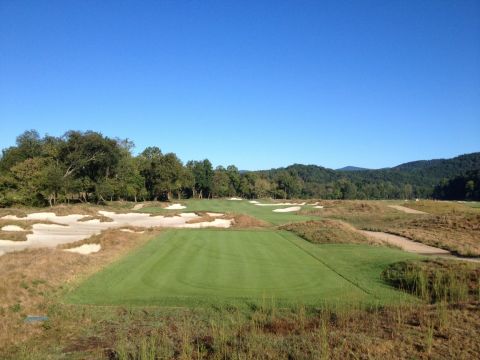 Here is Jim's review of Mountain Park:
Mountain Park is lots of fun with some very interesting holes. In particular, holes #s 6 and 15 are unlike anything I have seen before. The front 9 winds through a valley with the Saluda River a factor on most holes. The back 9 is as close to links golf as I have seen without actually being built on sand. There is more than 12 acres of bunkers on the total course. The grass on the back nine, which has been in place for two years, may be the best turf I've ever played on.
The course has several very good par 4s, one great par 3 and one great par 5. The rest of the holes are very playable. I'm about a 4, and if I bring my game and make a few putts, I feel I can shoot in the low 70's, or below. The day I played I had 77 and did not drive the ball particularly well. The greens are in A shape, quick and true. Quite large but not hard to read, and there are places flagsticks can be tucked that can be challenging.
As a walker, it's the most walkable of the Cliffs golf courses, besides Valley. Perhaps most important, they have turned the stinky, slimy North Saluda River into a potential trout stream. The environmentalists who caused some of the delay must be pleased. As a fly-fisherman, I'm delighted and am just as eager to drop a fly or nymph in the stream and pull out a brookie.
The course plays to a par of 72, but I think par should 71. Hole 9 is a 490-yard par 5, which I think should be shortened by perhaps 25 yards and play as a par 4. But, I'm all about fun, so am happy to be given the extra stroke.
In sum, Mountain Park is everything Mr. Player said it would be: Different; Player friendly; Beautiful; and tons of fun. It is a little bit of a break from the rigor of courses such as Walnut Cove or Keowee Falls. It is totally different from anything in the Cliffs package, and a sweet addition.