Like a round of golf, a career in the golf business can be equal measures of exhilaration and frustration. At the end of a golf round, you repair to the 19th hole, perhaps to lick your wounds but certainly to consider missed chances and lessons learned. The golf business also can drive one to drink, and the lessons learned are also about what not to do the next time.
Participating in the Myrtle Beach golf explosion
        Lyn Young, the owner of Pebble Creek Country Club in Taylors, SC, just 15 minutes from downtown Greenville, grew up in the golf business and has lived through bigger ups and downs than most golf club operators encounter. He is the younger brother, by 20 years, of Larry Young, one of the lions of the Myrtle Beach golf explosion of the last third of the 20th Century, and Lyn Young was both a witness and participant. The elder Young's development of such venerable Myrtle Beach layouts as Heritage Plantation, The Legends, Marsh Harbour and Oyster Bay helped put Myrtle Beach on the golf map and helped Larry Young establish himself as one of the most successful golf entrepreneurs in the country.
        And then, almost faster than you can say Jean van de Velde, it was all gone. The story is complicated, but the quick version is that the Youngs sold their golf club holdings to the Golf Trust, a real estate investment trust (REIT) in which Larry Young was the majority shareowner; that he and other golf club owners who leased their courses back from the REIT wound
In Columbia, SC, Young breathed life into one club and built another from scratch. Then both were gone.
up eventually suing the trust; that Young bought back his courses from the Golf Trust with depreciated shares of stock that caused him to take on extra debt; and that the recession and fierce competition in Myrtle Beach killed any chance at servicing that debt. Lyn Young had begun to make a name for himself in the 1990s by purchasing and nurturing to health Wildwood Country Club in Columbia, SC, and buying and building from scratch Woodcreek Farms Golf Club, which featured Tom Fazio's first golf course in the Columbia area. Cleverly, Young merged the two golf clubs, giving him an instant membership roll for the new club, and he was generating positive revenues when his properties too were caught up in the Golf Trust debacle. He lost them both.
        Young took to heart the lessons of overreaching and set about focusing on the quality of his next golf club investments, rather than the quantity.
        "I have been pretty conservative these last 10 years," he says, adding that he once had a goal to own as many golf courses as he could. But now he believes, "Bigger is not better. I would love to own just one great golf course."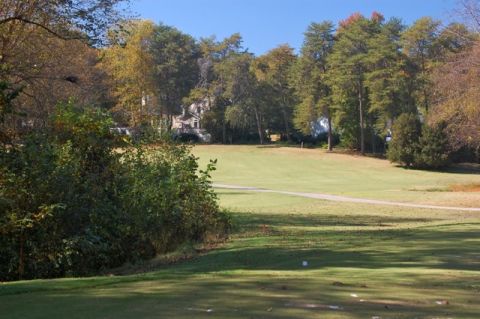 At #1, the round on the private Linkside course at Pebble Creek begins with a hard dogleg left, one of many holes that bend one way or the other.
Keys to Success: Location, bargain and sweat
        For the time being, Young owns two good golf courses, both holding their own in the competitive Greenville market. In 2004, after the Golf Trust problems and the loss of his Columbia courses, Young purchased Cleghorn Golf Club, an hour southeast of Asheville, NC, at a time that Asheville was near the top of most "Best Places to Retire" lists. In 18 months, he fixed up the club and its George Cobb designed golf course, which originally opened in 1966, and sold it in 2005 to a wealthy businessman who was looking to manage his first golf course within an easy drive of Asheville. With a nice profit from the sale of Cleghorn and an eye on Greenville as a good place for his family, Young bought Pebble Creek in late 2005 from the local bank that held the mortgage. It gave him an opportunity to exert the philosophy he had developed from his earlier golf operations.
        "You make sure it [the golf club] is within 10 miles of a sizable population, you buy the club for half of what it is worth," he says, "and then pour your sweat equity into it."
        Once he owns a club, Young focuses relentlessly on providing value for his members. Part of his "conservative" approach to golf club management is not to try to wring every last dollar from all aspects of the operation. On the contrary, he has outsourced food and beverage operations at Pebble Creek to a local restaurateur who pays him rent only; and to keep dues as low as possible, he doesn't provide membership accounts for charging merchandise, cart fees or other incidentals. Members use their own personal credit cards or cash.
        "They don't mind," says Young, "because they know that the money I save from not having someone do receivables and the extra accounting allows me to keep their dues low."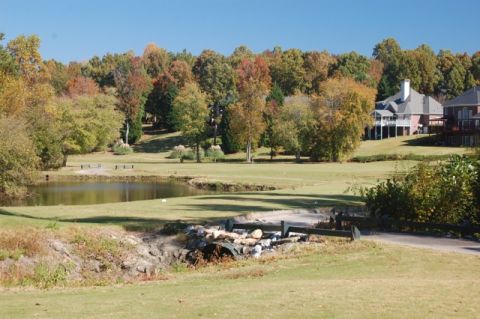 The par 4 13th on the Linkside course bends around a pond rather than around trees, as most of the other dogleg holes do.
Pebble Creek's case of the bends
        Pebble Creek's two golf courses –- the members-only Linkside course and the publicly accessible Creekside –- are an unusual tandem; each provides something to the other. The public course, naturally, is a way to introduce potential private club members to the facility. Young says that after someone plays a few rounds on the public course, he is happy to grant access to a round on the private course, especially if there is a good possibility of a new membership. And the private club members have full, no-green-fee access to the public course, which is maintained to the same high standards of the private layout.
        "We spend about the same amount of money on both courses," Young says. The two courses share the same score card, subtle advertising to those who play the public layout of what awaits them as members.
        I played the private Linkside with Young and found many of the holes visually interesting and challenging.  The layout, like the public course, threads its way through neighborhoods of generally mature homes, nicely tended and encroaching on the fairways only occasionally (see below).  Prices begin in the $100s and range up into the high six figures.  Designer Tom Jackson, who happens to live down the street from the course, had shot-shapers in mind when he laid out the course, but he may have overdone the number of dogleg holes by an extra few (the majority of the holes bend one way or the other). A sign at the #9 tee box warns players not to aim over a house that is in shortcut territory on the right. As we drove by, I noticed that the family had constructed a big net to protect the backyard and its children's jungle gym from golf ball bombardment.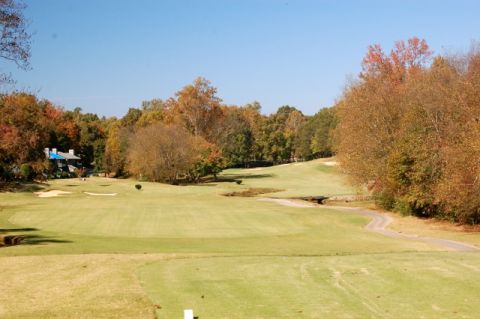 The par 5 finishing hole at Linkside is long (575 yards from the tips) with a risk reward driving decision -- either play safe to the left of the creek, or hit one down the right, setting up an easier layup.
        There is probably not much Young can do about the extra few doglegs, but it is clear that this golf course owner directs much of his cash flow to the upkeep of the grounds. The greens were in outstanding shape and the fairways, while obviously heading toward winter dormancy, provided mostly excellent lies. Young doesn't plan any major changes to the course; whatever tinkering he commissions, he says, will be to make the public course "more playable" and the private course "more challenging."
        I didn't notice it because I fortunately avoided the bunkers, but Young told me that a few of his members complain about the sand being inconsistent from one bunker to the next.
        "Look, these are hazards," he says. "Nothing in the rule book says they have to be consistent. Play Pine Valley or most of the courses in Scotland, and the sand in their bunkers is not consistent." He says he will work on the bunkers in due time.
No initiation fees + discount dues = great value
        Young's success at Pebble Creek, where he has added 60 new members this year and lost fewer than 10, is largely a result of his focus on providing members with what he promotes as "great value." He does not charge an initiation fee currently to join the two clubs, although during his seven years tenure, he has charged between $500 and $2,000. All he is asking these days is for a pre-payment of three months of dues, which are just $200 per month for full-golf privileges and use of the other facilities (there is a pool as well). Members who play a lot of golf can pre-pay for a year's worth of cart fees at $1,500 for the first seat and just $400 for the second. For an active golf couple, the break-even point is about 1½ rounds per week.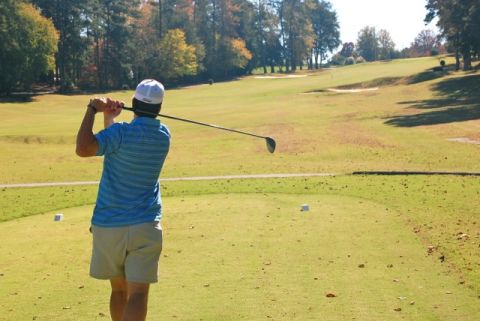 It takes a lot of follow-through to run a golf club, as Lyn Young (here on the par 5 2nd hole) will attest, especially one with two 18-hole golf courses, one private and one public. 
        Young rewards what he refers to as his "loyal members" with a 25% discount on annual dues if they pre-pay in January for the entire year. The practice is both good customer relations and good business; 100 of the 350 golfing members take advantage of it, and even if it does cost the club $60,000 in lost revenue, Young says he makes it up in goodwill and the security of knowing he has some pad in his membership rolls for the year.
        "If they pay for the year in January, we have them for the whole year," he says. "And the payments at the beginning of the winter season can tide the club over through our slowest months."
The owner serves an á la carte menu
        Between the pre-payment of dues and pre-payment of the annual cart fee, Pebble Creek members can walk up and play as many times as they want during the year, without ever having to dip into their pockets. That appeals to both the wealthier members and those who require the discount to remain as members.
        "We are a 'mid-range' club," Young says, "and we appeal to a wide range of people. We have members who are wealthy and could belong elsewhere, and we have some members who can barely afford to be here.
        "We are not the Thornblade Club [Greer, SC] or The Cliffs, where it is easier for them to focus on their memberships by providing everything for them, but at a much higher price. We are more á la carte in order to keep our dues low."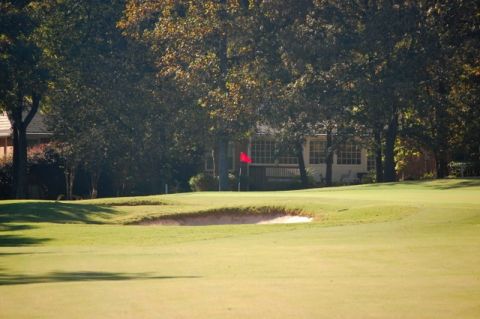 The front nine finishes with a tricky approach over a front bunker to a smallish green.  The sharp dogleg-right hole starts with a scary warning to steer clear of launching tee shots over a house at the corner of the dogleg (see inset photo below).
        That á la carte approach includes a charge, even to members, for range balls. "Some members warm up before a round, and some don't," says Young, who doesn't think the latter should subsidize the former. He says his members agree.
        Pebble Creek boasts 350 golfing members, but with two courses available for play, Young would like to grow that number to 450. He admits he doesn't do much traditional marketing, relying on his members as his prime marketing tool.
        "If our members are happy, then they bring their buddies," he says. "It works."
        In a way, Young's strongest ally and biggest marketing asset is the group of members collectively known as the Golden Boys, more than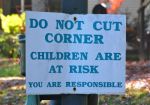 100 men aged 55 and older who are the most frequent users of the club. They play three or more organized rounds a week at Pebble Creek and arrange for inter-club matches with other senior groups in the area, giving them an opportunity to play some of the best courses in Greenville.
        "It is a source of great camaraderie for them," says Young, "and they and their wives get together for non-golf activities, like dine-arounds and parties. And they are totally self-sufficient and handle all their on-course rounds and tournaments themselves."
        The cost to join the Golden Boys group is just $50 annually, and if you are moving to the Greenville area and want a quick ticket to friendships and playing partners, the combined cost to join the Golden Boys group and the (currently) free membership at Pebble Creek certainly meets the definition of "great value" in Greenville-area golf.
*
Greenville offers much more than golf
        The much underrated Greenville can boast of a solid economic base thanks to the huge BMW plant in nearby Spartanburg that has spawned many other businesses in the area, and an air of sophistication characterized by fine restaurants; a major concert venue (Pease Center); Furman University, with one of the prettiest campuses in America; a modern regional airport; and excellent golf communities from which to choose. Large recreational lakes like Keowee, Jocassee and Greenwood are within an hour's drive of the city.
        In terms of types of homes and pricing, Greenville area golf communities run the entire gamut, from condos that start in $100s –- a few older ones sit beside a couple of fairways at Pebble Creek –- to the 5,000 square foot homes with long-range mountain views at Cliffs Valley and
Greenville offers economic stability, fine restaurants and other entertainment, and a wide range of golf communities and properties.
The Cliffs at Glassy, within 40 minutes of downtown. In between, the choices fit every taste level and bank account, with mid-six-figure homes in the neighborhoods around
Green Valley CC
, slightly higher priced homes in the community that surrounds the
Thornblade Club
, Tom Fazio's classic golf course, and homes from the $300s to well over $1 million in the two communities adjacent to the most highly ranked golf community courses in Greenville, Chanticleer and Riverside, that comprise the Greenville Country Club (we will be writing about these here soon).
        Pebble Creek owner Lyn Young is teaming with the Shuck Group, a local realty company, to offer the Club Cottages, a group of 16 patio homes above the 9th hole with views of the fairway and green.  The clubhouse and first tee are across the street.  Prices begin in the low $200s.  Contact us for more details.
        If you are looking for an active golfing lifestyle near a modern, exciting city, at a more than reasonable cost of living and the widest range of choices in golf homes, Greenville is an excellent place to consider. For more information on any Greenville golf communities, please contact us.