T
he McConnell Group has decided to shutter its Musgrove Mill Golf Club in Clinton, SC, at the end of November after membership rolls there did not grow as fast as the company had planned.  This marks the first bump in the road in the McConnell Group's aggressive acquisition program.  A McConnell spokesperson told me that the company "will keep a minimal number of staff [at Musgrove Mill]. We're mothballing it on the chance that, perhaps, we might reopen it again at some point."
        Although the Arnold Palmer designed golf course is not surrounded by a golf community, it does feature a handful of cottages that were made available for a modest fee to members of McConnell's seven other golf courses.
        "Even if we had filled the cottages all the time," the McConnell spokesperson told me, "that wasn't enough [to sustain the club].  We funded it for as long as we could."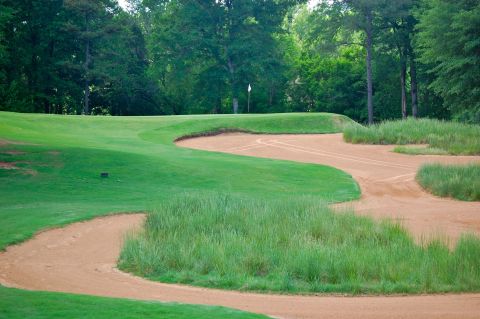 Musgrove Mill is a tough golf course, rated the 14th best layout overall in the golf rich state of South Carolina.  It will close at the end of November.
        Musgrove Mill is ranked the 14th best course in the golf rich state by the South Carolina Golf Rating Panel; your editor is a member of the panel and has been invited to play in an outing at Musgrove Mill the week after next.  The course has also made Golfweek's top 100 list of modern golf courses.  I have played Musgrove Mill once and found it quite challenging, with significant changes in elevation and forced carries over nasty bunkers, especially around the large and swirling greens.  I look forward to one more go at it before it closes.
        Musgrove Mill and The Reserve at Pawleys Island are the two McConnell golf clubs at the furthest distances from the group's core courses in the Raleigh and Greensboro areas (including Raleigh Country Club and Sedgefield in Greensboro, both designed by Donald Ross).  But Pawleys Island, located on the coast just south of Myrtle Beach, is more of a destination than is Clinton, which is about 45 minutes from Greenville.
        Despite the closing of Musgrove Mill, the McConnell Group continues to look for additional courses to add to its portfolio, although "we prefer they be a little closer to each other [than Musgrove Mill was]," said the spokesperson.  He was not specific but said the firm has looked at golf courses on the Carolinas coast, as well as some closer to their Raleigh headquarters area.
        The Musgrove Mill closing is not likely to put a dent in McConnell's acquisition program.  On the contrary, it just make them even hungrier to add another quality layout to the portfolio soon.