The one and only time I played the famed Wentworth golf course south of London, I flinched at the top of one backswing when a railroad engineer blasted the whistle on his passing train.  A rail system separates the two 18-hole courses at Wentworth, and for a Yankee, the intrusion took some getting used to.  After a few more trains passed by, I began to find it all quite quaint, mostly because I had never been "railroaded" on a golf course in the U.S., nor did I ever expect to be.
        I will soon, though.  Two weeks ago, as a member of the South Carolina Golf Rating Panel, I signed up to play one of South Carolina's only Donald Ross designed golf courses, the Camden Country Club in the town of Camden.  Sadly, the greens were undergoing aerification on the very day I chose, but I will return soon.  (Note:  In 2010, the SC Golf Panel ranked Camden the 42nd best course in the state.)
        I happened to mention the bad timing for my visit to one of our readers, Bruce Wellmon, who had introduced me last year to the golf course at White Oak, a golf community in Tryon, NC.  White Oak may be more than 100 years younger than Camden, but it displayed some of the classic touches the old master golf architect might recognize, such as bunkers with wisps of long grass at their edges.
       No railroad, though.  Bruce sent me the attached photo from Camden.  Now I'm doubly psyched to play the golf course, which first opened in 1902 as an amenity for a local hotel that closed in the '40s.  First Walter Travis and later Donald Ross renovated the course, working around the train tracks.  Wrote Bruce: "You cross the train tracks twice.  The actual tracks are out of bounds.  If you hit it over the tracks, swing again."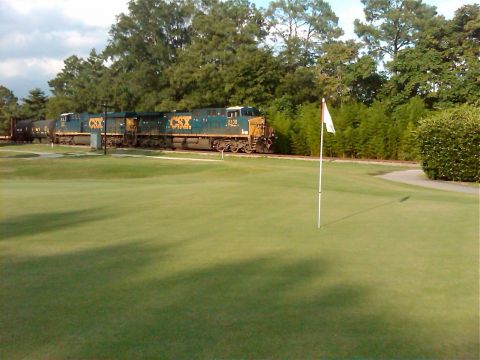 A different kind of hazard at Camden Country Club in Camden, SC.
Photo courtesy of Bruce Wellmon