If you have envisioned yourself living in a home in an island paradise mere steps from an outstanding private golf course, your time could be at hand.  A nice lot in just such a place is currently available for a buck.
        What's the catch?  Well, for a person or couple looking for a small, primary, warm-weather home adjacent to a golf course they intend to use year round, there really is no catch.  The "patio" lot at 2 Tabby Circle in the Haig Point community on Daufuskie Island, SC, is .19 acres; small, yes, but it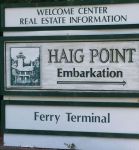 would accommodate a patio home of up to, say, 2,300 square feet, maybe three bedrooms and 2 ½ baths comfortably.  Clearly, the owners of the lot are attempting to get out from under the costs of club and homeowner association dues (see below).  Costs to build on Daufuskie are a bit higher than in similar mainland golf communities because the island is car-free and reached only by ferry; all material and labor must be shipped over.  Then, too, club dues are higher than many other mainland communities because the dues include the costs to subsidize the ferries, an idiosyncrasy that probably drives local real estate agents crazy trying to explain (typically, the ferry costs would be part of the homeowner association dues).  When you add up all the fees at Haig Point for real estate and golf, the total runs to about $17,500 annually, a few thousand more than at such nearby, mainland high-end golf communities as Colleton River, Belfair and Berkeley Hall.
        But consider the Haig Point lot, which is near the island's famous lighthouse, costs just a buck, more than $100,000 less than a comparable lot in a comparable community on the mainland.  Dues and homeowner fees at Haig Point total about $4,000 per year more than costs at some nice golf communities across the Calibogue Sound (Colleton River, Sea Pines Plantation, Belfair).  Therefore, it will take about 25 years to spend that $100,000 savings on the lot.  An environmentally conscious retired golfing couple who like the idea of a secluded retreat adjacent to one of the best golf courses in the golf–rich state of South Carolina might consider catching the next ferry to Daufuskie (service is frequent and free to those looking at property.  (Contact me and I can arrange a meet-up with a realtor who knows the island well.)  Larger home sites, some with marsh and sound views, are available at somewhat higher price points, most inclusive of initiation fees for the club.
        It is probably worthwhile at this point to issue a reminder that, in
Look at the total cost of living, not any one component (e.g. golf dues), when comparing golf communities.
considering the  costs of living in a golf community, it is the total that counts, not the individual components.  If a property in Community A is less expensive than a homes or home site in another comparable Community B, then you can afford slightly higher fees for golf and property owner association dues in Community A.  Carrying costs in one golf community might appear to be high, but comparably low real estate prices tend to even things out.
        Last weekend I played the outstanding Haig Point golf course with fellow members of the South Carolina Golf Ratings Panel.  In coming days, I will have more to say about Haig Point and Daufuskie Island in this space and in our free monthly newsletter, Home On The Course.  You can sign up for the newsletter at the top of this page.