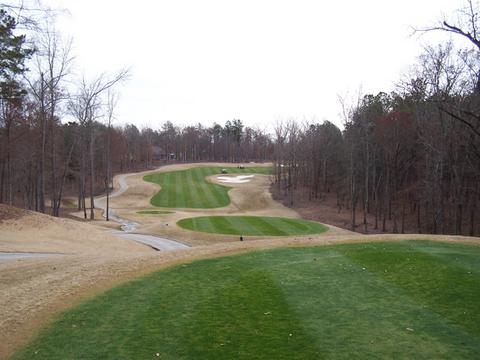 The first hole at Mount Vintage gives a taste of the rest of the course and the Aiken area's terrain.

The first golf community I ever visited for review purposes, more than three years ago, was the fledgling Mount Vintage Plantation in Aiken, SC. As with love, I guess you never forget your first golf course community. I have a bit of a soft spot for Mount Vintage. Yesterday, I did a little follow-up research.
I had forgotten that the course was semi-private. When I played it in 2004, the course conditions, layout and clubhouse gave off a members-only vibe. Director of Golf Jay Rush told me yesterday that the club plans to go private as soon as the membership rolls reach 600. Currently, the roster is 450, but with the addition of nine holes that open on March 15 - no bewaring of the Ides of March at Mount Vintage - the club anticipates
Mount Vintage owners can make a few months worth of mortgage payments by renting out their homes during Master's week.
additional interest. Member initiation fees are pegged at $25,000 and include access to the tennis facility, fitness center and pool. Dues for the most expensive member category do not top $300, a bargain for this kind of quality golf. For those who own a lot in Mount Vintage but live outside the area, dues are just $95 a month for full golf access with no green fees.
Green fees for walk-ons are at the higher end in these parts, $95 plus tax on weekdays and $125 on the weekend. Augusta and its famed Master's golf tournament are a few miles away; don't attempt to play the course during the week of the Master's unless you are on a nice expense account. Green fees are $1,200 per foursome. Some residents pay for one or two months worth of their mortgage payments by renting out their homes to pro golfers and corporate visitors attending the annual tournament.
Since our visit, Mount Vintage has added another nine holes by original designer Tom Jackson, one of the more consistent architects working in the southeastern U.S. His track at the Cliffs at Glassy Mountain remains my favorite of the dozen or so of his layouts I've played, but Mount Vintage, without the drama of a 4,000-foot-high setting, is a close second.
Aiken is a refined, small southern town with small retail stores, coffee shops and restaurants, as well as the largest urban forest in America. For those who do not require the topographical drama of the mountains or coast, Aiken's rolling hills are loaded with colonial charm and many horse farms, a throwback to the mid-19th
In summer, Charleston's gentry fled to Aiken with their horses to escape heat and malaria.
Century when the gentry of Charleston and their horses spent the summers in Aiken to escape the heat and malaria of the city. Aiken has retained its equestrian bent for 150 years, and for those who either own horses or enjoy polo matches and the races, the area is ideal.
A variety of homes and lots are available in Mount Vintage. A nice looking three bedroom, three-bath home on a patio lot (1/4 to ½ acre) adjacent to the 10th tee box and 18th green recently sold for just under $650,000. Many lots are still available as are homes that begin in the mid-six figures and range up to $1 million plus, horse pastures optional.
Please let me know if you are interested in a visit to Mount Vintage, the nearby Woodside Plantation (54 holes of golf by Nicklaus Design, Rees Jones and Bob Cupp) and Cedar Creek Plantation, with its Arthur Hills design and incredibly reasonable prices. We will be happy to arrange for one of the best real estate agents in Aiken to show you all the communities in the area, with no cost or obligation whatsoever.