Getting to and from Hartford, CT, by plane is neither easy nor cheap. Most flights from anywhere to Hartford involve at least one change of planes and a few hundred dollars minimum. Other medium-sized market airports are in the same boat (sorry, mixed transportation metaphor). But thanks to the low-fare, few frills Spirit Airlines, golfers across the Midwest and Northeast have cheap access to one of the nation's major golf markets, Myrtle Beach where, even after the loss of a couple of dozen golf courses in the last decade, golfers still have a choice of more than 90 layouts within an easy reach of their hotel or resort.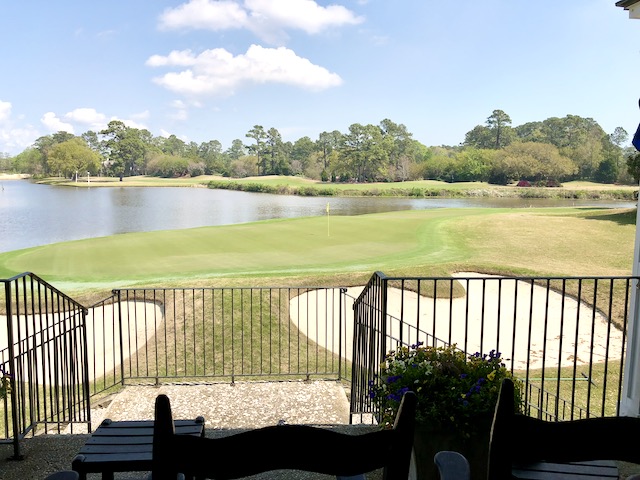 The porch that overlooks the 18th green at Caledonia Golf & Fish Club south of Myrtle Beach, just a $56 flight from Hartford, CT, and equally reasonable from 22 other markets from Plattsburgh, NY to Minneapolis.
Based on my own recent experience, Spirit provides excellent service at a low cost, with the options to make yourself even more comfortable on an a la carte basis. I flew from Hartford, CT, non-stop to Myrtle Beach last week for just $56. To enhance the experience, I paid an extra $30 for an exit row seat giving me the ability to stretch my legs straight out. I had stuffed all my electronics and toiletries into my backpack which was small enough to qualify as a free "personal" item. If I had been toting a carry-on bag, I would have been assessed another fee. And if I had checked another bag and/or my golf clubs, the register would have kept ringing. (I had flown from Myrtle to Hartford a week earlier with my golf clubs, and they arrived safe and on-time.) Even with the extra charges, Spirit is cheaper than competing airlines, none of which fly non-stop from Hartford to Myrtle Beach. (Note that Spirit service is only during spring and summer on that route.)
The plane was only half full, immaculately clean and we took off and arrived on time (actually a few minutes early). Myrtle Beach has upgraded its airport significantly over recent years, and it now provides a comfortable atmosphere in which to arrive or to await your return flight home.
The other 22 cities from which you can catch a non-stop Spirit flight to/from Myrtle Beach include Minneapolis, Kansas City, Indianapolis, Columbus (OH), Pittsburgh, Plattsburgh (NY), Niagara Falls, Philadelphia and Baltimore.
If you would like to arrange to visit any golf communities in the Myrtle Beach area that match your preferences for a golf home, please contact me.