At this stage it is just rumor, but the noise coming from some residents of The Cliffs as well as from local developers is loud enough to invoke the old "where there's smoke there's fire" adage. Residents at a high-end luxurious collection of communities like The Cliffs are a savvy bunch, many former captains of industry who were paid during their careers for what they knew. And what residents seem to know at The Cliffs, which is owned by Arendale Holdings, is that the development group in charge of the private club amenities and land development at Kiawah Island is negotiating to purchase the Cliffs' vaunted amenities and unsold real estate.
In the last week, I reached out to both South Street Partners, the Charlotte-based real estate equity investment firm that purchased the Kiawah Island holdings in 2013, and The Cliffs own marketing department, to confirm the persistent rumors. I have not heard back from either.
But a pending sale makes sense from a number of standpoints. According to Cliffs residents, land sales in the community have not met Arendale's expectations, and that may explain why they are seeking to sell their interest rather than commit to millions of dollars to fund new clubhouses they promised at Keowee Springs and Mountain Park.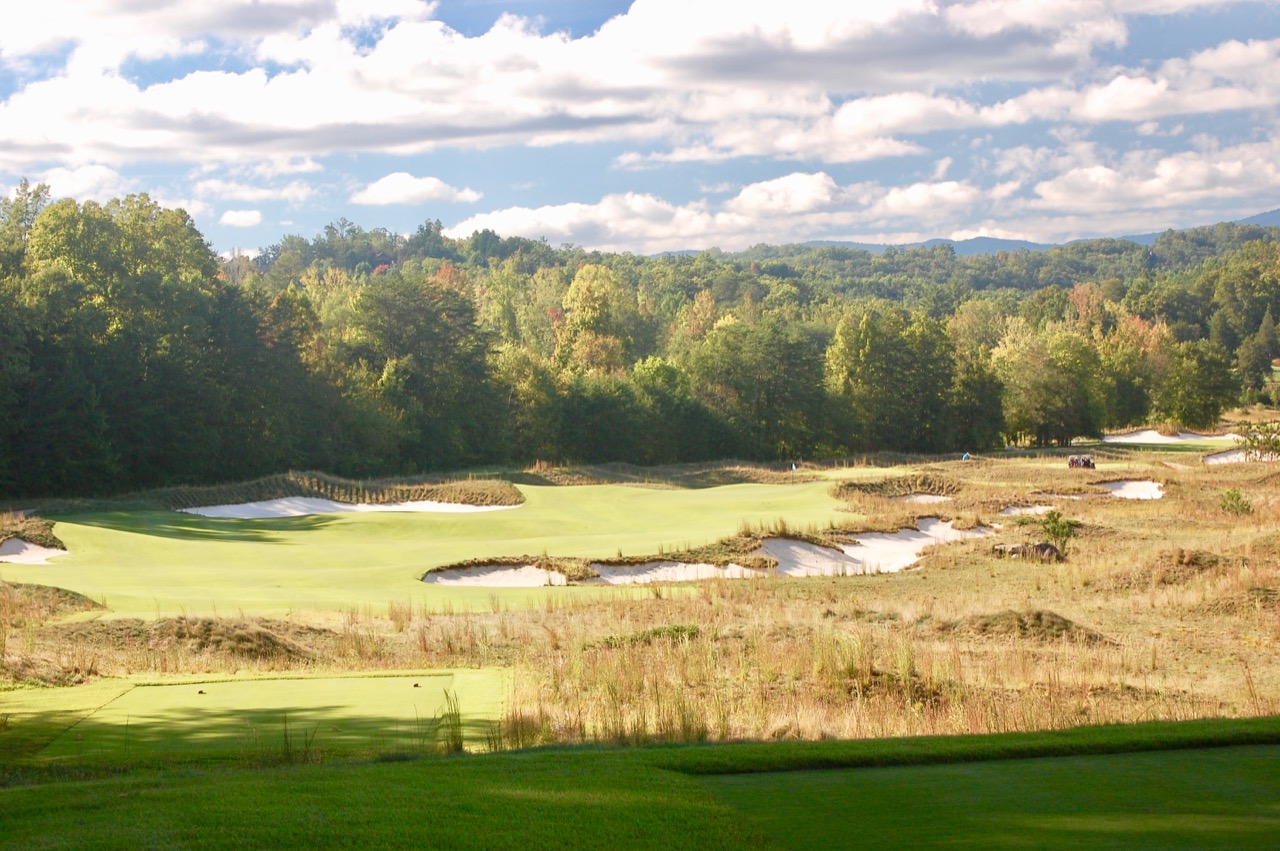 The Cliffs at Mountain Park, a Gary Player design, and located in Travelers Rest, SC.
Arendale has company in its desire to move on. Worthington Hyde, an equity investment firm out of Atlanta which had loaned money to original Cliffs developer Jim Anthony, gained in foreclosure in 2008 more than 2,000 acres and 250 lots at Cliffs at Keowee Falls. Worthington Hyde decided that developing the land might yield more than flipping it to a bottom-fishing buyer during a recession. But lot sales have been slow even in recent years, especially because the lots they "inherited" from Anthony are mostly located in interior wooded areas, far from the lake where lots were already mostly in the hands of private owners. Those who can afford to buy into and live at The Cliffs prefer lots with a view of water or mountains.
Worthington Hyde recently announced at a meeting with Keowee Falls owners that they have sold their interest in The Cliffs to the Colorado-based Resource Land Holdings. Private development companies are not known for their public communications, and there is nothing in a Google search and the Worthington Hyde and Cliffs' websites about the deal. However, at that meeting with Keowee Falls owners, Resource Land Holdings executives indicated they plan to package some homes and lots together rather than just sell the land alone.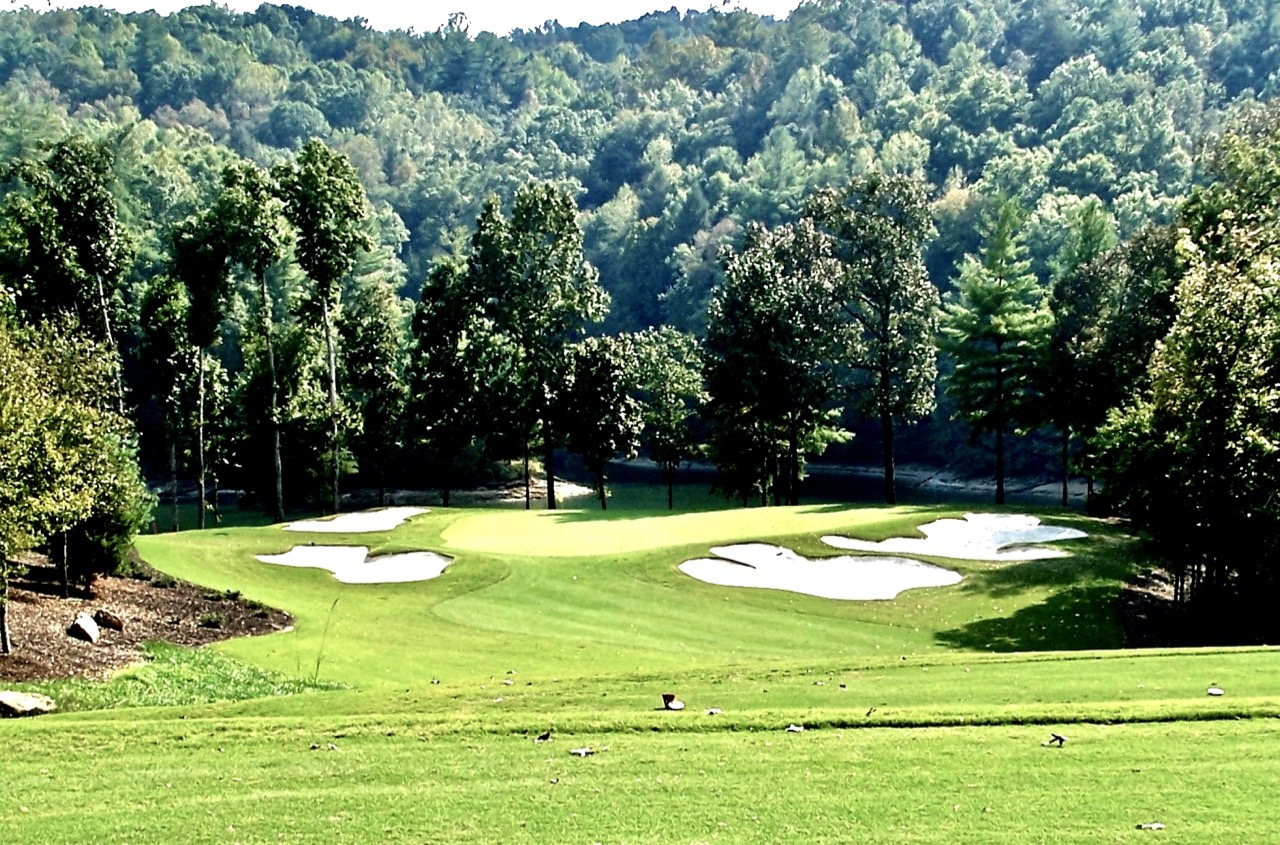 The Tom Fazio designed Cliffs at Keowee Vineyards course is one of the most highly rated in South Carolina.
Worthington may have committed an unforced error when it opted to use an outside broker for the sale of lots at Keowee Falls, rather than co-broker with Arendale and The Cliffs' sales office, which had established marketing power from the high-spending Jim Anthony days. With the arrangement, Worthington effectively threw itself into competition with Arendale for the sale of lots. At long last, Worthington decided to use Cliffs Realty to help sell its lots but the recent sale to the Colorado group implies that move was too little too late.
Current residents of The Cliffs give Arendale credit for stabilizing operations and keeping the golf courses in tip-top shape. They appreciate as well that Arendale has run things conservatively, even though they expected more in the way of clubhouse development. But Arendale is in the business of selling land, and more of their emphasis has been on that aspect of the operation, according to residents, than in enhancing the experience of club membership, whose all-in initiation fee was dropped to $50,000 in the post Anthony era. The golf courses remain in terrific condition, but most residents do not wander far from their home courses, even though they have unfettered access to all seven layouts, from Lake Keowee to Asheville, NC, and down to the Greenville, SC, area. The drive times can amount to as much as 1 hour or more, and the notion of being able to play seven excellent golf courses has lost some of its luster for both residents and potential buyers.
We will keep our eyes on The Cliffs in coming weeks and, if the sale goes through, will make it the lynchpin of our January edition of Home On The Course, our free to subscriber newsletter. Subscribe here.