The median selling price for single-family homes in a group of golf and non-golf communities south of Myrtle Beach, SC, has increased steadily over the last three years. As of the end of November 2016, median selling prices in communities such as DeBordieu Colony, Pawleys Plantation, The Reserve, Willbrook Plantation, and in a selection of the top non-golf communities, showed a $26,500 increase to $336,500 compared with the $310,000 median price in 2014. The 2015 median selling price for these same communities was $320,000, according to the Coastal Carolina Association of Realtors. (Our thanks to local real estate professionals Jane Mikol-Gabrielson and Cathy Bergeron for providing interesting data from local reports.)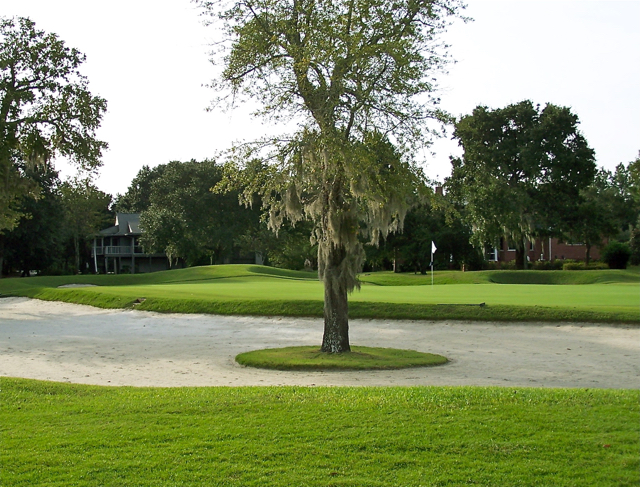 Pete Dye is always full of surprises, as he is at DeBordieu.
Although the highest-priced communities, such as the golf-oriented DeBordieu in Georgetown, SC, and the non-golf Charlestowne Grant in Litchfield Beach, showed a sharp drop in median prices in 2015 from 2014, prices this year rebounded strongly from 2015; however, DeBordieu's $749,000 level in 2016 was almost $350,000 lower than the 2014 level of $1.08 million. The number of homes sold over the three years was 24, 24 and 27, respectively, a meaningful enough base of sales to signify that some additional price growth may be in the offing. DeBordieu features a Pete Dye designed private layout with two of the best finishing holes in all of the Myrtle Beach area's 100 golf courses. It is located just an hour north of Charleston and about 50 minutes from Myrtle Beach International Airport.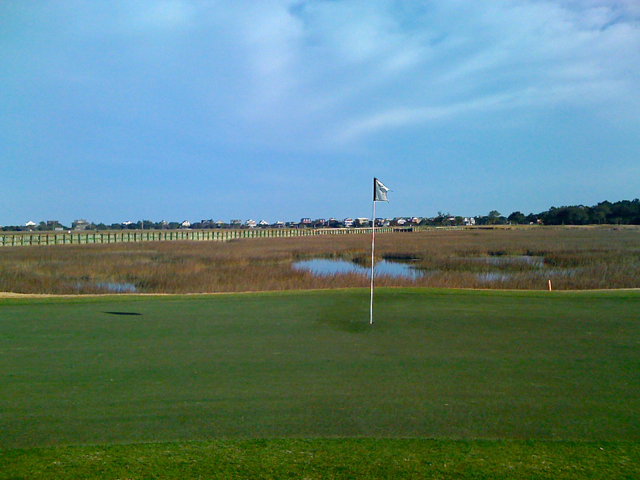 A dike that bisects the marsh at Pawleys Plantation holds the 13th and 17th hole tee boxes. This view is from behind the 17th green, looking back towards the Pawleys Island beach and the Atlantic Ocean just a half mile away.
The selling price pattern at Pawleys Plantation, where your correspondent owns a vacation condo, also implies that prices could rise in 2017 and beyond. The median selling price of $405,000 in 2016, based on 14 sales, was $39,000 higher than in 2015 (17 sales) but $23,500 lower than in 2014 (13 sales). Pawleys Plantation features one of the most popular and most challenging layouts on the Grand Strand; designed by Jack Nicklaus in 1989, the back nine explodes out onto the marsh, with a unique set of par 3 tee boxes set on the old rice plantation dike that stretches across the marsh. As I write this, 17 properties in Pawleys Plantation are on the market at an average price of $459,091. Homes in 2016 sold on average 25 days quicker than in 2015. According to our agent for Pawleys Plantation, Cathy Bergeron, "Prices are going up, and homes are selling quicker."
The Reserve at Litchfield Beach was one of the few golf communities in the group that showed a steady erosion of prices over the three-year period. The median sales price of $605,000 in 2014 decreased to $579,500 in 2015 and $577,500 through November in 2016. The youngest of the area's golf communities, The Reserve features a Greg Norman layout that is both friendly to walkers and a joy for those who like to put from as much as 10 yards off the green. More significantly, The Reserve Club is part of the McConnell Golf Group and offers its members full access to the dozen other McConnell courses in the Carolinas and Tennessee, a few of them designed by Donald Ross. At last check, membership initiation fees at The Reserve were a reasonable $4,000 with dues less than $400 per month.
I know the area south of Myrtle Beach as well as anywhere and I would be pleased to answer any questions, suggest communities that match your requirements or help arrange for a visit to explore the area and its many terrific golf communities. And if I happen to be in Pawleys Island when you are, I would be pleased to serve as your guide around the challenging Jack Nicklaus layout. Feel free to contact me.