While doing a search for a customer today, I happened to check through the listings at Colleton River Plantation, an upscale golf community in Bluffton, SC, that suffered a crash in home and land prices during the recession. Overzealous purchasing of lots that sold for as much as $400,000 just before the recession left some residents looking to dump those extra lots at ridiculous prices from 2009. The definition of "ridiculous" was $1.
The reason for the crazy pricing is that golf membership is mandatory at Colleton River, as it is at its fine neighboring golf communities of Berkeley Hall and Belfair Plantation. Even if you own a home in these communities and purchase a lot, you must commit to a second golf membership with an annual dues obligation approaching $20,000 (including the homeowner association dues and other assessments). The 45 holes of Pete Dye and Jack Nicklaus golf are about as good as you will find inside the gates of any golf community, but there are no mulligans for that extra obligation. Once you commit, it is like the Roach Motel: You can check in (for membership) but you can't check out until someone buys your lot.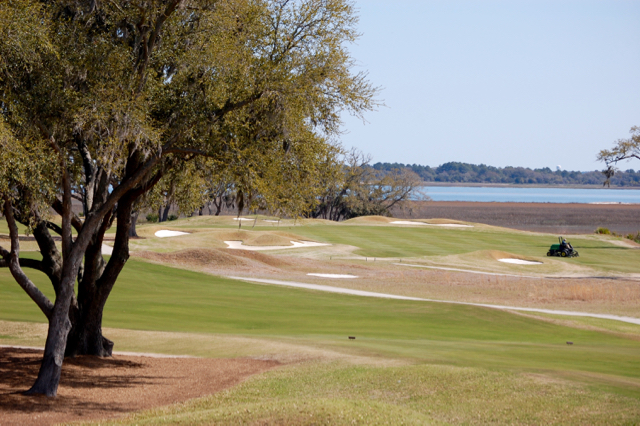 Colleton River Plantation in Bluffton, SC, features 45 holes by Pete Dye and Jack Nicklaus and almost a dozen home sites priced at just $1.
My customer is looking for a home priced up to $500,000, and I figured that, post recession, there still might be a selection of homes in that range. Boy, was I wrong; there are no homes currently for sale below $539,000 in Colleton River. That caused me to assume that the Colleton market has risen dramatically overall, and that those $1 lots were long gone. But when I scanned the list of current lots for sale, there were 11 priced at $1, and some of them were beautifully sited. Here's a description of one that is over a half-acre in size: "Long panoramic golf views of the 2nd fairway of the fabulous Dye Course...Seller will pay the Colleton River Initiation Fee and balance of 2016 Dues." In other words, the seller is giving you something like $20,000 (in value) to take his nice piece of property off his hands.
About $200 per square foot in construction costs should get you a nicely outfitted brand new home, or a total of $500,000 for a 2,500 square foot house. Sorry: Make that $500,001.