The last two weeks have put Coastal Carolina University in Conway, SC, on the map for big time sports. Conway is the last town you pass from the west as you enter the much better known Myrtle Beach. In just one week in mid June, the school's most famous graduate, Dustin Johnson, won the U.S. Open championship and then, a week later, the school's baseball team earned the College World Series title in Omaha, beating the favored and more highly resourced University of Arizona Wildcats. Then, yesterday, Johnson, who has notoriously finished tournaments the way hares finish road races, closed with a flourish at Firestone Country Club near Akron, OH, to run down the favored and generally steadier Aussie Jason Day.
Include this reporter among those who have never been big fans of Johnson. Having an enigmatic personality like Tiger Woods would be an improvement for the dry and diffident Johnson whose tragic pratfalls late in major tournaments would be legendary in the world of golf if not for a man named van de Velde.
There has always been a sense, as well, that the 30-year old had not grown beyond his college days. Hard partying and competitive golf are undeniably incompatible, and Johnson, unlike a lost soul like Johnny Manziel, chose his sport after a stint in rehab earlier this year. The sober reality of being a new dad seems to have shaken the boy out of both Johnson's personality and his golf game. He has sealed the deal in the last two tournaments he has played as emphatically as Tiger at his best. And his post-game comments have been more assertive and confident, without a trace of smugness. Good for him, his family and for golf.
*
If you can stand the heat, this is a great time of year to play golf in Myrtle Beach. Summer is actually the off-peak season for golf on the Grand Strand, and prices are at their lowest of the year. Almost next door to Coastal Carolina University are three excellent layouts of varying degrees of difficulty and eye appeal at the Legends Golf complex on Highway 501, the major east/west route into Myrtle Beach and home to the huge Tanger Outlet Mall. The Heathland course, designed by the celebrated "classic" architect Tom Doak in the manner of British Isles course, features deep greenside bunkers and sweeping, unobstructed views across the entire course. P.B. Dye's Moorland course is a bit more like its sister courses throughout the Myrtle Beach area, which is to say composed of wide expanses of sand and enough bodies of water to get your attention (and, if you are not on your game, your golf balls.) The Parkland was designed by local architect and golf course developer Larry Young and features aggressive bunkering and tricky green complexes that inspire creative shot-making.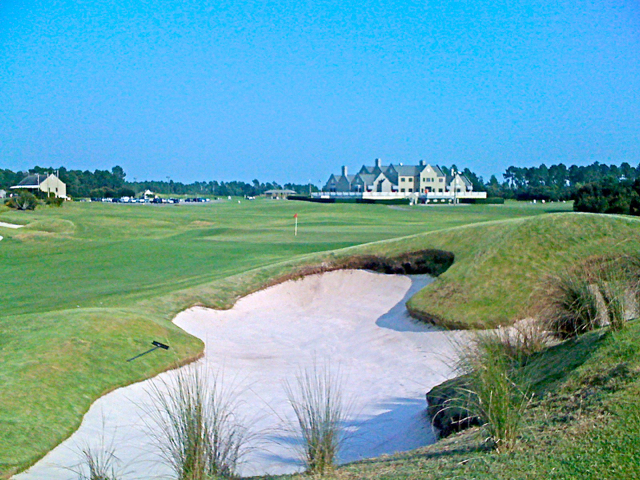 With any luck, you will catch the late-afternoon bagpiping between the clubhouse and practice range at The Legends.
Those who come to The Legends hungry for more than good golf and thirsty for more than a Gatorade will be impressed that the Legends offers breakfast, lunch and two beers (or fountain drinks) to go along with the golf. Although by the time your round is done, you may feel transported to the British Isles, try to extend lunch to 4 pm when a bagpiper strolls out near the practice range and does his number.
For more information on The Legends or for ideas about which of the many Myrtle Beach area golf communities might suit you best, please contact us and we will respond within 24 hours.