As of last week, nine of the 23 new home sites released for sale on June 10 at Aiken, SC's Woodside Communities had been sold.
The general economic and demographic environments seem to be driving the recent spurt in land sales at Woodside and throughout golf communities in general in the Southeast. Consumer confidence, especially among retiring and nearly retired baby boomers, is improving. Aside from the anxiety some might feel during a Presidential election year -– especially this Presidential election year –- baby boomers are done with deferring their retirement relocations; their primary homes have recovered much of their values since the recession, taking away the biggest excuse for waiting. And in spite of media predictions to the contrary, golf is still popular enough with 26 million people that a retirement adjacent to a fine golf course –- or in Woodside's case, a few of them –- is seen as a realistic luxury.
But Woodside itself, and the location of the lots in the Summer Hill section of the community, which is bounded by a park on one side and the upcoming 12th and 13th holes of Fuzzy Zoeller's Hollow Creek course at The Reserve Club, gets most of the credit for the strong interest. A pond, pedestrian footbridge, stone and timber pavilion and quarter-mile lighted walking path –- "walking," boomers say time and again, is their favorite activity –- add to the appeal.
The lots are priced from $55,900. Owners have no required time frame in which to build and can use home designs from Woodside's own collection or build to their own (or their architect's) design. Construction costs of $135 to $140 per square foot is a good rule of thumb for homes commissioned through Woodside's building program, but if you hire your own architect and builder, the sky's your limit.
The Hancock is one of models Woodside is offering for Summer Hill. At 2,000 square feet, space enough for two or three bedrooms, it is the perfect size for a vacation home or a tidy residence for a retired couple. Costs should not exceed $300,000 to build a nicely outfitted home.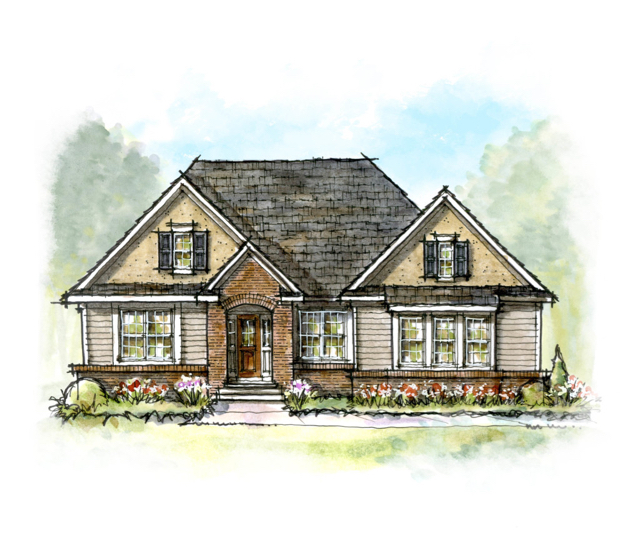 The Hancock model at Woodside Communities will cost under $300,000 to build in the community's new Summer Village section.
For more information about Woodside and access to a listing of properties for sale, please see our Golf Homes for Sale section.
One other item of note regarding Woodside: The community is located just 22 miles from the gates of the Augusta National Golf Club. During Masters week in April, lodging in the city is notoriously short, and some Woodside homeowners rent out their houses to well-heeled tournament attendees –- and occasionally players and their families –- for enough to pay for a pretty nice golf vacation -– airfare included.