Life inside the gates of a golf community may not be the best choice for every golfer. Some golfers crave variety and would rather not face the obligation of playing the same course or two courses consistently. Others don't want to pay the fixed costs associated with private club membership.
The trick for those who might live outside a golf community but near excellent golf courses is how to replicate the feeling of a private club. At Habersham, one of those "new urbanism" communities with a town center within walking distance of many of its homes, golfing residents have solved the problem by banding together into a "golf club," according to Joe Moran, who runs the Habersham Golf Club.
"We have more than 40 members," Joe told me, "and a few of them are from outside the community. We met them during our play at area courses and they asked to join."
The group plays every Tuesday year round at The Legends of Parris Island, a nicely tended layout inside the gates of the U.S. Marine base near Beaufort, SC, and just 20 minutes from Habersham.
"The $36 they charge is a great deal," says Joe, who indicated that the greens superintendent at The Legends once held the same job at the private and well-respected clubs at Dataw Island.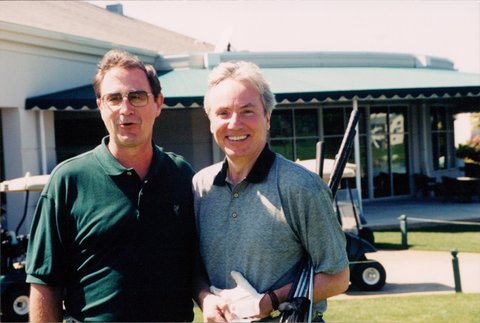 Joe Moran, left, leads the Habersham Golf Club which plays every Tuesday at The Legends on Parris Island. According to Joe, his fellow golfer's name is "Daddio."
On Thursdays, the group plays another course in the area from a selection ranging from the Hilton Head/Bluffton area to the Savannah area.
"We typically send out a reconnaissance group in advance to make sure that course conditions are good," says Joe, adding that the nearby Sanctuary Island course on Cat Island can be in great condition for three months and then fall off for the next three.
Joe and his wife Dee wound up in Habersham when their daughter went to college in Charleston. They hadn't been considering a golf community for their retirement, because Joe says he didn't want to play the same golf course four times a week. On one trip to visit their daughter in the late 1990s, they drove through Habersham –- which Joe describes as "embryonic" at the time -– and took a "leap of faith," purchasing a lot which they built a house on in 2003.
Joe says he made the right decision as both a golfer and homeowner, and points to local area golf communities like Callawassie, where some members are fighting the mandatory resident membership rule, and the top end Bluffton communities of Colleton River, Berkeley Hall and Belfair, which still feature a few $1 lots for sale by owners besieged with the mandatory membership costs.
"I could not be more pleased with the way things have turned out," he says.
Our June edition of Home On The Course, our free newsletter, will feature all the different ways a serious golfer can play serious golf on a variety of courses, whether you live inside or outside the gates of a golf community. The issue will be emailed to subscribers on Monday, so you have time to sign-up to receive your copy and all future copies.