DeBordieu Colony could be the best upscale golf community you have never heard of –- although in recent years, the long-time Georgetown, SC, community has been flexing some marketing muscle with national newspaper and magazine ads. DeBordieu, or what residents and locals call "Debba Doo," features a sleek, private Pete Dye golf course. This one finishes with a par 4 and par 5 that are among the toughest of the more than 1,800 holes on Myrtle Beach's Grand Strand, which stretches about 90 miles from Brunswick County in NC south to DeBordieu.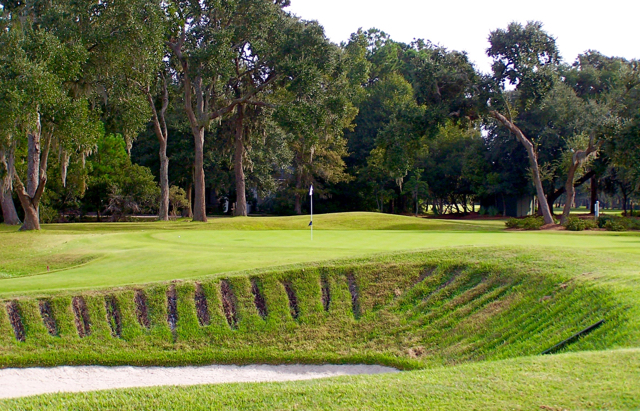 The railroad ties are a giveaway that the course was designed by Pete Dye.
DeBordieu's other distinction, which will appeal to sun worshippers especially, is its "private" beach. Although all beaches in South Carolina are publicly accessible, DeBordieu's guarded gate forces anyone wanting to share the community's beach to arrive by their own boat. Given the other nice beaches in the area, residents have their own almost exclusively to themselves.
For a community with some oceanfront estate homes valued in the $3 million plus range, you can imagine the average price point in DeBordieu is pretty high, with single-family homes typically in the $700s and higher. But because the developers designed an area called Fairway Oaks for "villas," or cottages as they are more customarily known, a beach- and golf-loving couple can put down roots at DeBordieu in the $400,000 range. Our professional real estate contact at DeBordieu, Troi Kaz, who knows virtually every inch of the community, tells us there are currently three 3-bedroom, 3-bath Fairway Oaks villas listed from $380,000 to $400,000. The $380,000 and $385,000 units are being sold furnished; the $400,000 home's furnishings are not included but are negotiable. Any of these units –- some duplexes and some free-standing -- would be perfect as a second-home or a year-round retirement nest; and they would leave enough in the way of resources to join the DeBordieu Golf Club a short walk away, where dues are a reasonable $515 per month.
For more on DeBordieu, check out the community's page in our Golf Homes for Sale section where you can see the full range of listings in DeBordieu and get in touch with Troi.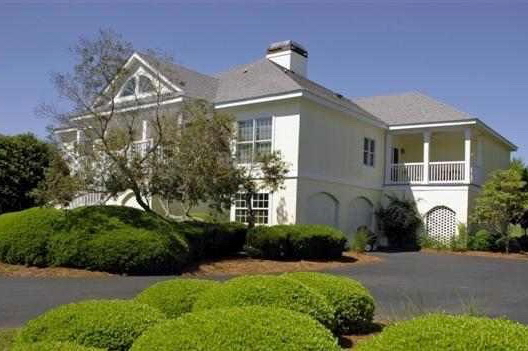 A $400,000 cottage at DeBordieu (top) is just a short walk from the clubhouse and golf course.