Virtually all the top 25 golf courses in the state of South Carolina are closely connected to organized residential communities. Most of the others are adjacent to a residential community that was planned with golf in mind.
Topping the list compiled by the South Carolina Golf Rating Panel (your editor is a member) is Pete Dye's famed Ocean Course at Kiawah Island, located beyond two gates and at the edge of a community of estate homes, although no homes are close to the golf holes. The Ocean Course is among the most challenging layouts east of the Mississippi River, a course that every decent or better player ought to try at least once. Just behind the Ocean Course is May River in Bluffton, part of the lush Palmetto Bluff, one of the most expensive resorts in the east. The Jack Nicklaus layout is walking only, with caddies supplied, and the surrounding homes are priced at $1 million plus.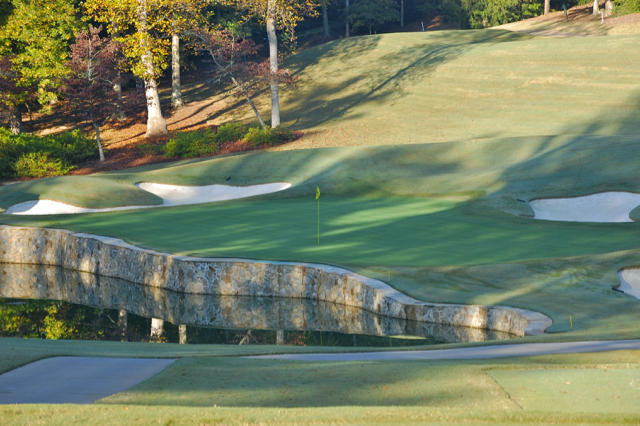 The par 3 2nd hole at Greenville Country Club's Chanticleer course gives a hint of just how strong the layout is. Other highlights on the panel's top 25 list include Greenville Country Club's Chanticleer Course, perennially rated in the top 5 even though it snakes through a neighborhood whose large and well-landscaped homes are draped along the well-manicured fairways. But the tricky layout by Robert Trent Jones circa 1970 and later buffed by Rees Jones will keep even the best player's eyes down and straight ahead. Greenville CC's other course, Riverside, was recently redone by classicist Brian Silva who redesigned it in the manner of Seth Raynor. It should be ranked higher than its 44th place in my fellow panel members' estimation.
Hilton Head Island, which arguably began the golf community revolution in the 1970s, places two golf courses in the top 10, Harbour Town Golf Links at #5 and Long Cove Club at #7. Homes can be seen from both layouts but at a respectful distance.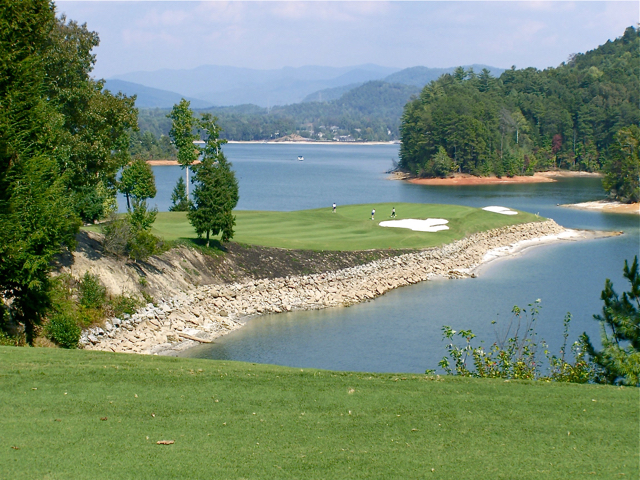 If there is a better looking par 3 in all of South Carolina, we have not played it.
One of the best golf courses we have played in the last 10 years tips the scale at #12. The Jack Nicklaus course at Colleton River Plantation was in impeccable condition and the greens, we learned from the superintendent after our round, were "stimping" at 13.5. Anyone who loves fast and true greens will go gaga over Colleton River, which also encompasses a 27-hole Pete Dye layout, ranked #20 by the panel. Almost as good is Arnold Palmer & Ed Seay's Old Tabby Links on Spring Island, and we played it before a heralded renovation two years ago. We won't soon forget the commitment to conditions at Old Tabby shown by workers on their knees clipping individual blades of grass on the 1st green.
The 17th hole at Cliffs at Keowee Vineyard, a 230 yard downhill par 3 framed by Lake Keowee, is almost enough to convey top 20 status on the entire golf course, but the rest of the Tom Fazio layout is thoughtful in its use of indigenous trees, stones that frame ponds and the lake.
Briar's Creek, a small but expensive community just outside Charleston, has suffered some financial hardships as it seeks to sell million-dollar properties but there is absolutely nothing wrong with the Rees Jones layout. So (justifiably) impressed by Jones' effort that the developers of the club and community commissioned a painting of the designer and hung it in the lobby of the comfortable clubhouse.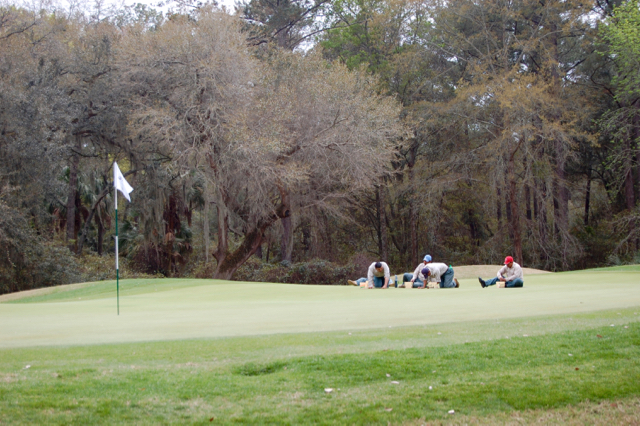 When we played Old Tabby a half dozen years ago, we were astounded, and impressed, that workers were picking poa annua from the first green.
As a champion of the underdog, we love seeing Haig Point's 29 holes of Rees Jones golf achieve a top ranking, in this case #24. We say "underdog" because a golf community reached only by ferry –- or helicopter, if you own one –- has a marketing challenge no other community has. But if you like peace and quiet, no pollution (no cars), two extra holes on your golf course, and don't mind contributing a fairly substantial subsidy for the frequent ferry service, there may be no more perfect setting for golf and living.
You will find the SC Golf Rating Panel's 2014 list of best golf courses here and the 2015 best public golf courses in South Carolina here.