A new customer filled out one of our questionnaires yesterday, and my silent first reaction to her criteria was "No way!" She was looking for a golf community waterfront home on a lake for less than $200,000. As we all know, location drives price, and a home with a few of a lake is typically priced at a 20% to 30% premium over comparable homes in the community.
To make things even more challenging, this customer has three dogs and needs enough land around the house to fence off for the dogs. She and her husband also, obviously, need a community that permits three dogs. I decided to spend a few minutes searching some of the most reasonably priced lake golf communities we know.To my surprise, there is a good selection of homes on lakes priced below $200,000.
The first one I found was in Keowee Key, located in Salem, SC, about 15 minutes from the university town of Clemson. Keowee Key is a mature community, 40 years old and well-established although not especially well marketed (this happens in older communities in which the developer has long since departed and it is left to a homeowner's association to agree on marketing budgets and approaches). The home sits on nearly 1½ acres, plenty of room for the dogs (I have not yet confirmed regulations on dogs at Keowee Key), and is large enough at 3,170 square feet to accommodate four bedrooms and 3 baths. The view from the back deck and the rooms on the back of the house is through the trees to a cove on Lake Keowee. At a list price of $210,000, it is the lowest priced home on the lake at Keowee Key.
I found another, even lower priced home on Lake Thurmond, in the Savannah Lakes Village community in McCormick, SC. Savannah Lakes, another long-established community, features two outstanding golf courses for which there is no initiation fee for residents, and the dues are reasonable (and provide access to a full range of other amenities). This home is a more modest 1,700 square feet with three bedrooms and two baths. The views from the expansive back deck are through the trees to a broader vista of the lake. The owners of the home are apparently serious about selling; they not only have priced it at a more than reasonable $194,900, but they also recently added new hardwood flooring to the great room, new ceramic tile in the bathrooms, new tile and granite counters in the kitchen, all new carpeting in the bedroom and refinished cabinets. That deck that spans the back of the house and wraps around a screened in porch is brand new.
Let me know if you would like more information on these lake and golf homes and the communities of Keowee Key and Savannah Lakes Village. If you would like some recommendations and which communities best match your search criteria, please fill out our Golf Homes Questionnaire.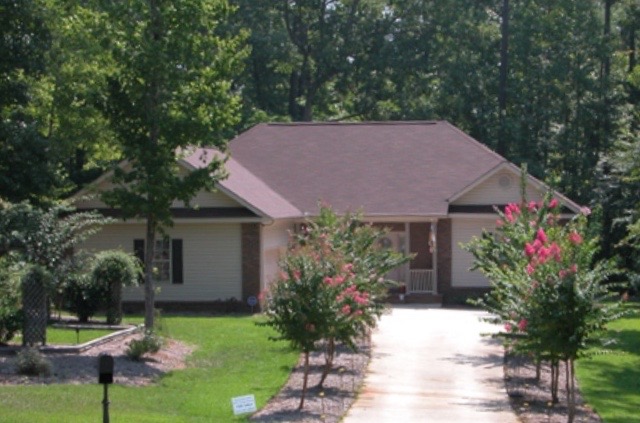 This 3 bedroom, 2 bath home in the Savannah Lakes Village community in McCormick, SC, is currently listed for $194,900 and features an expansive lake view from the brand new back deck.