Savannah Lakes' clubs, which are essentially private but welcome last-minute call-ins from folks who might be "in the area" and would like to try out one of the golf courses, are of two distinctly different characters, appealing on the one hand at the Tara course to those who love mountain golf, with dramatic changes in elevation and the occasional blind shot; and, on the Monticello layout, to those who prefer the more classic routing through trees, around bunkers and, at times, along the pristine Lake Thurmond.
The lake, one of dozens created by the hand of man in the mid 20th Century to bring hydroelectric power to rural sections of the South, is named for the former long-time U.S. Senator from South Carolina, Strom Thurmond. Such lakes created not only the electricity that would power homes and manufacturing facilities but also the seductive shorelines that developers knew would be a magnet for second-home and retiree owners. Savannah Lakes emerged during what could be called the Golden Age of Golf Community Development, from the late 1980s through the '90s and into the new Century before the big bust in 2008. Nevertheless, the community continues to attract bargain-hunting golfers, many of them retirees, for whom the clean air, clean water, and quiet lifestyle never goes out of fashion.
Above all, home prices in Savannah Lakes are among the lowest of any high quality, high-amenity golf community in the southeast, with many current houses for sale listed for well under $100 per square foot (that includes the land). For example, a 3,300 square foot home on one-third of an acre featuring master suites on the first and second floor is currently listed at $299,900. Another four-bedroom, three-bath home with 3,600 square feet under the roof is listed at just $265,000, or $74 per square foot (including the one-third acre property).
We are pleased to announce that Savannah Lakes Village is the latest community to join our Golf Homes for Sale section. For more on the community and a direct link to the full listing of homes for sale in Savannah Lakes, click here. The real estate professional we work with at Savannah Lakes, Michael Sherard, has sent me a colorful brochure loaded with information about the community, including a list of all fees. If you are interested, I can email to you on request. Just contact me and I will get it right out to you.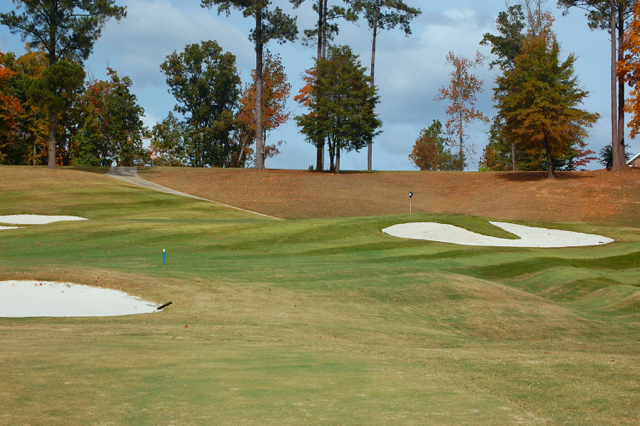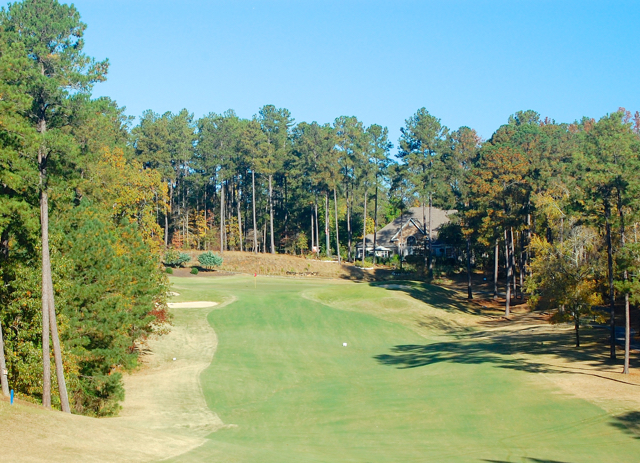 Savannah Lakes Village's Monticello golf course (top) is a more classic layout than the Tara course, which features significant changes in elevation throughout. Both were in excellent condition when we played on a late fall day.