The motives for the aggressive buying by the Chinese -– local golf industry officials believe more golf course purchases are imminent -– are unclear. One could argue that the recession and consequent cash flow issues for local golf course operators depressed the value of their holdings, making sale prices attractive. But prices like $4.75 million for Indian Wells Golf Club and $3.3 million for Aberdeen Golf Club, located in one of the more remote areas from the beaches, knock down that argument. More logical is that Chinese companies have so much money and that the prospect of returns from "safe" investments are so slim that assets like the Myrtle Beach golf courses, even at inflated prices, will eventually provide better returns than investments in China or Asia in general.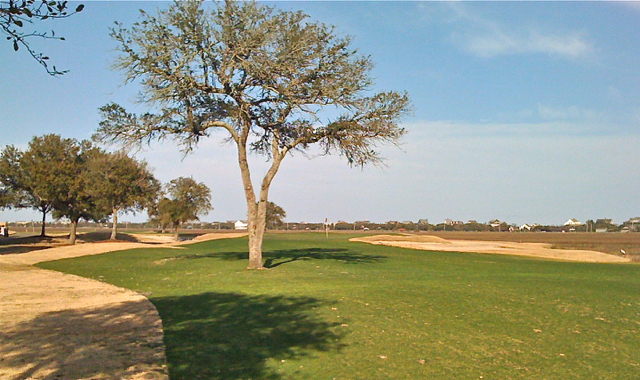 A senior official at National Golf Management, which owns or manages 18 golf clubs in the Myrtle Beach area, including Pawleys Plantation (approach to 16th green in photo), indicated recently that the company's area courses are not for sale.
But there is also a strong emotional argument for the investments in Myrtle Beach and elsewhere. The key to the Chinese motivation could be in those 100 single-family homes. A decades-old U.S. immigration program called EB-5 awards visas to foreign nationals who invest $500,000 to $1 million in a U.S. business; if a buyer can show that his investment creates or saves 10 jobs or more, then he receives visas and green cards for his children under the age of 21, as well as his spouse.
"[The investors] want their children to study in the United States," an immigration attorney told the Sun News.
Those 100 houses the Chinese investors purchased could very well eventually be home to 100 families, or around 400 people. This may be why rumors are rife in the Myrtle Beach area that the Chinese are eyeing 40 additional golf courses or more in their buying spree.

Oh boy, Congress gets involved
Despite the obvious benefits of job saving and creation, the EB-5 visa program is a victim of its own success –- and squabbling in the halls of Congress. The cap on the number of annual visas has been reached in the last few years, and the waiting lists are growing longer. Countries like Australia are now aggressively courting Chinese investment, promising a quick issue of visas, which has made some pols in Washington nervous enough to introduce legislation to streamline and expand the program. But this is an issue under the umbrella of immigration and, in Congress, it almost doesn't matter that expansion of EB-5 appears to have bi-partisan support (a Republican from Virginia, Bob Goodlatte, is pushing it).
Nevertheless, many observers believe, one way or the other, the Chinese will continue to make their investments in the U.S., and troubled golf courses will continue to be a focus. In February, at the annual meeting of members of Pawleys Plantation Country Club, just south of Myrtle Beach and one mile from the now Chinese-owned Founders Club, a member asked the CEO of National Golf Management, which owns Pawleys Plantation and owns or manages another 17 in the area, if their courses were for sale. The response was an emphatic no. But, of course, when the Classic Golf Group's three courses were sold late last year, they weren't for sale either. As ever, money – or should we say yuan –- talks.

Author's Note: For me, personally, the incursion of Chinese families into the Myrtle Beach area, where I own a vacation home, offers the promise, finally, of decent Chinese food. Myrtle Beach is an absolute wasteland when it comes to a cuisine I love and have eaten all over the world, including in Beijing. I look forward to the day when an ad for one of the area's golf courses touts "Best Golf and Dumplings on the Beach."