Just before my wife Connie and I were about to get ready for a special Valentine's evening event at Pawleys Plantation in Pawleys Island, SC, she took a bag of garbage to the disposal area about 30 yards from our front door. As she deposited the bag in the receptacle, she heard a noise in the bushes just beyond and looked up to see a huge pelican staring back at her. She began the brisk walk back to our unit, turned around en route and found the pelican was waddling after her. She rushed into the house, closed the storm door behind her and watched in a combination of wonder and anxiety as the pelican began scratching at the door with his enormous bill. She snapped the accompanying photo. After the bird gave up trying to gain entry, he perched on the guardrail along our carport before going on his merry way.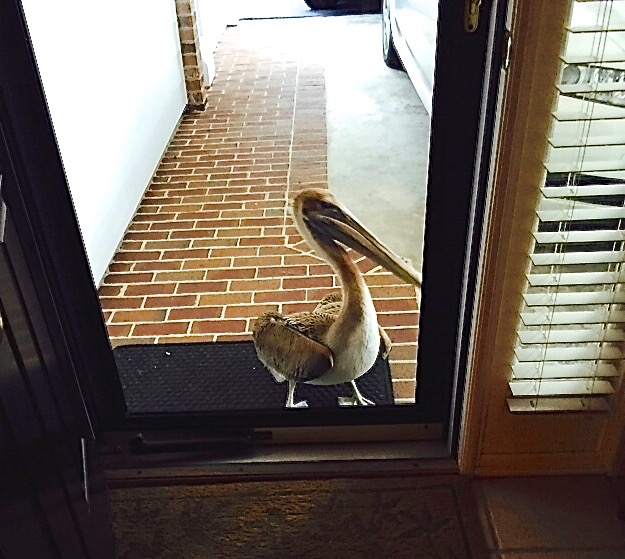 Our Valentine's Day visitor at Pawleys Plantation
The Valentine's Dinner turned out to be much less eventful but interesting nevertheless. About 80 couples from Pawleys and two other nearby golf communities were in attendance, and the crowd was almost exclusively baby boomers (and numerous couples on the other side of 70). Dinner service began shortly after seven, and by 7:30 the band -– whose members' ages reflected the audience's –- was in full swing. The playlist was virtually a what's what of 60s clichés, which is to say the most familiar and popular songs for my contemporaries and me. Here are a few samples: Dock of the Bay, Midnight Hour, Satisfaction (Can't Get No), Bad Moon Rising, Old Time Rock and Roll and others you might logically guess. I am not a dancer, although I indulged Connie on the slow ones, but I was impressed with the energy of my fellow club members who are well into their 60s and beyond. I was exhausted watching some of them but impressed that so many still remember how to "do the twist."
But beginning at 9, the crowd began to dwindle pretty quickly, and at 10, the band abruptly played one last tune "to take you home," and the night was over. As one of our tablemates observed, "this is pretty much past our bedtimes."