Two of the biggest golf club operators in the Myrtle Beach area have merged, bringing 23 of the 90 golf courses along the Grand Strand under one umbrella, National Golf Management.  The newly formed company will own and operate 15 clubs and manage another eight.  According to a recent article in Golf Inc. magazine, National Golf Management is the 19th largest golf management company in the world.
        Golfers who beat a path to Myrtle Beach on an annual basis will recognize many of the courses in the NGM portfolio; they include "The Grandaddy," Pine Lakes International, the first course to open in Myrtle Beach (1927); Arnold Palmer's King's North; the Grande Dunes Golf Resort Course; the challenging Pawleys Plantation Golf & Country Club, a Jack Nicklaus Signature layout that plays through a former rice plantation; and the highly regarded Tidewater Golf Club, perennially rated in the top 10 of all courses in the area.
        Myrtle Beach National was formed when the company that built the golf development of the same name just off Highway 501 and the 100-year-old Burroughs & Chapin merged.  Burroughs and Chapin had operated primarily as a real estate development company before it expanded into golf course ownership.  In Myrtle Beach, real estate and golf have gone hand in hand for the better part of a half-century.
        The new company's choice of a "national" name may signal larger aspirations beyond Myrtle Beach.  A number of regional and national golf course operators are looking to expand their holdings while prices for good clubs are at bargain-basement levels, and with its new heft and expansive name, National Golf Management may be ready to compete with the likes of Donald Trump, Toll Brothers Golf and other giants of the game.
        Note to potential golf home buyers:  The Grande Dunes community, which features large- and medium-sized homes done in a Tuscan country style that many Floridians will recognize, had the bad fortune to open just a few years before the housing crisis.  Prices there plummeted, and although there are signs that the bottom is at hand, a couple looking for a great golf retirement home or family looking for a vacation spot to call their own will find plenty of bargains at Grande Dunes.  If you are interested in learning more about Grande Dunes or other great golf homes for sale in the area, please contact me.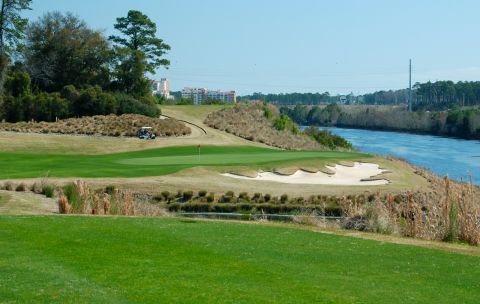 The Grande Dunes Resort Course is one of 23 in the Myrtle Beach area that now comprise National Golf Management.  The Grande Dunes community and its two golf courses -- the other is the private Members Club -- were developed by Burroughs & Chapin, which merged with Myrtle Beach National to form the new company.