I am in Pawleys Island, SC, at the lower end of the 90-mile strip of land known famously as the Grand Strand. Housing prices remain not so grand down here -– if you're a seller -- and there are plenty of excellent golf homes for sale in Myrtle Beach at dirt-cheap prices (and when you can find a patch of dirt for sale, it is even cheaper, relatively speaking, because no one seems to be buying lots these days).
        Yesterday, I had lunch with a Myrtle Beach area realtor who sells a majority of his properties in Wachesaw Plantation, one of the three strictly private golf clubs in the Myrtle Beach area; the other two -– DeBordieu Colony and The Reserve at Litchfield Beach –- are also located south of Myrtle Beach, but Wachesaw has the advantage of being less than five minutes from a hospital and less than seven minutes from a shopping mall.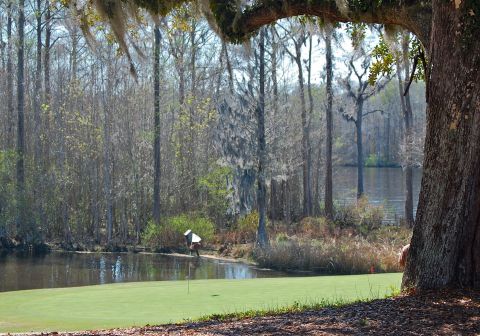 The 18th green at Wachesaw Plantation, wedged between river and pond with, of course, a live oak in splendid view.
        Wachesaw, though, tends to defy the notion that market value is a function of location, location, location. On a per-square-foot basis, homes in the community tend to sell at 10% to 20% less than homes in its competitor communities. The reasons are historical. In the early years, some residents say, Wachesaw's developers alienated local realtors whose disaffection with the community lingered until recently. When I first stopped at Wachesaw nearly 15 years ago, the two-mile ride in from Highway 17
Although Myrtle Beach is home to more than 100 golf courses, only three clubs are fully private, and Wachesaw Plantation is one of them.
was an eyesore, the homes along the road (including some trailers) featuring rusting cars on their front lawns and all other manner of detritus. Curb appeal was the wrong kind –- until you passed through the gates of Wachesaw and found grand landscaping produced by Mother Nature, arguably the most attractive of any community in the area thanks to hundreds of massive, sprawling live oak trees, dripping with moss.  One substantial branding problem:  Wachesaw East, a middling golf community with a public course, is just down the road, and many visitors confuse one community with the other to the gated, private community's detriment.
        The overhang of the negative early impressions still affects prices in Wachesaw, where many homes can be purchased for less than $150 a square foot. Initiation fees at the classic Tom Fazio course have dropped to around $5,000, and dues are pretty typical of such private clubs (and depend on which membership plan you choose).
        I had lunch on Thursday at the golf community's Kimbel's Restaurant with Bill Curtis. As we looked out over the sedate Waccamaw River, I asked Bill to describe the lowest-priced property in the community. He detailed a 2-bedroom, 2-bath cottage that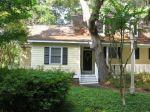 overlooks the 18th green and the marshland and river beyond, and comes fully furnished for just $179,000. At 1,250 square feet, that works out to about $143 per square foot. Earlier in the year, a few other cottages sold as low as $129,000 after one seller in panic mode dropped his price to that level and reset the market value for the others. At $179,000, though, the current cottage for sale appears to be a bargain, especially for those who want to generate a little income from it by putting it on the Wachesaw club's rental program. At around 25%, Wachesaw's management fee (which covers housekeeping, marketing and other responsibilities) is among the lowest on the Grand Strand.
        There are plenty of golf homes for sale in the Myrtle Beach area. For anyone contemplating a retirement or vacation home on the south end of the Grand Strand, away from the neon lights and honky tonk at the heart of Myrtle Beach, Wachesaw is a must visit. If you would like to arrange for a stop at Wachesaw or any other golf communities in the area, please contact me and I will be pleased to make the arrangements.