The recent deep freeze that reached as far south as Orlando and put a serious hurt on citrus crops there did not deter dedicated golfers in the deep south. Greenville, SC, real estate professional Lee Cunningham sent the photo below as testimony that New England and Midwestern golfers do not have the market cornered on cold weather play (although Greenville boasts of more days of sunshine annually than any other city in the state). Perhaps golfers at The Thornblade Club saw the frozen ponds (foreground in photo) as hazard insurance, although no meterological condition could neutralize the effects of the Tom Fazio bunkering on the classic course.
Frozen ponds may keep golfers at Tom Fazio's classic Thornblade Club out of the water hazards, but plenty of sand hazards await.
I have written about The Thornblade Club often since I first played the golf course and dined in the clubhouse nearly five years ago. Read my comprehensive golf course review here. Thornblade, which hosts a
Thornblade is a prime example of how golf-focused couples can save money by purchasing a home and a golf club membership from separate entities.
Nationwide tournament and spawned U.S. Open winner Lucas Glover, is a prime example of how golf-focused couples can save money by purchasing a home and a golf club membership from separate entities. At Thornblade, many of the traditionally styled houses are within a short walk of the clubhouse, and others a two-minute drive. Most of the extra amenities one would expect in a golf community, such as pool, tennis and nice dining areas, are available on the club's grounds. I can vouch for the food at Thornblade, which was better than 90% of the golf community clubhouses I've eaten in.
Greenville did not suffer a dramatic increase in house prices before the 2005 market drop and, therefore, area prices have not suffered the way more high-growth areas like Myrtle Beach have. And according to local data, more new house permits were issued in the Greenville area in the second half of 2009 than in the first half, which typically accounts for 60% of the year's new permits. That signals some confidence among builders and a possible strengthening of the market.
Lee Cunningham, a member of our network of real estate professionals throughout the southern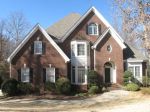 U.S., sent us a photo of a 5 BR, 4 1/2 BA, 5,900 square foot home currently for sale in Thornblade. "It's on a great street and backs to a natural area with a creek for privacy," says Lee, and includes a finished basement, multiple decks and a private backyard. The house is listed at $699,900, $125,000 off its original price. Fifteen minutes away, comparable properties in the hyper-amenitized Cliffs Valley community run into the seven figures, but some include golf membership in six clubs, currently valued at $150,000.
Greenville has about a dozen golf communities in the metro area, as well as excellent private clubs, like Thornblade, and semi-privates that are central to residential neighborhoods. If you would like more information on life and real estate in the Greenville area, or a free copy of a newsletter I dedicated to some Greenville area golf communities, contact me.