The Wachesaw Plantation Golf Club has earned the prestigious South Carolina Golf Association's Club of the Year award for 2009. Wachesaw, which is located in Murrells Inlet, SC, is a private club whose Tom Fazio course is one of the best layouts on the golf-rich Grand Strand of Myrtle Beach. I made a revisit to the Wachesaw Plantation community and its golf course earlier this year and was pleased that not only the course was in fine fettle, but that the two-mile drive from Highway 17 was uninterrupted by shanty-type homes in disrepair, which was the case as recently as five years ago.
Wachesaw was cited by the SCGA for its dedication to junior golf, including hosting an annual Can-Am junior golf event that pits teams of juniors from Canada against local area teams. Wachesaw's members and residents are enthusiastic about the event and not only don't mind turning the course over to the kids for a few days each spring, but also come out in full force to support it. The club has also supported state association golf tournaments since it opened in the 1980s.
You can read my recent review of the Wachesaw Plantation golf course by clicking here. If you would like more information about the community, whose homes rank among the best in terms of value in any golf community in the Myrtle Beach area, contact me. For golf membership information, contact Cindy McLauglin, director of membership, at 843-357-4140 or wpcmarketing@wachesaw.com.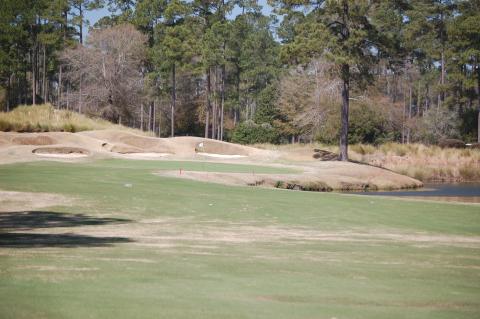 The approach to the 8th green at Wachesaw Plantation is one of many challenges along the way on the classic Tom Fazio design.
REMINDER: You are just a couple of clicks away from a copy of the premiere edition of the Home On The Course newsletter, published by the editor of Golf Community Reviews. Go to the top of the page, upper left, and click on Subscribe Now. What do you have to lose? It's free and loaded with helpful information and observations about golf community properties and golf courses. Sign up today to receive the premiere edition.