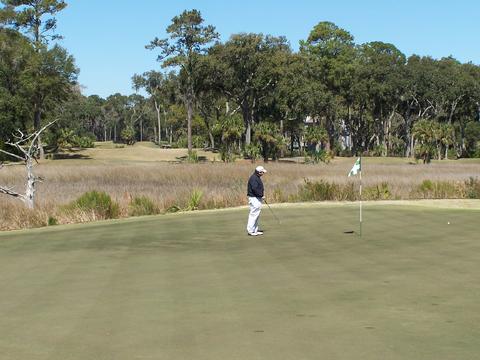 Rees Jones gives you many angles from the tee box to the par 3 8th green on the Calibogue Course at Haig Point, but the marsh intrudes on all of them.

One of our favorite golf courses, the Rees Jones 27-hole layout at Haig Point on Daufuskie Island, SC, has been closed for the last few months. It is undergoing a rehab that is part of a $5.5 million overall improvement plan for the community's amenities. Club members voted as well to upgrade their oceanfront meeting and dining facility and the ferry system that is the community's lifeblood.
Daufuskie is a true island that cannot be reached by roadway. Its blessings are mixed, to be sure. On the plus side is the peace, quiet, lack of cars and resulting pollution, and next to no commercial ventures. It is a beautiful and restorative place. On the other side, housing costs can be frightfully expensive because everything - labor and materials - must be shipped in to build a house. And although membership in the golf club, a $60,000 value, is typically free with the purchase of a home, dues are as high as anywhere else, somewhere in the $13,000 annual range (and that doesn't include any assessments arising from the current improvements).
We just received notice of a listing of a nice home in Haig Point with views of the golf course and Calibogue Sound. It includes four bedrooms and 3 ½ baths over 3,200 square feet, and the new oceanfront club is a short walk away. It is priced at $1.2 million. The owner is also kicking in a flooring allowance to update carpets and tile. Based on the listings we see, this home is more or less in the middle of the market in the community.
Haig Point residents are a breed apart, literally and figuratively, and not just because they have the resources for expensive island living. They have made some special accommodations for the
We would not mind having the Direct TV satellite franchise on Daufuskie
privileges of clean air and an extraordinarily laid-back lifestyle. Shopping, entertainment beyond the clubhouse and the other accoutrements of life that many of us urban and suburban dwellers take for granted require them to get in their golf carts, drive to the ferry dock, make the half-hour crossing to Hilton Head, fetch their car in the parking lot and drive to wherever they are going, and then repeat the process when they return home. Still, we didn't meet anyone who complained about it when we visited a couple of years ago. That said, we wouldn't mind having the Direct TV satellite service's franchise on Daufuskie.
GolfCommunityReviews has qualified a real estate agency in the Hilton Head/Daufuskie area that can help you identify your dream home on the course in the area. Just
contact us
and we will be happy to help.