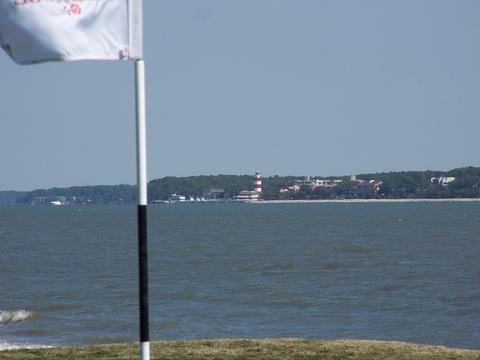 The 18th at the Melrose course on Daufuskie Island is directly across the Calibogue Sound from the famed finishing hole at Harbour Town on Hilton Head Island. Note the lighthouse.
I am on the mailing lists for many golf course communities and real estate agencies throughout the southern U.S. Scan enough of these communications and you get a pretty good picture of how the housing market problems are trickling down.
Take today's email from an agent selling real estate on Daufuskie Island, off the coast where Georgia and South Carolina meet, not far from Savannah. For a relatively small island reached, by the way, only by ferry or other water conveyance, the list of homes and properties is long. The prices are also lower than comparable prices a year ago.
Properties at Haig Point, for example, an exclusive, gated community with 27 holes of splendid Rees Jones marsh and ocean side golf, begin at just $100,000, and that includes required membership in the $60,000 club. (Note, however, that dues top $12,000 a year, but still, the lot prices seem extraordinarily low for a high-end community). Lots with views of the Calibogue Sound begin in the mid $100s, with lots two rows from the ocean beginning at under $500,000, and ocean view lots at $1.35 million. That may sound like a lot of money, but up and down the east coast, oceanfront lots were going for $2 million and up a year ago.
Besides the Haig Point course, the island is also home to two other outstanding courses at the Daufuskie Island Resort on the other side of the island. The Melrose course is a challenging early Nicklaus design with three finishing holes where the sound and ocean meet. Wind is a big factor in course management at Melrose. Bloody Point is a Tom Weiskopf/Jay Moorish layout that isn't quite as tough as Melrose but features a number of nice water-view holes. Members of Haig Point can play the resort courses for a fee, but Haig Point is very private.
If pure island living is in your blood, we have agents in our network who can provide much more information about living on Daufuskie Island, as well as neighboring Hilton Head. Contact us if you would like a no-cost, no-obligation referral.