Darwinian selection has a great Petri dish in Myrtle Beach. Dozens of courses in the acknowledged golf supermarket of America have closed forever in the last three years, victims of overbuilding and developers' zeal to build more condos close to the beach. Most of the courses have been replaced by housing developments.
To be blunt, none of the dearly departed courses were very good, although when I was a 20-something avid golfer making my first pilgrimage to the Grand Strand, Possum Trot and Bay Tree Plantation were a step up from the municipal layouts I played at home. But over time, both quantity and quality combined to winnow out the weaker of the Strand's courses, which reached a total of almost 130 in the mid 1990s. No number of Canadian visitors in March and October could fill them all; and the rise in gas prices (and airline tickets) conspired to put the final nails in a few coffins.
Quality became an issue as well; great layouts like Caledonia and Grande Dunes and the designer Barefoot Resort courses made it difficult for the scruffier tracks to generate the traffic they needed. Deep price cuts didn't help; it made the third-tier courses seem like Odd Job Outlets.
Total courses in Myrtle Beach now number under 100. Of course, with the loss of courses, total rounds played year to date on the Strand are down, 100,000 fewer compared with the first half of last year, according to Myrtle Beach Golf Holiday, which coordinates marketing for the area's courses. But golf course operators on The Strand are smiling because they are generating more rounds per course and at higher greens fees. According to Myrtle Beach Golf Holiday, paid rounds per course jumped 123 in this year's three-month spring period compared with the same period last year.
As long as people keep relocating to the Myrtle Beach area, the current number of courses seems more rational and sustainable.
There is talk in the local newspapers about the possibility of new course construction on the horizon, now that area courses are making money again. Given the lessons of the recent past, we would expect any new courses to be more Grande Dunes than, say, Deer Track (another defunct layout). Also, the time may be right for the members at a few semi-private courses to follow the lead of The Surf Club and go fully private. There is room in the Myrtle Beach portfolio of courses for another one or two private courses.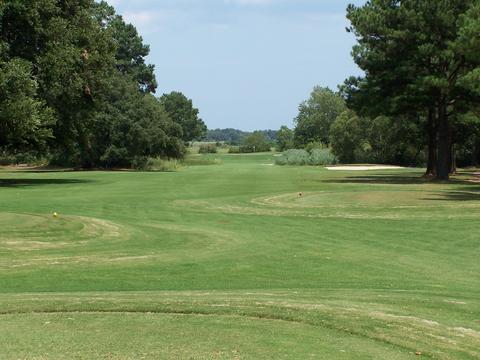 Wedgefield Plantation in Georgetown, SC, hung on through the dark days of the Myrtle Beach golf business and is now generating more rounds and revenue.