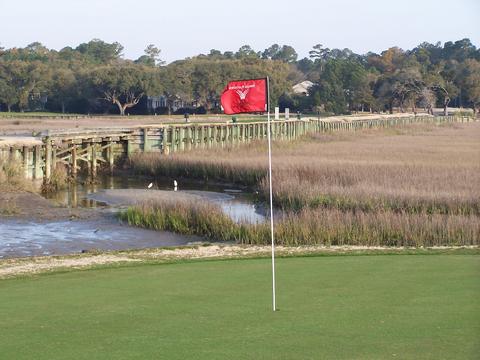 The dike at Pawleys Plantation holds the tee boxes for #13 (shown here) and #17, two challenging par 3s. New sod will be added to tees next week.
Some of my fellow members at Pawleys Plantation in Pawleys Island, SC, are starting to grouse about course conditions and apparent plans to add more rough to a Jack Nicklaus Signature course that is already tough enough. The recent departure of the club's pro and the serious illness of the course owner have just added to the sense of anxiety.
The coastal areas of South Carolina have received little rain over the last two months, and the fairways and greens at Pawleys are starting to show the effects. We are used to almost universally good lies in the fairway, but yesterday we had to move the ball a few times from bare spots. The greens were also a little thin in the grass category, although few putts rolled anything but true. Frankly, coastal courses like Pawleys Plantation go through these cycles with the grass, and we are not overly concerned about the long-term conditions.
But what members seem most concerned about are the painted white lines that signal gnarly Bermuda rough will narrow the fairways and be brought much closer to greens that already have more than enough trouble around them. Pawleys was built early in 1988, at a time when the still-learning designer crafted his layouts to suit his personal playing style -- i.e. to hit high shots into greens. Pawleys' greens are firm, well bunkered and not very deep. The few greens that are deep are also narrow side to side. Add the complexities of ocean breezes to a course that is less than a half mile from the Atlantic, and encroaching rough will make the already brutal course even tougher, no matter what tees you choose. (From the tips, at 7,000 yards, the course has a 75.3 rating and 146 slope; from the blue tees at 6,500 the rating is 72.5 and slope 137.)
The club's management has made a number of improvements to the course over the last year, investing in sodding to improve the off-fairway areas and replanting a few greens that were having trouble growing grass. Next week, they will re-sod the dike that holds the tees for the 13th and 17th holes, both signature par 3s over the marsh. These are all improvements that are good for members and for attracting resort play that helps keep dues low. But unless club owners are expecting to host a U.S. Open, they should leave rough enough alone.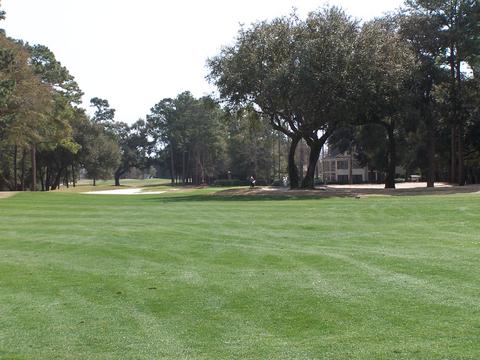 As if narrow, well-bunkered greens are not challenging enough, Nicklaus puts a live oak in a large trap that guards the right half of the fairway just 70 yards from the green on the par 5 11th. Course management plans to bring the rough in closer to the fairways and around the greens.