Wedgefield Plantation in Georgetown, SC, is the farthest south of the 120 courses that stretch nearly 100 miles along the Grand Strand of Myrtle Beach. It regained that distinction when the tricky Winyah Bay course closed two years ago to make way for a community of homes. By the way, things don't seem to be going very well in that new development; we drove through last week, and the only thing built is a small clubhouse.
Wedgefield was one of the original 19 courses on the Strand; I use the term "original" to signify the number of courses on the Strand during my first visit in 1969. I played Wedgefield then and recall it seemed like wilderness, just a few homes scattered outside the fairways, and the clubhouse an antebellum plantation house that had seen better days. I did like the golf course because it featured more water than I had ever hit over or around in my seven years of serious golf (at the time). I can report that the water is still there, and the course is undergoing a renaissance of sorts, with better grooming along the fairways and on the greens than the place has seen in decades. And the old brick clubhouse has been refurbished and recently reopened, serving meals at lunch and dinner to golfers and local non-golfers alike. Georgetown needs a quality course, and residents and visiting golfers on the south end of the Strand will find Wedgefield a nice contrast to the notable Caledonia, Pawleys Plantation, True Blue and the soon to open Founders Club in Pawleys Island (the latter the former Sea Gull Golf Club, another on the list of my original 19).
While the course is separate from the surrounding neighborhoods, Wedgefield has very much of a community vibe. The houses are eclectic in style, new mixed with old, well designed mixed with some 35 year old structures that could use aggressive rehabilitation (or tear down). Prices reflect the inconsistent nature of the houses and start at about $200,000. You won't find many that tip the $400,000 scale. A couple with some fix-up energy and no need for too many amenities could do quite well.
In the next day or two my son, Tim, the golf architecture geek (and 1 handicapper), will share his thoughts about the Wedgefield course which he played with me a few days ago. I expect that his comments will reflect that, unlike his old man, he is unburdened by any sense of nostalgia for Wedgefield.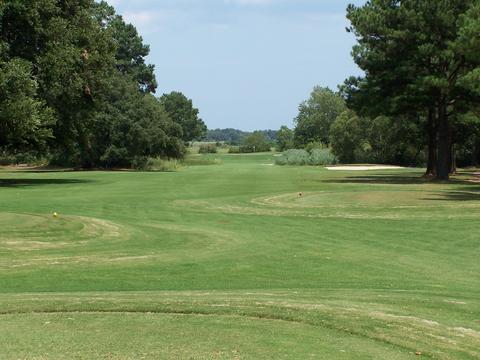 The short par 5 17th at Wedgefield offers a strong reward for a risky tee shot. Drive anywhere left or right of the fairway, and you will need to contend with water that pinches in on both sides of the fairway from 150 yards in to about 50 yards from the green. A good drive and you can comfortably go at the green in two.