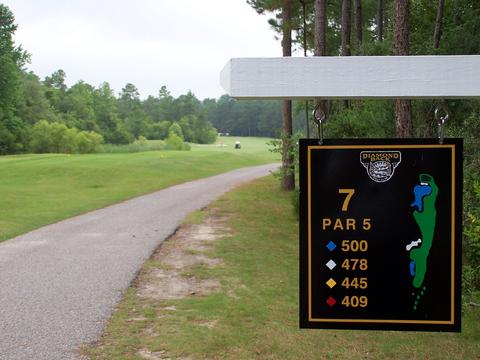 Position, not length, is most important on Diamond Back's par 5s.
Sometimes when you are in a slump in baseball or cricket (we have faithful readers from the UK), all you need is for someone to lob a few your way to get your stroke back. I have been in a slump lately, a 10 handicap struggling to break 90. Diamond Back in Loris, SC, was just what the doctor ordered. Its wide fairways and approachable greens cured the pushes and pulls that had marked my game this year.
I would not have played Diamond Back if it hadn't been for Woodland Valley, an intriguing new community out on the fringes of the Myrtle Beach area that is sprouting around the golf course. This is bass ackwards for golfing communities, where almost always the course is built into the master plan so it can work in two-part harmony with the housing lots. Here, however, the course and community are separately owned but woven together, with some holes in the very interior of the community that will afford nice views from future back porches.
I'll have a more extensive review of Woodland Valley in the October issue of HomeOnTheCourse, our bi-monthly newsletter, but suffice to say for now that Diamond Back, whose advertising line is "Feel the Fangs," has more bark than bite. Despite a few forced carries, Diamond Back is still a resort course and, with one curious exception, it is built for speed of play, with good sightlines, wide fairways, big greens, and sand bunkers not encroaching too much at greenside. The exception is the absence of hazard stakes off fairways and just beyond the cart paths; we played behind a group from the San Diego Golf Academy, about a dozen young men trying to earn their credentials to become golf club professionals, and more than once a member of the fivesome in front of us returned to the tee to reload after a stray tee ball (He took an 11 on one hole and was crestfallen, as you might imagine). This turned a 4 ½-hour round into a 5-hour one.
A few other idiosyncrasies are worth mentioning. Diamond Back has no alert system for impending bad weather. As the signs on the carts and around the course indicate, you are on your own to exercise good judgment in the event of lightning.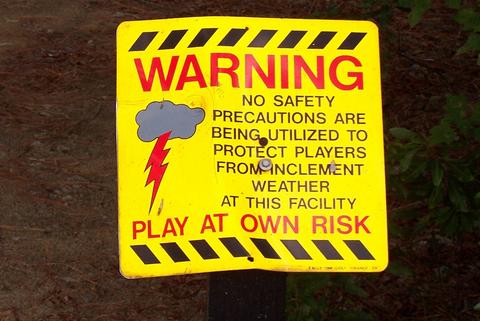 The greens on the front and back nines were entirely different. Although it was a Monday, normally a day of rest at many courses, maintenance crews were out working. Oddly, the front nine's greens had not been cut, were quite grainy and medium slow. The back nine's greens had been cut in such a way that they appeared to have been both shaved and slightly aerated, giving the surface an indoor/outdoor carpet weave effect. Nevertheless, they were fast and generally putted as they read. Finally, the Diamond Back scorecard needs significant updating. Many official yardage stones from the back tees (6,907, rating 74.0, slope 139) did not match the card, and the course from the tips played more like 6,800. Son Tim played erratically from back there and still shot 74. My own 78 from the "back" tees (6,390, 71.4, 129) was my best round of the year.
At almost a half hour from Myrtle Beach and North Myrtle Beach, Diamond Back is out there, the farthest course north and west of the 120 courses in the Myrtle Beach area. Is it worth the trip? My answer is that, like most golfers, I'd suffer virtually any inconveniences to shave almost a dozen strokes off my (recent) average score. Diamond Back's lack of venom was an antidote for me.
I'll have much more to say about the course at Diamond Back, and I'll print a review of the brand new community at Woodland Valley, in the October issue of HomeOnTheCourse. For subscription information - we charge a mere $39 for six issues a year - go to HomeOnTheCourse.com where you can receive a free sample and subscribe securely. The August issue will be available soon, with a 14-page look at the Williamsburg, VA, area, including the Kingsmill Resort, Ford's Colony, Governor's Land and Colonial Heritage, with an Arthur Hills-designed course that was as tough as any we have played. Subscribe now so you won't miss it.