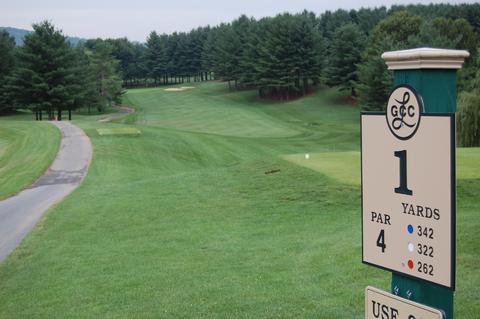 The routing at Lexington begins with a sloping fairway, a sign of things to come.
Lexington Golf & Country Club, Lexington, VA
by Tim Gavrich
The Lexington Golf & Country Club is a private course located adjacent to one of the town's most upscale communities, with home values averaging in the mid six figures. (The median value of houses in Lexington is $230,000.) The houses, however, do not encroach at all on the golf course. Housing prices in Lexington have escalated in the last few years as people from Washington, D.C., and Richmond have begun investing in Lexington's downtown property and some of the horse farms in the area.

The original golf course was laid out in 1902 by the club's charter members and redesigned and expanded to 18 holes in 1971 by Ellis Maples and Ed Seay. It is located just south of town and a few miles from Interstate 81. The club permits some outside play at times of low traffic (call ahead as we did; the folks in the pro shop are very friendly and accommodating).

Lexington is home to Washington & Lee University and Virginia Military Institute. It is a charming town with good restaurants, interesting shops and a friendly vibe. It is a nice place to visit, to go to school and to live.

Golf Course Setting: 7 ~~ Lexington Golf & Country Club is set on approximately 150
acres of rolling hills. Trees come into play on most holes and make positioning off the tee critical to a good score. Views of the surrounding Blue Ridge Mountains provide nice framing to many holes. The driving range is barely 225 yards long and, therefore, permits only iron play off the practice tees. The clubhouse sits on a hill overlooking the 9th and 18th greens and 1st and 10th tees.

Golf Course Conditions: 7 ~~ The greens at Lexington were medium speed, mostly owing to the recent rains that had also softened the fairways that had not been mowed in a few days. The course, whose rating and slope are fairly high for a short layout, would have played even tougher with slicker greens. Though a little hairy, turf both on and off the greens was in fine shape.

Quality of Green Complexes: 7 ~~There are some "classical" movements in the greens at Lexington. Most of them are pitched from back to front in varying degrees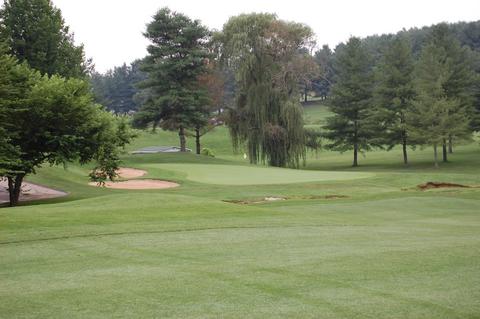 of severity. You won't find the dedicated chipping areas prevalent in modern course designs, but missing Lexington's greens left, right and especially long will make bogey a real possibility. Lexington saves its most challenging green (by far) for last at the 18th, a kidney shaped surface with three tiers that make it tough to land an approach shot on the same level as the pin. But it also makes for creative bank shots from off the green.

Quality of Par 3s: 5 ~~ The par 3s are not terribly compelling at Lexington. Holes 4 and 17 are of similar length (about 170 yards), and both play across ponds to fairly mundane greens. Holes 2 and 8 play downhill and are within six yards of 170 from the back tees. The best of the five par 3s is the 14th, which has an interesting oval-shaped green that is slanted away from the tee and offers a narrow landing surface.

Quality of Par 4s: 7 ~~ The par 4s at Lexington are a fair challenge, but only two extend beyond 400 yards from the men's tees (total yardage 6,068). The narrow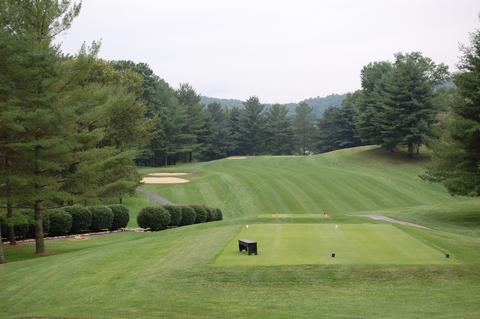 fairways, however, demand precision tee shots. Even for the grip-it-and-rip-it players, there are no drivable par 4s. The most compelling four-shotters at Lexington are holes 10 and 12, both of more than 430 yards from the tips that call for the player's best drives and accurate long irons.

Quality of Par 5s: 6 ~~ The four par 5s at Lexington provide the golfer with four great chances to gain ground on par. They are all reachable in two, although the 6th green is protected by a stream and should be approached with caution. The strongest of the par 5s is the 11th, which calls for a tee shot that bends right to left to a fairway that tilts down in the same direction. The second shot is a downhill thriller to a green benched into the side of a hill; shots that run through the green will leave the player with a steep uphill pitch.

Routing of Golf Course/A Good Walk: 7 ~~ Because of its relatively short length and the proximity of most tees to the previous greens, Lexington is an enjoyable course to walk. The presence of ample trees and shade also provides welcome relief from the summer heat. There are a few healthy walks from one green to the next tee, but they are nothing like the distances on more modern courses.

Overall Rating: 6.5-7 ~~ On its small scale, Lexington Golf & Country Club is an enjoyable course. It has classic good looks, a well-groomed landscape and enough variety of shots to retain a player's interest over many rounds. In styling, it stands in stark contrast to the brawny Vista Links, the other quality course in the area that was reviewed here earlier. Lexington requires more brain than brawn.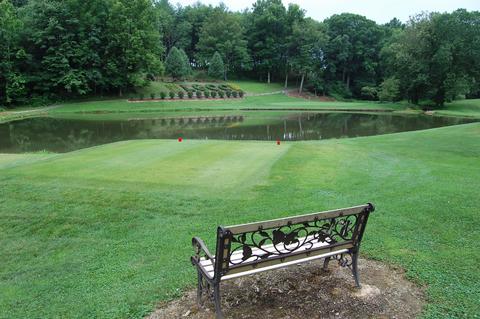 Lexington defines classic private country club...except non-members can play it.
Lexington Golf & Country Club, 141 Country Club Road, Lexington, VA, 24450,
(540) 463-3542

Yardage, Rating, Slope:

Back tees: 6,365, 71.2, 135
Men's tees: 6,068, 70.0, 131
Women's tees: 5,293, 71.5, 126