Roughly half of those who live inside the gates of golf communities rarely or never play golf. They buy a home in a golf community because of the generally more evolved landscaping associated with the golf course and because they believe their homes have a much better chance to retain their values if a beautiful amenity like a golf course is close by. In general, they are correct.
But, ironically, some of the biggest battles inside golf communities are between golf club members and non-members in those communities where membership is not mandatory (most communities). Sometimes, such as during and after the 2008 recession, membership rolls in country clubs dip below the sustainable line; cutting back on expenses to keep the golf course in good condition can cause more member losses which, in turn, causes further cutbacks in conditioning. Feelings between golfer members and non-golfers can become uncomfortable when, to avoid the downward spiral, golf community clubs appeal to the homeowner's association for contributions to capital budgets and for the costs of marketing to prospective new members. Once the member rolls return to proper levels, the club can sustain its necessary expenses from the added dues payments. But, in the meantime, non-club members often look on tiding the club over as throwing good money after bad; in other communities, thanks to professional communications from the club and homeowner boards, residents make the wise connection that the values of their homes are tied directly to the health of the golf club.
Strong Sales at Cypress Landing
Put Cypress Landing in the latter category. Over the last three years, the Chocowinity, NC, community of just under 600 homes has signed up more than 100 new residents thanks to a dramatic refurbishment of its web site, arrangements with five local real estate agencies to push properties for sale inside the community, an aggressive "ambassador" program that involves many of its residents, and an overwhelming recognition by residents that the value of their homes can rise and fall like the tides in the adjacent Pamlico River. Thanks to recent sales, the current inventory of unsold homes in the community is down to around 6%, a few percentage points lower than in most golf communities and a sign of a healthy real estate market; with fewer homes on the market, those that are listed have slightly higher selling prices than if there were a couple more dozen homes available.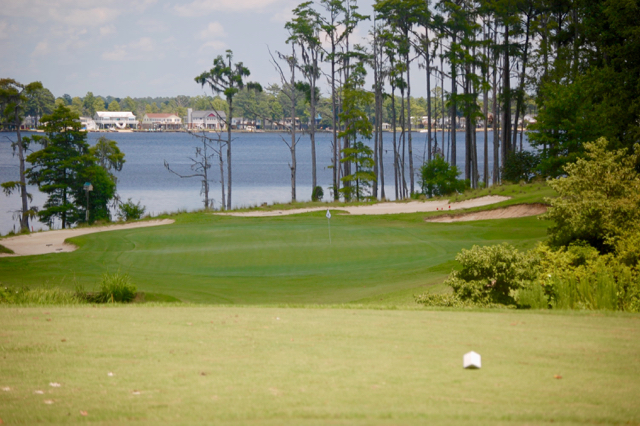 The par 3 15th hole at Cypress Landing backs up to the Pamlico River.
Cypress Landing's board of directors maintains a strong marketing committee that has helped its fellow residents make the connection between their property values and a vibrant golf club.
"After we made the case to support capital improvements at the golf club," says Marketing Committee co-chair Jeff Gould, "the HOA [homeowners association] voted 95 percent in favor of the proposal."
Those good feelings spill over to new prospects when they visit Cypress Landing on its reasonable Discovery Package, just $175 for three days and two nights.
"We generate a 25 percent sales rate for those who visit Cypress Landing on the Discovery Package," says David Grahek, the Marketing Committee's other co-chair. "We let the couple tell us what they want to see, and then our Ambassadors accompany them."
The Ambassadors are couples who live at Cypress Landing and are matched with prospects who have specific interests. For example, if a visiting couple is interested in golf, Grahek, who manages the Discovery Program in behalf of the board, will match them with a golfing couple for a round of golf. Boaters are matched for a river and bay tour with couples that keep a boat at the community's 220-slip marina. Given that Cypress Landing offers dozens of amenities, activities and clubs, no visiting couple has to go without a local couple to guide them.
Creative Tension Makes for Best Decisions
I've served on a few marketing committees and I know that "creative" decisions evolve from often animated, occasionally contentious, discussions. On golf club boards, composed substantially of former business people, most members can act like marketing experts. But the Marketing Committee of the board at Cypress Landing actually includes five members with professional marketing experience, Jeff Gould told me. Recalling the old line about a camel being a horse designed by a committee, I asked him if "designing by committee" was an issue at Cypress Landing.
"We have diverse backgrounds on the committee," Gould said, "that lead to good decisions. Let's just say that in the execution, we are strongly led."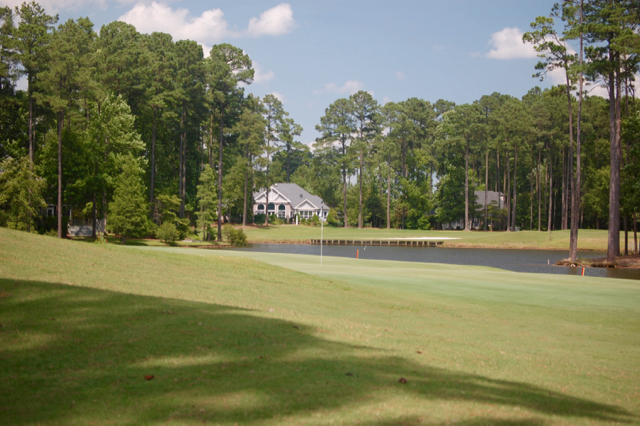 Many of the homes at Cypress Landing have views of the golf course at only a modest premium over wood view lots.
Whatever, it seems to be working. When I visited Cypress Landing for the first time in 2015 -– see article here –- I was struck by how well the community was laid out, with homes spaced well apart and the golf course nicely integrated into the landscape. The reasonable prices for most of the homes on the market belied the views of the wide and attractive Pamlico River and Chocowinity Bay and were comparably low for a community not that remote from an active town like Washington and a bustling small city like Greenville. In many cases, homes on the market today, despite the short supply, are priced at barely more than $100 per square foot. Cypress Landing, which has not maintained an on-site sales office since owners purchased the community in 2003 from original developer Weyerhauser, the giant paper company, has made arrangements with five local real estate brokerages to handle sales. Unusually for a golf community, Cypress Landing's web site (http://cypresslanding.com) lists a few homes for sale by owner, a nice little touch for residents looking to avoid the customary 6% commission rate, and for potential buyers looking for a better priced home, unburdened by thousands of dollars in real estate commissions.
Next Challenge, Lots
When I asked one of my favorite questions -– "What type of couple is not right for Cypress Landing?" -– Messrs. Grahek and Gould responded almost in unison, "recluses." I get that a lot, but for a modestly sized community, it would be hard for any couple to hide at Cypress Landing given the several dozen activities and clubs on site, the town of Washington on the other side of the river, just 10 minutes away, and Greenville a half hour down the road, and home to Eastern Carolina University and a large medical complex with which any aging baby boomer aware of his or her mortality will identify.
Given their success in marketing the community over the last three years, I asked Grahek and Gould what their next target was and they mentioned that 49 lots remain unsold in the community, all in private hands (some, no doubt, by residents who decided to make an ill-fated extra investment before the recession). The average lot price in Cypress Landing is $72,000, with water-view sites a little higher and plain wooded sites priced a little lower; many of the "average" lots have views of the Bill Love designed golf course. Since customary construction costs in the area run to about $135 per square foot, a couple looking to build their dream home to their own specifications could certainly do so at less than $400,000, land included, for a 2,500 square foot house. Given just $1,224 annually in homeowner association dues, a very reasonable $258 per month in golf club member dues per couple and no initiation fee, Cypress Landing is undeniably one of the better buys in comprehensive golf community living.