March property sales results in Brunswick County, NC, one of the most popular destinations for retirees on the east coast, show that prices remain a bit soft. But other results imply an eventual inventory shrinkage which signals the potential for significant price increases as the strong spring selling season continues.
The good news for buyers is that the average selling price of a home in Brunswick county was down nearly 6% to $237,000 from $252,000. But that statistic was in the face of data that showed a 14% jump in total home sales over the prior year and 47% over the number of sales the month before (February). Total number of listings increased by nearly 26%. These latter numbers signal that inventory could shrink significantly in the coming months. If demand remains steady in the popular Brunswick County area, then the result will be increasing prices.
Some of our favorite golf communities are located in Brunswick County, among them Brunswick Forest just outside Wilmington; St. James Plantation near Southport; and Ocean Ridge Plantation in Sunset Beach. (Those only begin to scratch the surface of the list of golf communities strung out along and near Highway 17 through the county.)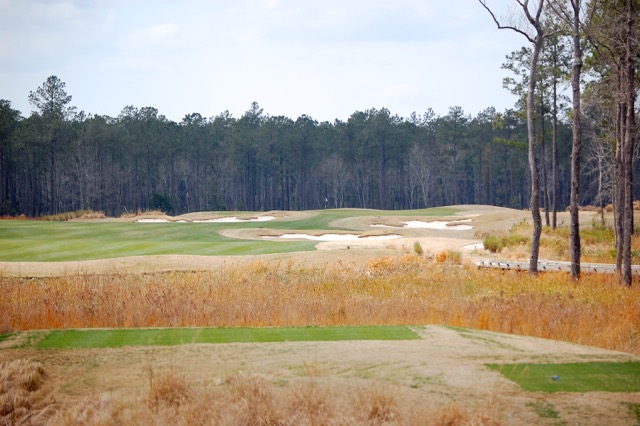 Cape Fear National golf course at Brunswick Forest
Brunswick Forest has reached its 10th year of operation and it remains one of the fastest selling golf communities on the east coast. Much of that is for developer Lord Baltimore Capital's reputation for deep pockets and its strong guidance of the community. The semi-private golf course, Cape Fear National, is a delight to play, especially for those who enjoy a links style golf course in which sand is the commanding visual design element. Brunswick Forest's wellness center is second to none in terms of its modern equipment, well-trained staff and schedule of classes. The community is currently featuring a mix of re-sales and new construction, with townhomes from $235,000 and single-family homes from just under $300,000. Lots are priced from $70,000. Contact us for more information or for an introduction to our real estate professional for Brunswick Forest.
St. James Plantation will satisfy those couples split between love of golf and love of beach. The community's 81 holes of golf by the likes of Nicklaus Design, P.B. Dye and Tim Cate provide different layouts but similarly excellent conditions. And just a few minutes outside the gates, St. James Plantation's private beach club on Oak Island provides a relaxing setting that is no hassle to get to. Condos in St. James start at $130,000, with single-family homes from $225,000. Lots begin at just $27,000. Our real estate professional for St. James will be happy to share much more information and arrange a visit. Contact us.
Ocean Ridge Plantation shares many of the features of St. James, including multiple golf courses –- four in this case – and its own club located on Sunset Beach, a 10-minute drive away. Ocean Ridge, however, is a little closer to Myrtle Beach and its airport, its restaurants and other entertainment centers and, of course, to some of the best and most plentiful golf east of the Mississippi River. A few select single-family homes are available for purchase in Ocean Ridge starting at $340,000. Lots are priced from $15,000. Our Ocean Ridge real estate professional would be pleased to share more information about this stable and high-profile community. Contact us.