One of our dedicated readers, Keith Spivey, is a data hound. Lucky for us, because he refers us to some interesting studies about both emerging and established areas of the South.
Keith has become a fan of two North Carolina cities, Raleigh and Charlotte, based on a ranking of household income adjusted by cost of living or, put another way, those cities where people's money goes farthest. The household income rank was a part of a national study by the web site WalletHub that came up with a list of the Best and Worst Cities to Live In. On the household income scale, Raleigh ranked second and was also considered by WalletHub to be the second best city to live in. Charlotte ranked fifth on the household income scale and 19th overall. Overall, Austin, TX, is considered by WalletHub's data to be the best city to live in; Virginia Beach (#10) and Tampa, FL (#14) also made the top 20.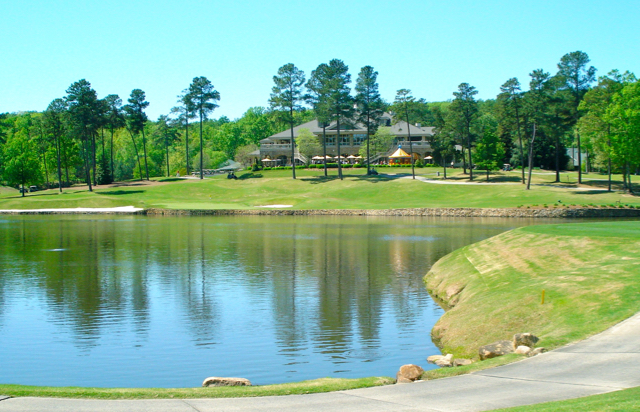 The clubhouse at Chapel Hill's Governor's Club
Raleigh and Charlotte have many excellent golf communities to choose, and at a wide range of price points. (We consider Chapel Hill and Durham part of the Raleigh metro area.) In Chapel Hill, we have visited and played golf at Governors Club (fine Jack Nicklaus course of 27 holes); in Durham, Treyburn is a beautifully landscaped community with an equally attractive layout by Tom Fazio, owned and run by the McConnell Golf Group, whose multi-course membership is as good a value as it gets. TPC at Wakefield Plantation (also a McConnell Group course) and Brier Creek are just two high profile and well-regarded golf communities in Raleigh.
Before the recession put a crimp in the financial services industry, Charlotte was on its way to being an economic powerhouse. It is in strong recovery mode now, and the golf communities that surround Lake Norman, north of the city, take full advantage of the near water locations and the proximity to the big city (just a half hour). Perhaps looking ahead to the rigors of a Presidential primary race, Donald Trump put his son Eric in charge of Trump National Golf Club –- Charlotte, formerly The Point Country Club, which The Donald purchased in 2013. Say what you will about Trump, he does not skimp on his golf courses, and the Greg Norman layout already had a good reputation before Trump swooped in. Beyond the south end of the city, Quail Hollow, site of the PGA Tour's Wells Fargo Open, may be the best golf course in the metro area, according to some local afficionadoes. Its surrounding golf community reflects the quality of the golf course, which is ranked #5 by the state's golf rating panel.
We work with well-seasoned real estate professionals in all these two major metro areas. Contact us if you would like an introduction or more information.