In 10 years, I have visited and reviewed more than 100 golf communities, including Albemarle Plantation, Scotch Hall Preserve and Carolina Colours, fine golf communities strung out along Highway 17 in an area known as the Inner Banks of North Carolina, adjacent to slashes of sounds and rivers that cut deep into the North Carolina coast between Elizabeth City and New Bern. Somehow, despite dozens of trips down Highway 17 over the last 20 years, I managed to miss Cypress Landing, just five miles from the highway. Better late than never: Cypress Landing can claim just as much in the way of amenities and bargain real estate as the others – maybe more in terms of clearly established value and stability. It wasn't until I planned a visit to Greenville, NC's Brook Valley, whose golf course was purchased by the McConnell Golf Group late last year, that I stumbled on the existence of nearby Cypress Landing, a community that should be in strong consideration for those looking for a highly social environment, a fun-to-play year-round golf course and a location easily reached from New England and the Middle Atlantic states.

Cypress Landing developer Weyerhauser Corp. did a good job of preserving trees; golf course architect Bill Love did a good job of maneuvering the layout through them and around lakes.
First a little history. Cypress Landing was developed in the early 1990s by Weyerhauser Corporation, one of the giant paper companies that owned more wooded properties than they needed for paper. Like competitor International Paper, which originally developed Haig Point on Daufuskie Island and a few other notable golf communities, Weyerhauser saw that the baby boomer population was aging, and the company made the decision to use their trees for a different, more decorative purpose. Ironically at Cypress Landing, a company known for clear cutting forests actually saved virtually all of the trees, which adds to the appeal of the general landscaping and views from the golf course.
Weyerhauser left Cypress Landing in 2003 and turned over the property to its homeowners. Of course, when it departed, so too did Weyerhauser's investments in the community, including marketing dollars that had helped Cypress Landing attain top 100 residential community ranking in the early to mid 1990s. Not much has happened in the way of publicity since, which is a shame because the community has a lot to tout. (We understand a Marketing Committee of the Homeowner's Association has been formed but, in our experience, such groups have trouble finding and allocating enough money to make a meaningful impression on the market; and they tend to argue about creative decisions like what color to print the community's logo.)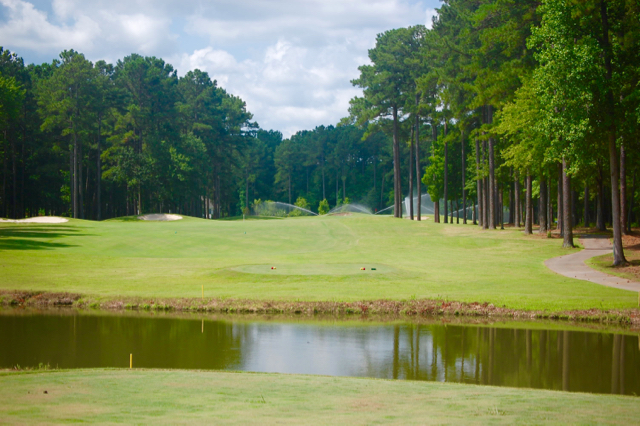 The first hole at Cypress Landing.
Most impressive at Cypress Landing, especially, for someone visiting for the first time, is the real estate. The general curb appeal at Cypress Landing hints at home prices much more substantial than those Maria Wilson and Vivienne Ashfari, my real estate guides for the day, quoted me. Patio homes, every bit as buttoned up as the larger homes nearby, start in the low $200s with total square footage up to the 2,000 range. I walked through one patio-sized home with the Realtors that was beautifully laid out, with a kitchen that seemed as if it belonged to a larger home, sporting an enclosed porch with a view out to the Pamlico River, and priced well under $400,000. We also toured a larger "regular" size home that faced the 17th fairway of the Bill Love golf course, with most of the living space on the first floor, including three bedrooms, and one huge room running the entire length of the house upstairs, all for $367,000. (The two homes I toured both featured hardwood floors throughout, fairly standard in the community, according to Maria and Vivienne.) Maria indicate that, even with a generally accepted $125 per square foot price to build on one of the community's available resale lots, new homes are pricier than the re-sales, many of which are barely selling for more than $110 per square foot – and that includes the land.
Part of the explanation for the low pricing – and this is not unusual for communities first opened in the late '80s and early '90s – is that the original residents have reached their 80s, and they are making the inevitable decision to live with their grown children or to move to assisted living situations. Current inventories of homes for sale at Cypress Landing have reached the 10% mark, or more than 50 homes on the market of the 500+ currently occupied. Home sites are another story, with enough of them on the market that Maria recently counseled a customer to wait a year to put his lot on the market.
"If he doesn't need the money now," she said, "which he doesn't, he ought to wait [until the inventory level drops]."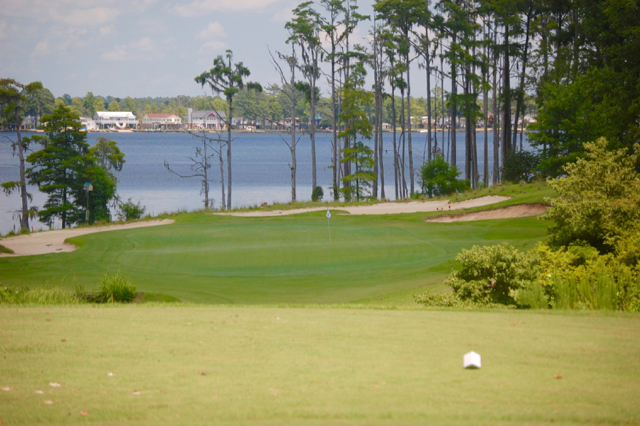 Nothing quite prepares you at Cypress Landing for the visual drama at the par 3 15th hole.
Of course, such a situation spells bargains for buyers, and Cypress Landing lots start around $30,000 for those located on wooded sites, with premiums of about 15% for nice lots on the golf course. Home sites with water views can run as much as 50% more than the basic home site.
Vivienne indicated that this year to date, 25 homes have been sold in Cypress Landing against 23 for all of 2014. As the baby boomer population is reenergized by an ever-improving economy, fairly priced communities like Cypress Landing are benefiting, even if they rely substantially on word of mouth and the Internet as their marketing vehicles.
Although like many other planned developments that seem remotely located, Cypress Landing has the benefits of a charming small town within a few miles and a larger, rapidly growing small city a half hour away. The town is Washington, NC, which was the first burg in America named for the nation's first President; the community has been touted as one of the nation's premier "arts" towns, and Maria and Vivienne seemed excited about an upcoming "Artisans Fair." The up and coming city is Greenville, and while its downtown area is in need of serious rehabbing, just to the west is a modern medical complex whose sheer size bowled me over as I drove past it during a 6 a.m. coffee run. Vidant is one of those huge hospital conglomerates taking advantage of an industry consolidation trend, and apparently the Greenville hospital has snared some of the best heart specialists in the country and is rapidly upgrading its cancer treatment center as well. An outlet of the Vidant system is located just down the road from Cypress Landing. For those with the requirement to be close to specialized medical assistance, the Greenville area should be considered seriously. (Note: Vidant is the site of the teaching hospital for the Brody School of Medicine at East Carolina University. The hospital serves more than 1.4 million people in the surrounding counties. In an average year, the hospital system treats more than 215,000 in- and out-patients. An average 3,500 babies are born each year in its facilities.)
The Bill Love golf course at Cyrpess Landing will appeal especially to those who don't care if their home course is set up less challenging than the U.S. Open. In short, it is a fun course with enough subtle obstacles around the greens – and some not so subtle bunkers bracketing many of the wide fairways – that a single-digit player could face a challenge from the tips (Black tees), at 6,863 yards, a course rating of 73.3 and slope rating of 135. I played the way-more-modest White tees at 6,062 yards, 69.2 and 127. I found the greens difficult to read and a little slower than I like them, but faster and easier to read would not have helped me as I had a bad case of the yips on this day. Still, my score did not reflect my play, which is to say I scored better than I had any reason to. I don't think that it was so much that the course is easy but rather that I chose tees that made it easy for me to get from tee to green. From the Whites, I played a half dozen par 4s under 350 yards, and only one par 5 was what I would consider modestly long. More appropriate would have been the Blue tees at 6,642 yards (70.9/131). All in all, this semi-private course is one to enjoy at any level, as long as you choose the correct tee boxes; and one to grow old on, with quite generous fairways but bunkers on both sides ready to swallow a badly errant golf ball and make par a tough challenge. (I had to wedge out of two fairway bunkers when I found myself close to their lips.)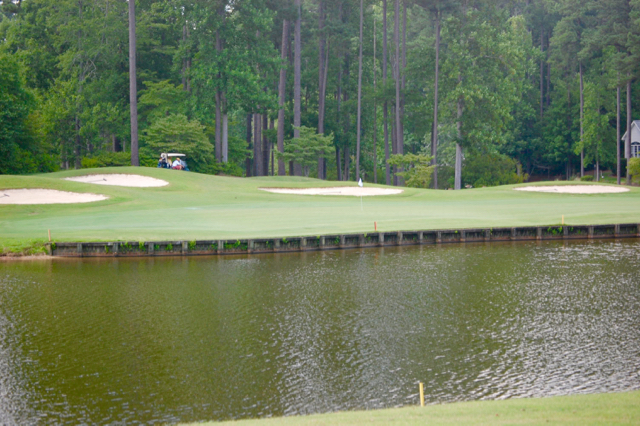 The finishing hole at Cypress Landing provides one last fly over water.
A word about the Pamlico River which flows in from the Pamlico Sound and abuts the community. In recent years, the river is probably as responsible for drawing active retirees to the community as is the golf course. The community's active marina features a floating dock system, 222 protected slips that can accommodate boats up to 42-feet, a dock master on duty seven days a week, a yacht club that is open to all residents, boaters or not, and easy passage to the Intracoastal Waterway and the Outer Banks beyond. (Fortunately, the community is located 30 feet above sea level and, therefore, flood insurance is unnecessary.)
You can see the river only once from the golf course, and it comes late enough in the round, the 15th hole, to be a bit of a surprise. The downhill par 3, with water framing the entire background, is as scenic as you will find anywhere between the coast and the mountains of North Carolina. Up until this point, the golf course landscape is best described as pine forests with an occasional pond; nothing prepares you for the view from the 15th tee, and I was left wishing that Weyerhauser might have granted designer Bill Love a few more acres along the river with which to dazzle the eye. Still, to paraphrase Bogie and Ingrid in Casablanca, "We'll always have the 15th."
Visit the Cypress Landing page in our Golf Homes for Sale section for additional information on the community and a link to its golf properties for sale.