John McConnell is the Clint Eastwood movie character of the golf industry. He rides up the driveway of a troubled golf club, cleans up its financial problems, reorganizes operations, improves the golf course, clubhouse and recreational lives of its members, and then rides off to eventually do the same thing all over again at another once-glorious golf club. The Eastwood western movie character seems to have a soft spot for the aggrieved people of the town he rides in to save; McConnell appears to have a soft spot for excellent, if troubled, golf courses and their members.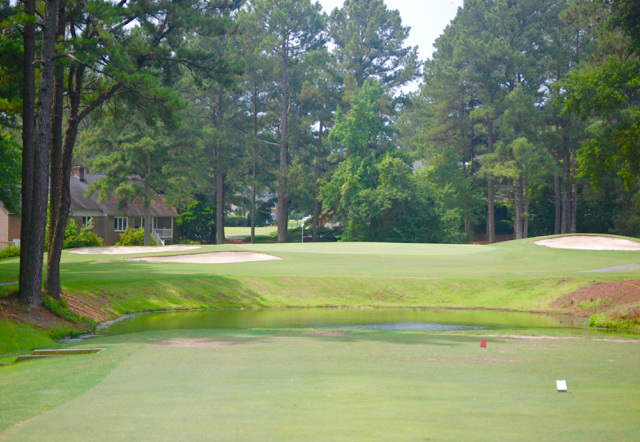 The par 3 5th at Brook Valley.
As he has done at The Reserve at Litchfield Beach, SC, and with Sedgefield Golf Club in Greensboro, NC, as well as eight other golf courses that were arguably on the brink of extinction or poised to go from private to public status, McConnell and company have saved Brook Valley in Greenville, NC. A merger of Brook Valley with local Greenville Country Club three years ago was supposed to bring financial stability, but the revenue generated by the combined clubs could not service the debt incurred when Greenville purchased Brook Valley; Greenville's board jettisoned the Brook Valley club last year. Brook Valley seemed out of options -- until the McConnell group became aware of an opportunity to acquire the excellent layout at a great price. (McConnell representatives won't quote a specific number, but we recall that at The Reserve at Litchfield Beach, south of Myrtle Beach, the company assumed only the club's tax debts; Brook Valley, like so many other at-risk golf clubs, was in no position to bargain.)
Designed by the respected Ellis Maples, Brook Valley is neither the best known nor best designed of McConnell's 10 golf courses, but in the area of North Carolina known as the Inner Banks, it is certainly now among the most stable of all area golf clubs. As has been his practice with all the other courses he has purchased, McConnell closed Brook Valley in the months after the purchase was finalized late last year, spent a couple of million dollars to improve the golf course, clubhouse and other facilities, and reopened in March to local fanfare and a great sigh of relief from the previously aggrieved membership. The improvements and signs of stability did not go unnoticed in the Greenville area; in just the first couple of months this year, Brook Valley gained 100 new members, reaching the 300 mark.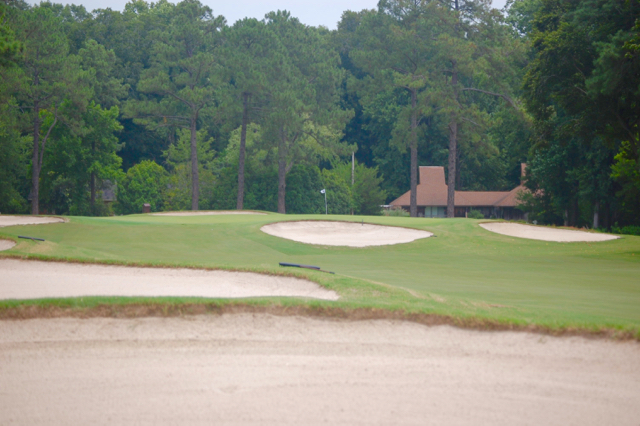 The approach to the par 4 11th hole.
The golf course is not long, just 6,831 yards from the tips, but its course rating and slope rating from back there, 73.0 and 139 respectively, provide a hint of how challenging the layout can be, especially if you play from one tee behind where you reasonably should. (Other tee sets play to 6,482, 6,036, 5,463 and 5,131 yards, providing something for everyone.) I found that most of the action on the course was around and on the greens, and in the midst of a one-month putting slump, I was put off by so many pin locations on the crests or sides of rises in the sloping greens. So tough were those pin positions that paranoia set in, and I thought golf professional Riley Kinlaw might have pulled a practical joke on me. (Riley was the head pro at my course at Pawleys Plantation on the South Carolina coast before McConnell plucked him for work a few miles away at The Reserve and then to Brook Valley after the purchase; he grew up in eastern North Carolina and was an assistant pro at Brook Valley in the late 1990s.) But assistant pro Nick Bowman insisted when I approached him after the round that the course uses 15 pin set rotations, and my friend Bob and I just happened to catch the toughest one of the 15. In any event, the greens, which had been aerated two weeks earlier and were still showing slight signs of the work and of some light top dressing, were plenty fast enough.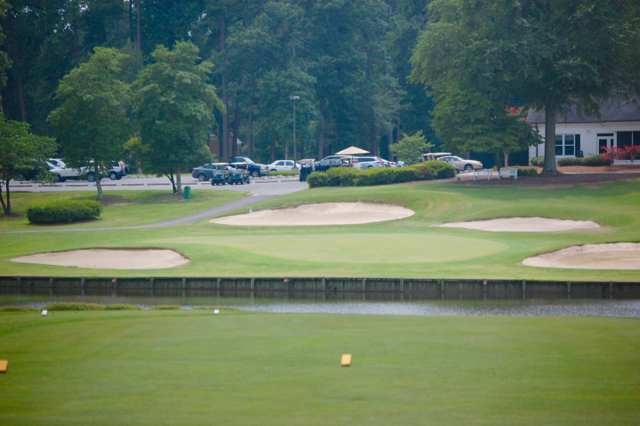 The finishing hole at Brook Valley.
For members of Brook Valley who don't mind a two-hour drive to play some of the best golf courses in the Carolinas, membership provides significant extra benefits in the form of privileges at all other McConnell properties. (McConnell membership includes 12 rounds annually at each of the other courses for just a cart fee; after 12 rounds, members pay the guest fee and cart rate.) In fact, Brook Valley is less than 90 minutes to Raleigh Country Club, designed by Donald Ross; exactly 90 minutes to TPC at Wakefield Plantation (Hale Irwin); and two hours to Treyburn (Tom Fazio) in Durham. That makes for a nice three-day golf trip.
The community of homes that surrounds Brook Valley exhibit a split personality; to one side is a neighborhood that appears to have been developed in the 1960s, and to another side a second neighborhood is of more modern vintage, late 1990s and more recent. (Brook Valley opened in 1964.) Home prices in a growing metro area like Greenville -– its huge Vidant medical complex and East Carolina University medical school are magnets for incoming professionals -– seem more than reasonable. I noted one circa 2003 brick home of four bedrooms, 2 ½ baths and 3,150 square feet priced at $329,999, or $105 per square foot on a nearly ¾ acre lot that backs onto the golf course. Like a McConnell golf membership, that certainly seems like a lot for a little.
I should add that when I returned to my car after golf and an excellent lunch in the clubhouse, I noticed a business card stuck under my windshield wiper. It said: "Your windshield has been washed today. We hope you enjoyed your day at the club." As Clint Eastwood as Dirty Harry might put it, that certainly helped make my day.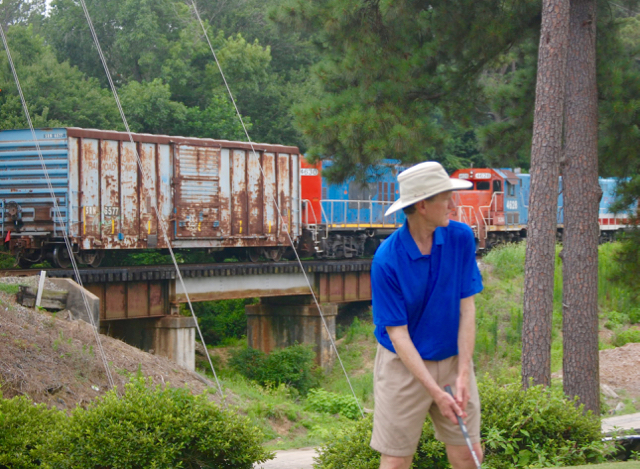 Like some of the famous courses in the UK and a certain recent U.S. Open venue, a train can interrupt a backswing at Brook Valley.