In short, from its beginnings in the mid-2000s, Bright's Creek has had all the elements of a successful golf community, but the development has been dogged from the beginning by its remote location, inconsistent and financially strapped ownership, a lack of marketing savvy and a naïve notion that if you built it customers would come. They didn't. (As of today, only a relative handful of homes have been built in Bright's Creek, 32 to be exact.) After the original owners fell victim to an avalanche of debt, a husband and wife team from Florida with limited experience in planned developments stepped in with lots of borrowed cash (about $23 million). That flight of fancy lasted less than a year.

New Owners: Passion and Savvy
Bright's Creek's latest owner as of last August, Alianza Trinity Holdings, has an established track record under the stable leadership of a CEO who has adopted Bright's Creek as his second home, as well as a business investment. Omar Botero made his fortune in the telecommunications business, and his career is marked by creativity and innovation. (Founding a company that sold calling cards from airport vending machines strikes us as innovative and smart.) In recent years, Botero has turned his attention to real estate development, both commercial and residential. He is a fan of things equestrian, and since Bright's Creek, located in an area of North Carolina known for steeplechase and other horse events, was developed to appeal to horse lovers and golfers alike, the new owner seems to have brought passion as well as business judgment to his new endeavor. That, in our experience, is a solid combination.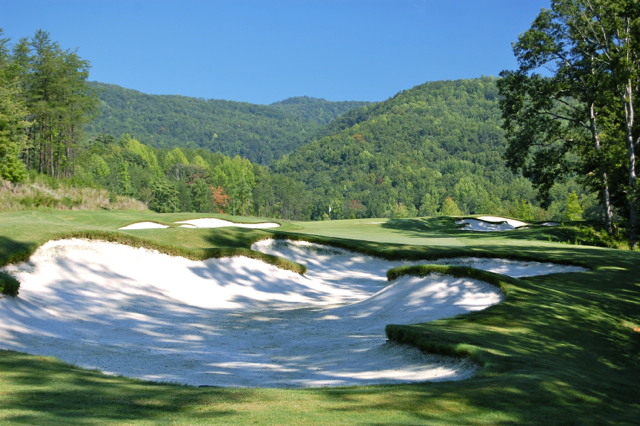 The Bright's Creek course is by Tom Fazio, which translates into lots of sand and great views along and beyond the fairways.
Since they stepped in last year, Botero and Alianza have worked quickly to implement positive and visible changes, which are most noticeable in the community's vastly upgraded web site, its general approach to marketing and the condition of the golf course, which had pretty much gone to seed under the prior ownership. Bright's also just hired a new golf pro with impressive credentials, including a teaching stint at one of South Carolina's best golf courses, Old Tabby Links on Spring Island.

Water, water everywhere
Bright's Creek is a large community on a beautiful piece of multi-elevation property that includes 75 waterfalls and 200 creeks, streams and rivers. Many of those waterfalls and streams lie beside hiking trails that traverse the forests surrounding the community. For those who either own a boat or prefer lake activities, Lake Adjer is adjacent to the property, where Bright's Creek moors its own pontoon boat for the use of residents.
Bright's Creek is not the only golf community in the South that is at some remove from "civilization." Those retirees and second-home owners fed up with the hustle and bustle of their urban lives should be quite content to drive 20 minutes for groceries in exchange for a quieter life free of traffic and pollution -– noise and the other kind. For those who require the occasional big town fix, Hendersonville is 33 circuitous miles away,
A road out the back gate of Bright's Creek could bring the town of Hendersonville 20 minutes closer for residents than it is today.
although as the crow flies, it is about half that distance, some un-navigable mountains standing in the way of a direct route. According to Bright's Creek's Executive VP of Sales & Marketing, Beth Butler, the new developers plan to build a gate and road out the back of the community to cut the travel time to Hendersonville in half. That will bring the city within about 20 minutes of the back gate of the community. Hendersonville offers a wide range of services, including a few choice restaurants.
Real estate in Bright's Creek is priced at about the level you would expect of a "high-end" mountain community, which is to say comparable to The Cliffs Communities, The Reserve at Lake Keowee and other top mountain developments. The sweet spot for home sites lies between $150,000 and $250,000, and homes range from the $500s well into the millions, especially for a few McMansions at the highest elevations in the community. Ms. Butler is excited about the debut of a cottage product in the near future, starting around $600,000, fully furnished, that should be a magnet for younger, second-home owners from cities like Charlotte and Greenville, just under two hours and just over one hour away, respectively. For a fair management fee of 30%, Bright's Creek will also rent for owners the cottages, as well as condo villas (starting around $600,000 as well) and even single-family. (We know of golf communities where the fee runs as high as 50%.)
Free membership and bargain dues
Speaking of "fair," the current membership fees at Bright's Creek deserve the attention of prospective residents. The initiation fee of $55,000 is currently being waived with any property purchase, and dues for the complete run of amenities in the community, including the golf course and equestrian center, are just $6,000 per year. That compares quite favorably with other "high-end" mountain golf communities. Importantly, members of the club have hung in there through the darker days of the recession and a golf course that was neglected by the interim owners; the members' consistent stream of dues payments have helped fund the club's annual operating costs.
Golfers taking advantage of a resort-type package and customary drive-by sales traffic are showing an ever-stronger interest in Bright's Creek. The real estate office's Beth Butler says she has been providing tours and information to an average half dozen prospects every day, and the office scored two property sales last week alone. Like any formerly troubled asset that is sloughing off the odor of problems, prices are probably lower now at Bright's Creek than their natural value. As the new owners modernize the approach to marketing and as more and more people discover Bright's Creek, we expect prospects to rise, and prices along with them.
If you think that Bright's Creek might sound like an appropriate full-time or second-home opportunity for you, contact us and we will arrange for a complimentary weekend of lodging and golf, plus access to the community's other amenities (horse ride, anyone?), as well as a personalized tour. Bright's Creek is back in business and worth a serious look for any couple with golf, horses and a quiet lifestyle in mind.