Forbes magazine released its annual "Best Places to Retire" list yesterday, and a few of our own favorite places made the grade in the top 25. They include Asheville, Austin, Columbia (SC) and Savannah.
        No such list would be complete without including Asheville, the western North Carolina mountain town favored by northerners looking for a laid-back –- some might say "progressive" –- southern mountain retreat, and Floridians tired of traffic, an increasing cost of living (despite no state income tax) and summer heat. Asheville summer temperatures average about 10 degrees lower than the flatter parts of the Carolinas during the summer.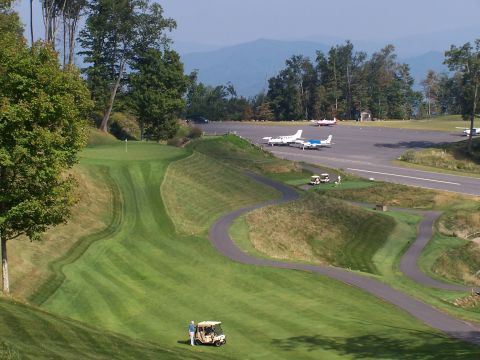 Ball Flight:  An airstrip bisects the golf course along the top of the 4,500 foot mountain at Mountain Air.
        At GolfHomesListed, our companion web site, we have Asheville surrounded, with golf homes for sale currently listed to the northwest of the city, at Mountain Air in Burnsville, and at Champion Hills in Hendersonville, southeast of Asheville. Given its rarified height, Mountain Air is aptly named and features 50-mile views from its golf course and homes. The golf course, which was designed by Scott Pool, features an element you are unlikely to see anywhere else –- an airplane runway that cuts through the golf course along the very top of the mountain. As you travel from the second green on one side of the runway to the third tee on the other, an alarm and flashing red light may signal a wait for the group in front of you -– traveling by aircraft, not golf cart. Non-pilots too will love the care which owners of the community, the local Banks family, have lavished on the natural surroundings. The substantially wood and stone homes and the rustic clubhouse do nothing to detract from views that can literally take your breath away (at nearly 4,500 feet). At GolfHomesListed, you will find Mountain Air home sites listed from $209,000, villas from under $350,000 and single-family homes from $490,000.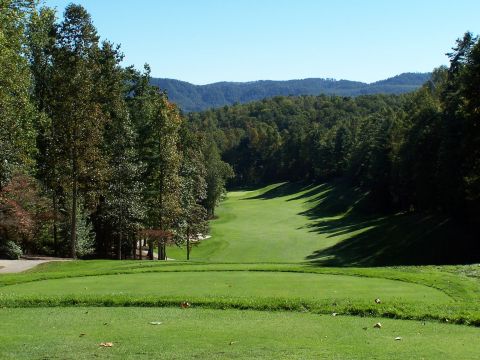 Balls struck just off the funneled fairways at Champion Hills can leave some awkward stances.
        A little more down to earth but still up there is Champion Hills, whose core Tom Fazio golf course has always earned plaudits from North Carolina golf raters, but especially so since the course was renovated a few years ago. Fazio, who grew up in Hendersonville, clearly lavished extra attention on the design of his "home course" which features his customary signature cloverleaf bunkers and funneled fairways that can be both forgiving and occasionally frustrating with side-hill lies few of us take the time to practice. The community's homeowners association is one of the most organized anywhere and, as we have written before, its approach to strategic planning should be the envy of many corporations. Champion Hills is a stable, financially sound and debt-free golf community worthy of a serious look. And you can start looking by browsing current Champion Hills properties for sale at GolfHomesLIsted, where homes start at $339,000 and range above $1 million.
        Please note: When you access more information about any listing at GolfHomesListed.com, we ask for your name and email address. We do this to follow up to ensure that we are providing top-notch service and to be able to update you on any new listings in the communities you look at. The real estate professionals who list properties at GolfHomesListed and we will never share your personal information with anyone. If you have any questions, please contact Publisher Larry Gavrich.
Coming Next: Savannah: Ford Plantation & The Landings