It was perhaps inevitable that a golf community opened just a couple of years before the housing bubble burst and with nothing to attract potential buyers except nine holes of an 18 hole golf course would wind up on the auction block. It took the Ireland-based developers of White Oak of Tryon, NC, four years to sell just 29 lots but it took the local bankruptcy court mere minutes to dispose of the 980-acre property for a bargain-basement $3.6 million on the Polk County courthouse steps.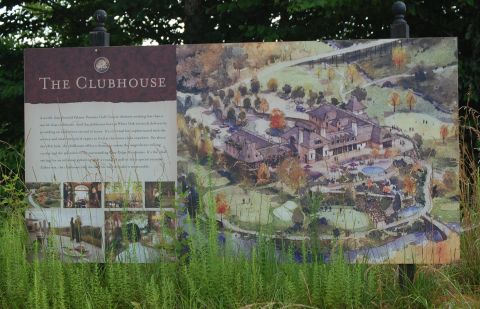 The once elaborate plans for a golf clubhouse won't be implemented by the original developers of White Oak.  It remains to be seen if the golf community's 18 hole course will ever be finished.
        The auction was ordered by the court after White Oak's developers, who were based in Ireland and New York, failed to pay for an irrigation line the county had run to the property, as well as back taxes. Only a half dozen homes had been built on the rolling terrain about 45 minutes from Greenville, NC. The new owner, Roger Smith, commands an organization called Tryon Equestrian Properties. White Oak was always planned to include equestrian-oriented amenities, and Smith likely will move ahead with those plans, assuming he comes up with the financing.  Smith purchased nearly 100 acres in the Tryon area in 2008 to build an equestrian center, and officials representing White Oak's developers had indicated to Golf Community Reviews last year that they hoped to partner with the equestrian center.
        Now, with nearly $40 million invested in the community and a total dry-up of lot sales, time has run out on the developers.  Smith now owns the entire property, and whether he finishes the excellently laid out Arnold Palmer designed golf course (Erik Larsen did most of the work) and eventually builds a clubhouse remains to be seen.  That will depend on real estate sales.
        It always does.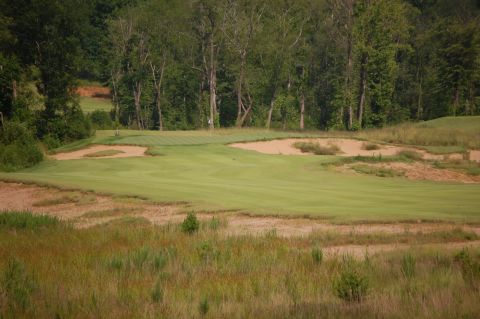 White Oak has the potential to be a top 10 golf course in the state of North Carolina, but it will take some love and care -- and about $2 million -- to finish the full 18 hole layout.