by Tim Gavrich (photos too)
The author will be graduated from Washington & Lee University later this month, having earned a bachelor's degree in English, with honors. He is available for writing assignments beginning in June.
There is no gate guarding the entrance to Sedgefield Country Club. There are multiple ways in and, besides, a gate would attract attention to Sedgefield's presence in an affluent part of Greensboro, North Carolina. It is not as if people do not know it exists; after all, Sedgefield has been around since 1926 and hosts a regular event on the PGA Tour — the Wyndham Championship.
Despite these lofty credentials, Sedgefield is an unassuming club sitting quietly among woods, streams and houses. This modesty and calm is an essential part of Sedgefield's charm. That charm rings through its superbly restored Donald Ross golf course. Ross designed the golf course at Sedgefield with the intention of building a second eventually, with the venue functioning as a genteel resort destination. But the Great Depression altered the course of the club, and the existing 18 holes became the centerpiece of a venerable residential community. Unlike most clubs of similar vintage, many of Sedgefield's holes are bordered by front, back, and side yards of houses. But appropriately, these dwellings are set far enough back from the field of play so as not to intrude. Indeed, the residences are attractive and without ostentation. They lend a sense of place and purpose to a stroll and a round at Sedgefield.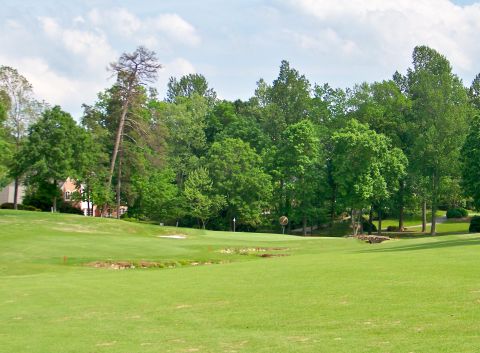 The approach over the stream to #2 at Sedgefield.
But what of the golf course? It is a faithfully restored, esteemed Donald Ross-designed gem. The man who created such famous courses as Pinehurst No. 2, Aronimink on the Philadelphia Main Line, and Seminole Golf Club in North Palm Beach, FL, left his deft mark at Sedgefield as well. The course lost some of its luster through the 20th and into the 21st Centuries but, in 2007, acclaimed architect Kris Spence oversaw a project that restored Sedgefield to Ross' original plans. His team moved, recovered and rebuilt bunkers, expanded greens to their original sizes, regained lost-hole locations, and lengthened some holes in order to keep up with golf club technology. The result was a course that the PGA Tour deemed fit to return to after 30 years at nearby Forest Oaks Country Club. But even more importantly, the new-look Sedgefield Country Club course is one that its members rightfully treasure and adore.
Donald Ross courses almost always boast exemplary par 3s, and Sedgefield is no exception. The four one-shotters — the 3rd, 7th, 12th and the 16th — offer a complete examination of one's abilities with clubs ranging from a fairway wood to a short iron. The mighty 12th is a 245-yard bruiser with a tough two-tiered putting surface and bunkers standing guard right and left. A merely "good" tee shot may still lead to bogey or worse, as the undulations within the putting surface can shunt the ball everywhere but towards the hole. The final par 3, #16, is only 165 yards from the tips, but its green also features multiple levels that shrink the target considerably. During the Wyndham Championship, many pros come to 16 eager to make a birdie and walk away disappointed with pars and bogeys.
The approach to the 9th hole and the iconic Sedgefield clubhouse beyond.
Lee Trevino once described Sedgefield as "the best stretch of 18 par 4s I've ever played." He was referring to the rigorous challenges posed by the short holes as well as the opportunities available at the three par 5s, which are all reachable in two. The 18th hole is a 509-yard darling that the PGA Tour turns into a 509-yard beast by calling it a par four, bumping the course par down from 71 to 70.
The class of the three-shot holes at Sedgefield is the 15th, one of three on the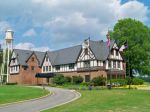 course where water is a deep concern near the putting surface. After a downhill tee shot to a fairway wedged between a stream, a bunker and a hillside covered with long grass, the layup and approach shots must contend with a lake, more sand and hollows and undulations on and around the green. In spite of these impositions, birdie and even eagle are very real possibilities, making for great potential drama late in any round, be it a Tuesday evening with friends or Sunday at the Wyndham. The two-shot holes at Sedgefield are strong as well. They range from the 488-yard 11th down to the 376-yard 8th, which is nearly drivable under favorable wind and ground conditions. The best of these is the 448-yard 2nd hole, where the player must negotiate a semi-blind tee shot downhill past a string of intimidating bunkers in order to attack a large green that slopes severely from left to right and is bordered on the right side by a meandering stream. It is simultaneously unique because of the terrain it covers and unmistakably a Ross hole.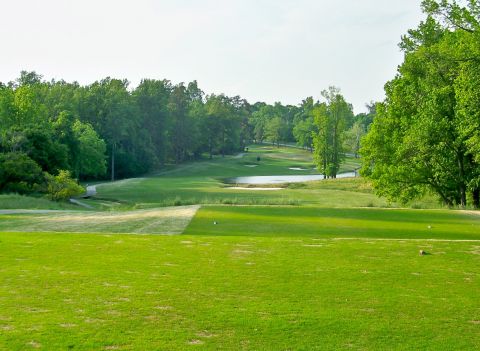 Water is in play on just a few holes at Sedgefield, but nowhere is it more intimidating than at the par 5 15th, a reasonable birdie hole after two and a half good shots.
Sedgefield Country Club's golf course is an excellent test of a player's full range of shotmaking. With many narrow and some semi-blind fairways and multi-sectioned greens, it requires precision and tamed power from the metal woods and irons. Those rumpled putting surfaces also require a deft touch with the putter and wedges. Sedgefield is a golf course that hosts the world's best golfers one week out of every year and delights the mortal player every other day.
[Editor's Note: Current homes for sale in the community surrounding the Sedgefield Country Club are listed at prices up to $4 million. Recently, 33 homes in the community were on the market, with the "sweet spot" around $500,000. With the purchase of Sedgefield CC by McConnell Golf earlier this year, club members now have playing privileges at the other six courses in the McConnell portfolio, including nearby Cardinal Golf Club, also in Greensboro; and Raleigh Country Club, another Ross-designed course, and Treyburn Country Club in Durham, both within a 90-minute drive of Sedgefield. Current initiation fees at Sedgefield are $10,000. If you would like more information about real estate inside the Sedgefield community or would like to speak with the director of membership for the McConnell Group, please contact me.]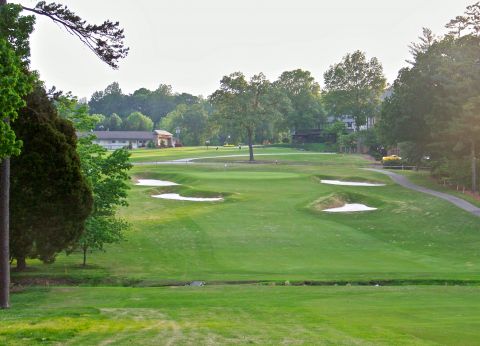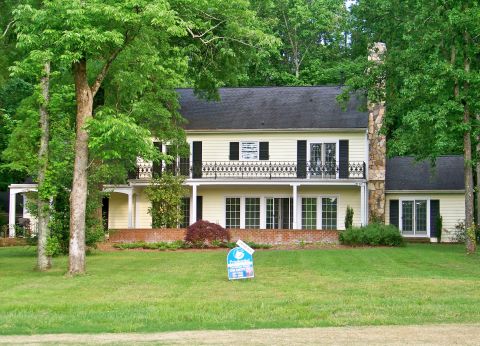 Sedgefield's home hole (top) and a home for sale at the 14th tee.