Lake Murray (near Columbia, SC)
When it was completed in 1930, the Lake Murray Reservoir, created when the Saluda River Dam backed up the Saluda River, was the largest manmade reservoir in the world at 41 miles long and 14 miles wide at is widest point. The 500 miles of shoreline could have spurred development of at least a few golf communities, but only one truly plays up against a small section of Lake Murray. The community surrounding the Timberlake Country Club is more like a neighborhood with a golf course in it than a planned golf community, which is to say most of the amenities are courtesy of the golf club. Columbia, the state capital, is about a half hour away, but nearby towns like Irmo and Newberry feature enough services, good restaurants, and charming distractions to keep you from making the meandering drive around the lake to the bigger town. There are also other good golf courses in the area, including the Mid-Carolina Club in the interestingly named town of Prosperity, about 8 miles away.
Although it is open to the public, Timberlake is a true "members" club; indeed, after the members pooled their money to buy the club in 2011, many of them pitched in to wield shovels and other implements of renovations for the course and clubhouse. (Their efforts were featured in a 2012 New York Sunday Times piece.) According to the club's web site, initiation fees are being waived this year and monthly dues for full equity golf are just $220. The break-even point at which membership is a better deal than paying as you go appears to be about six or seven rounds a month.
As for real estate in the community, we noted a brick home on the 12th fairway of the golf course, with 3 BR and 2 BA, currently listed for just $259,900. The master suite opens onto a deck through a French door. Contact us for more information and a connection to a professional agent we work with in the area.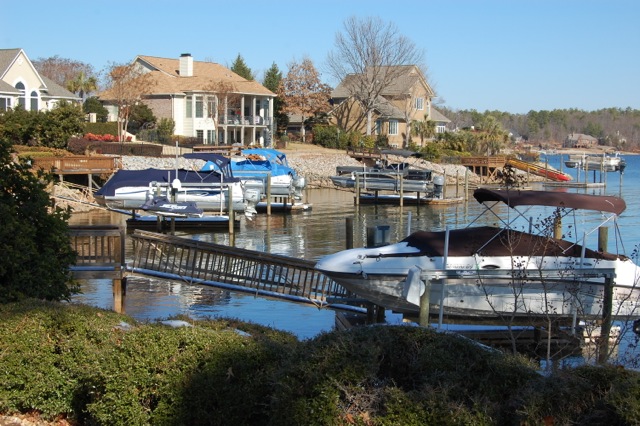 Bring your clubs and boat to Timberlake, a golf community on Lake Murray, about a half hour from the South Carolina state capital of Columbia.
Lake Oconee, Greensboro, GA
Lake Oconee is the newest lake on the block, created in 1979 when Georgia Power Company completed the nearby Wallace Dam. It did not take much more than a decade for the Reynolds family to buy up a few thousand acres and develop Reynolds Plantation, which features six outstanding golf courses and enough amenities and activities to make any couple forget that Atlanta is more than 1 ½ hours away. (The college town of Athens is almost an hour.) It took the Reynoldses a couple of decades to get crosswise with their lenders; after failed attempts to sell their golf courses to members, the family lost the Plantation, which is now in the hands of the deep-pocketed Metropolitan Life Insurance Company. Those who are content with a more modest set of amenities, as well as lower real estate prices and fees, might consider Harbor Club, just up the lake from Reynolds. Whereas Reynolds' sweet spot price point for single-family homes is in the mid-to-upper six figure category, Harbor Club listings weigh in about 20% lower, albeit with fewer amenities and just one nice golf course, designed by Tom Weiskopf and Jay Moorish. The best golf course in the area, especially for those who worship the unfussy classics, may very well be Cuscowilla, whose easily walked layout was designed by the hottest architects in the business, Ben Crenshaw and Bill Coore. Cuscowilla is a resort residential community, and members of the club will share their course with transients. But for that quality of golf, it is a small price to pay.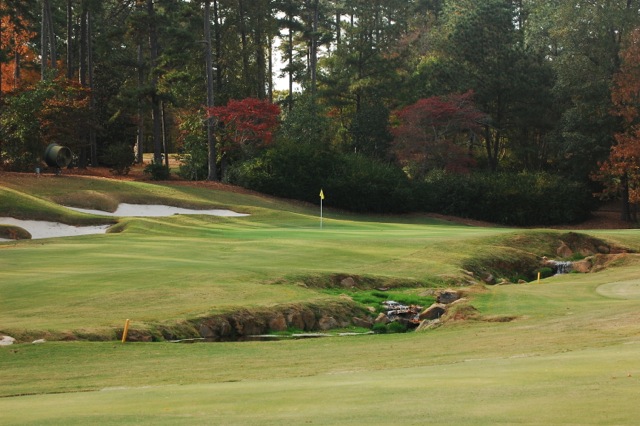 Tom Fazio's challenging National golf course layout at Reynolds Plantation provides 27 of the community's 117 holes of golf.
Check out these lakes and golf communities as well
Tellico Lake, eastern Tennessee
If you own a boat and some orange clothing, you can float your way to University of Tennessee football games, about 45 minutes away, park the boat behind the stadium, and enjoy the game. Tellico Village, about 15 miles from Knoxville, sports three 18 hole layouts by the respected firm of Ault, Clark & Associates, and there are a good dozen more clubs in the area. Member green fees average around $20 per round, and cart fees appear quite reasonable as well. The Rarity Communities had big plans in the '90s and early '00s to build multiple communities and golf courses. But today, the community of Rarity Bay has the only golf course. Its easy-going layout runs near to the lake, but provides few water views. After a membership "deposit," dues are quite reasonable at $335 per month for full golf.
Lake Hartwell, Georgia/South Carolina border
This is another one of those irregularly shaped lakes, located on the Georgia and South Carolina border, that features hundreds of interesting sheltered coves. The only two golf courses on or near the lake are on the Georgia side. By far the most interesting and challenging is at Currahee Club, so good that shortly after a group of Golfweek raters played it, the course leaped a couple of dozen spots on the magazine's top 100 list. Cottages inside the gates of rural Currahee -– Toccoa is the closest town of consequence -– start in the high $400s, but a Southern Living model home was recently priced at $1 million. Some years ago, I played the Cateechee Club golf course nearby, just outside the town of Hartwell and about four miles from the lake. It was a beautiful Mike Young designed layout and cost an estimated $23 million to build. Alas, the club is on the market for a little over $2 million, a victim of recession and its rather remote location.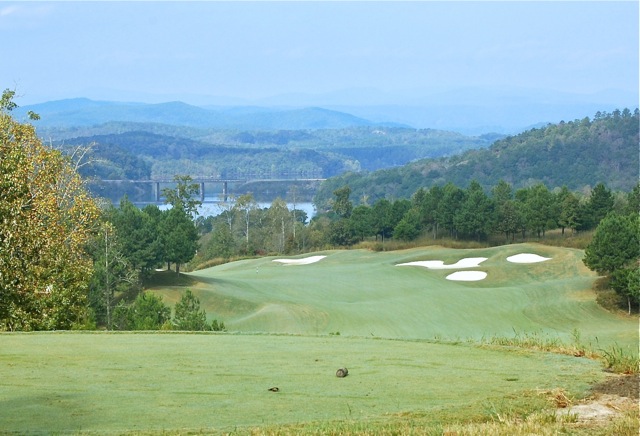 The George Fazio golf course at Currahee Club, one of the toughest golf community courses in the South, does not play along Lake Hartwell but does show some nice views of the lake.
Lake Norman, north of Charlotte, NC
Within a half hour or so of Charlotte, Lake Norman provides all the benefits of a location in a major metro but is just far enough away to avoid many of the big-city hassles. The Donald bought the former Point Golf Club two years ago and put his son Eric in charge of operations. Say what you will about him, Trump the elder does seem to know a little bit about real estate values, and we are not hearing any complaints from residents and members. We haven't played the Peninsula Club but judging from the Google Earth map we looked at, it can be a treat for those who like their greens -– and homes -- adjacent to water. Across the lake from Peninsula, Cowan's Ford is a private club with both equity and non-equity memberships that was originally designed by Ellis Maples in 1963 and, 40 years later, was remodeled by Donald Ross devotee Kris Spence.