St. James Plantation, Southport, NC
St. James is big and sprawling, with four golf courses and the widest range of real estate options (wide range of prices too, starting in the high $100s). The condos clustered around the St. James Marina are especially attractive and modern, circa 2008. One currently for sale at $259,900 includes 3 BRs, 3 BAs and 1,800 square feet of living space on one ground floor. Each of the bedrooms includes its own bath, and unlike most other villas in the neighborhood, this one has an expanded "owner's closet" for extra storage space. For those who don't mind doing a little yard work, or paying for it, a single-family "cottage" style home at exactly the same price as the condo and with exactly the same square footage is also available. The extra touches are too numerous to list but include newly sanded and stained hardwood floors, an upstairs bonus room, a large kitchen with center island, and a golf membership that is included.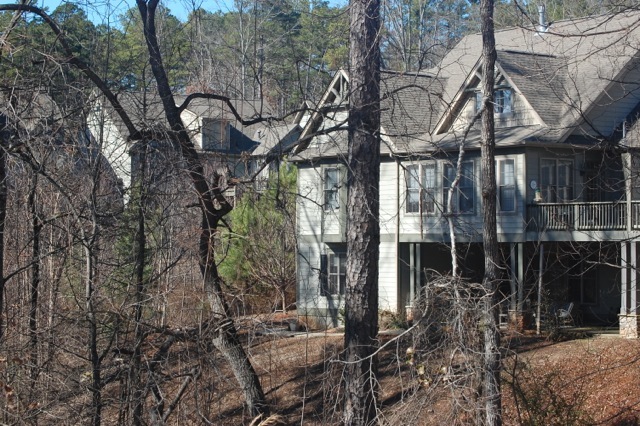 Keowee Key features an 18-hole George Cobb golf course, a lake and some of the best deals in golf community real estate.
Keowee Key, Salem, SC
There are few options for waterfront homes in golf communities in the price range we are exploring. You won't find any bigger bargains in waterfront and water view properties than at this well-established Lake Keowee community with a mature George Cobb designed golf course and some of the lowest dollar-per-square-foot prices anywhere. Consider one lakeside condo, currently listed for $259,000 and with 2 BRs and 2 BAs and located on a walking trail that runs for a couple of miles along the lake. From the great room, you can enjoy not only the views of the lake but a fireplace for those relatively few cool evenings in winter. If you would prefer your lake views from a single-family home, and access to the lake from your backyard, a 3 BR, 2 ½ BA, 2,600 square foot stone and wood home on a cul de sac should fill the bill. The home is listed at $289,500 which, by our calculations, comes to about $111 per square foot. Quite a deal.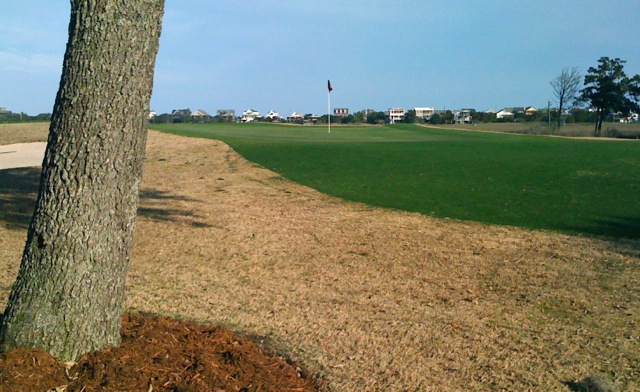 From in front of #16 at Pawleys Plantation, you can see out across the marsh to the island homes within two blocks of the ocean. The drive around the marsh to the beach from Pawleys Plantation is about seven minutes.
Pawleys Plantation, Pawleys Island, SC
Many of the holes on the Jack Nicklaus Signature golf course run along the marsh that separates the community from the island and Atlantic Ocean, just ¾ mile away. The course also threads its way past an array of real estate, including big estate homes and multi-unit condo buildings, generally set well back from the field of play. A 3 BR, 2 BA "patio" home on a cul de sac is currently listed at just $259,000. An end unit condo in the community is currently listed at $265,000 and includes 3 BRs, 3 BAs and more than 2,000 square feet of living space. The live oaks on the property give the condo more of a single-home feel. The owners purchased the home, according to Zillow.com, for $300,000 in 2008. Other condos in Pawleys Plantation are listed from the low $100s. For couples looking for a bargain vacation home, this is a good community from which to start the search. (Note: The semi-private club is currently promoting a membership push, dropping initiation fees to $5,000; I have a certificate good for $500 off of the initiation fee and would be pleased to make it available to anyone who signs up for membership.)


River Strand at Heritage Harbour, Bradenton, FL
The national builder Lennar has been quite active in the golf community construction arena. Their business model is to build modern neighborhoods of attractively designed and sharply priced homes, include "bundled" membership with the price of the new home, and hire competent course designers to lay out attractive, fairly challenging courses. They certainly did that at River Strand, where the respected Arthur Hills has his name on the golf course. Lennar's single-family home models include one called The Capri, whose prices start at $253,990 (1,677 square feet and 3 BRs and 2 BAs) and include a large kitchen and double walk-in closet in the master bedroom. Among its attached unit offerings is a "coach" home, the Hibiscus model, that features 3 BRs, 2 BAs, a two-car garage and 1,883 square feet of living space, all in one first-level floor plan (your neighbor is next door, not above or below).
If you would like more information on any of these golf communities or listings, or would like to arrange an exploratory visit, I would be pleased to help you with arrangements. My services are free of charge and without obligation. Please contact me.