Anyone who has followed me over the last 15 years knows how little regard I have for rankings of best places to live, whether it be cities, towns or golf communities. It is a fool's exercise to identify "best" when everyone's definition is different. It is even more foolish to follow such guidance. However, I don't see anything wrong with identifying those singular characteristics that my clients and readers might find important in the search for a golf home. With that in mind, and in lieu of year-end "awards," I offer here and over coming days a few communities that are well rounded but could be known especially for one big thing.
Closest Golf Community to an Interesting City
Tie: The Landings, Savannah, GA, and Landfall, Wilmington, NC
I would have preferred to name just one community in this category, but The Landings and Landfall each, in their own ways, deserve top status. Both are just 20 minutes from the center of an interesting city, although most would find Savannah a more magnetic city. The Landings, whose official name includes "on Skidaway Island," might have been the sole winner but for one small flaw that is a big deal to some -- its distance from a beach. At 35 minutes by car to Tybee Island, the nearest ocean beach, The Landings won't appeal quite as much to sand- and sun-worshippers as will Landfall. But The Landings' six excellent golf courses nip Landfall's own outstanding 45 holes of Dye and Nicklaus layouts. And you won't find more conveniently placed sand and surf than Wrightsville Beach, less than 10 minutes out the back gate of Landfall.
In terms of real estate, both communities offer a wide range, with the older homes in The Landings priced beginning in the $300s but many in need of a cosmetic update. After all, the community has passed its 45th birthday, making it about 15 years Landfall's senior. Wilmington may lack Savannah's size and legendary atmosphere, but it manages to blend the services and entertainments of modern life with the classic charm of a moss-draped Southern city.


The Arthur Hills Palmetto course at The Landings on Skidaway Island, Savannah, GA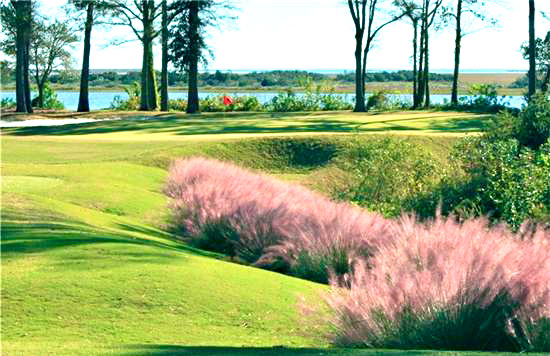 Jack Nicklaus course at Landfall Country Club, Wilmington, NC

The Landings, Savannah, GA
Single-family homes from $316,000 to $3 million
Golf: Six courses (private) by Arnold Palmer, Tom Fazio, Arthur Hills and Willard Byrd
Other golf communities nearby: Ford Plantation (Richmond), Savannah Quarters (Pooler) and Southbridge (Savannah)
Landfall, Wilmington, NC
Single-family homes from $550,000 to $5.5 million
Golf: 45 holes (private), 18 by Pete Dye, 27 by Jack Nicklaus
Other golf communities nearby: Porters Neck, Brunswick Forest (Leland), Compass Pointe (Leland), Magnolia Greens (Leland), Castle Bay (Hampstead).
Glorious Back Nine: How to Find Your Dream Golf Home, mentions both these communities. My new book, available at Amazon.com and BarnesandNoble.com, will make a great holiday gift for the retiree in your family considering a golf community home.