My round of golf at Berkleigh Country Club in Kutztown, PA, started with three pars, about as good a kickoff to a round as I can muster these days. I was playing by myself, and as I prepared for a 15-foot birdie putt on the par 3 third hole, my iPhone rang. The display indicated a call from "Reading (PA) 911." I answered and the woman on the line asked me if I was okay. I responded that I was, thinking she sounded sincere enough that I should not add, "…and I am playing great!" She had received an "emergency" call from my phone. I apologized profusely even though I had no idea how the call had been made; all I was doing with the phone was taking photos.
After hanging up, I missed the birdie putt and drove the cart to hole #4, a short but uphill par 5. I pulled my tee shot into the rough to the left of the fairway and drove down one of the many extremely bumpy cart paths at Berkleigh; the starter had warned me about them. Halfway up the hill, I received another call from Reading 911, and the same conversation ensued. "I have no idea how it happened," I said, "but I am going to turn off my phone."
All I can think is that the extreme vibrations of the golf cart on the cart paths had triggered the calls. I've looked online, using the search terms "iPhone vibrations + 911 calls" but haven't been able to confirm the shaking as the source. In any case, those calls shook me up a bit, and I proceeded to double bogey the par 5 with a succession of chunked and skulled shots. (I can't blame the entire mediocre round on the calls because I birdied the par 3 6th hole.)

As on many a classic course, bunkers at Berkleigh are strategically placed at greenside and, more sparingly, beside fairways. False fronts and sloped fairways are more natural "hazards" that penalize sloppy shots.
It occurs to me as I write this that those calls to 911 happened on the morning of 9/11. They were just part of a weird and wonderful morning at Berkleigh, which is rated by some online sources as a top 20 public golf course in the rather large state of Pennsylvania. It deserves the honor, as it combines many classic touches that remind one that elevation changes and dramatic fairway contours are fair substitutes for the large bunkering of more modern layouts. It is also in excellent condition, with greens, pockmarked like many public putting surfaces whose golfers can't be bothered to bend over and fix a ball mark, otherwise smooth and just short of private-club fast.
At $37 including cart – the senior rate -- Berkleigh is a major bargain. Arriving at 9 a.m., mine would be the only car in the lot for the next hour; I didn't see another soul on the golf course until I reached the back nine. I had noted as I drove through the tree-lined entrance that a beautiful old stone house was deep into restoration; the friendly starter told me it was their clubhouse but had succumbed to mold issues and ¾ of it had been taken down. They expect it to reopen next spring. The temporary pro shop, in a trailer, was in a space no bigger than an average-sized kitchen, but it was well stocked with drinks and snacks.
The golf course played a bit longer than the 6,248 yards listed for the white tees. Although only one par 4 exceeded 400 yards, others played slightly to significantly uphill, leaving me with a relatively high number of fairway wood or hybrid approach shots and justifying a slope rating of 133 against a course rating of 70.1. (Overall par was 72, with the standard array of two par 3s and two par 5s per nine.)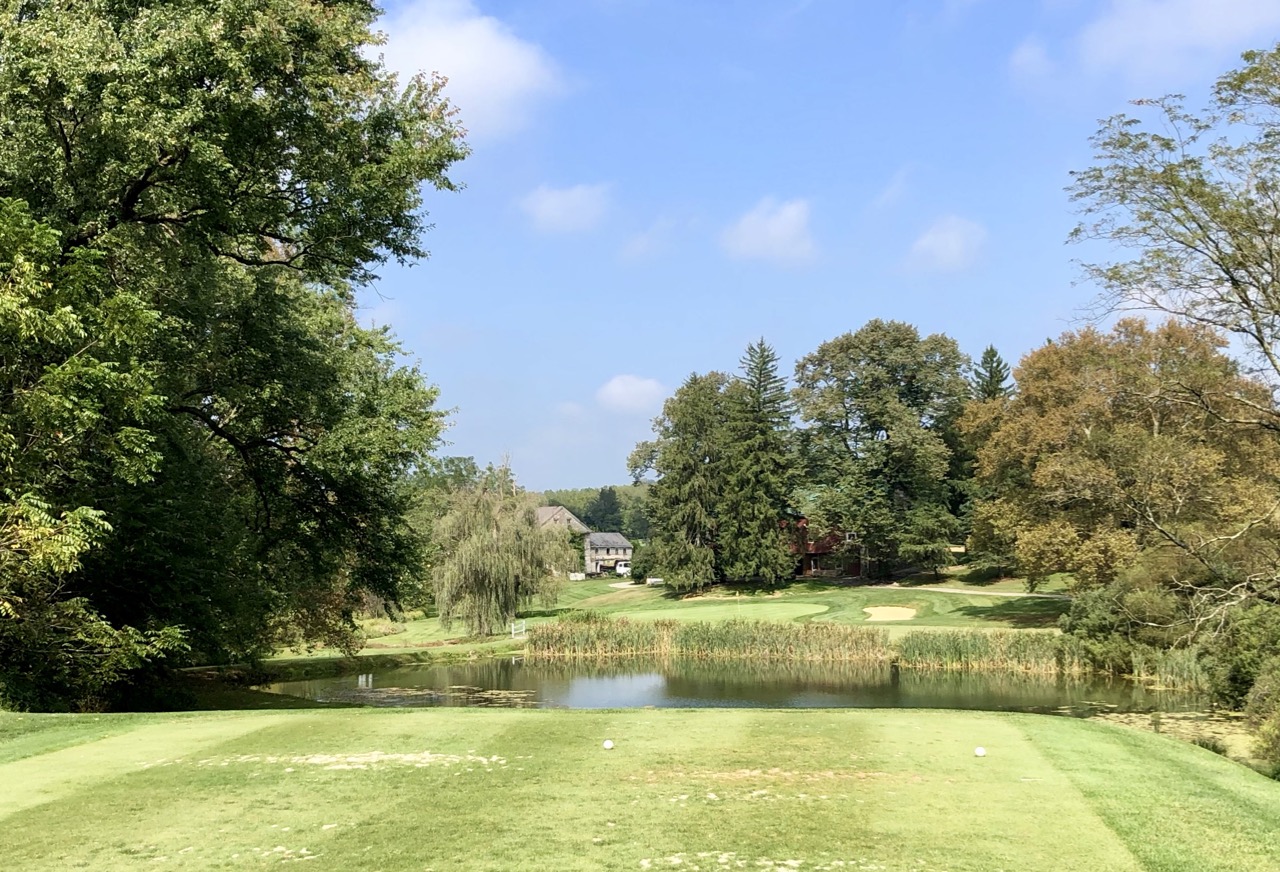 The par 3 15th hole at Berkleigh is the only hole on the course with significant in-play water, although a stream that runs throughout the property puts a few tee shots in jeopardy.
Length notwithstanding, I found the course fair and fun, with a few dogleg par 4s to add diversity to the round, and uniformly interesting par 3s, one over a pond. Water is an element on a few holes where a stream crosses quite close to fairway landing areas. (I rolled into one of them after what I thought was a good drive.) Berkleigh is a course that should probably be played a few times before you will feel comfortable choosing your clubs.
The golf course, which opened in 1926, is credited to Robert White, a Scotsman who was the first President of the Professional Golfer's Association in 1916 and a founder of the American Society of Golf Course Architects. Traveling golfers may know him best for his design of Pine Lakes International, the oldest layout in Myrtle Beach, which was redesigned about 10 years ago. White has his name on some other notable courses, almost all of them in the New England and Middle Atlantic states. Berkleigh is part of the Byler Golf Trail, a collection of five courses located in the same general area of Pennsylvania. One of the trail's courses, Iron Valley Golf Club in Lebanon, a P.B. Dye design, also makes the top 20 list of public facilities in the state.
If you should find yourself in eastern Pennsylvania, not far from Interstate 78, I encourage you to stop at Berkleigh for a four-hour (or less) round at a bargain price. Just make sure to turn off your phone as you head out to play.
Berkleigh Country Club
14623 Kutztown Road (Rt. 222)
Kutztown, PA
(610) 683-8268
https://www.berkleighgolf.com/
Comment
Be the first to comment