Maybe it is a sign of the times, but when I receive good customer service these days -– you know, suppliers doing what suppliers say they are going to do –- I find it extraordinary. That happened on a recent trip to the Dominican Republic when I was stuck at the steaming hot Punta Cana airport waiting for my daughter and her boyfriend to arrive from Toronto on a delayed flight. The young man running the desk for the Amstar shuttle service not only volunteered to send my wife, son and his girlfriend to the resort early, but he loaned me his portable wi-fi unit (without my asking) to amuse myself on my iPhone for a couple of hours and then drove me to the other terminal to meet my daughter's plane, assigning another staff member to wait with me.
My good streak continued today when, within minutes of each other, I heard from the membership director at Crail Golfing Society in Scotland that my clubs had arrived, and then from a staffer at Luggage Forward, the shipper, to tell me the same. Luggage Forward deserves special praise for its efficient process, follow-through and delivering more than it promised. Last Tuesday, I contacted them about sending my clubs to Crail in advance of a week of golf there that begins August 12. The next day I received an envelope with a bag tag and customs forms and, as promised, the following day a DHL employee came to the house to pick up the clubs. I was guaranteed delivery by next Friday, August 11. The clubs arrived today, August 7. Given that kind of service, Luggage Forward will be shipping my clubs in the future when I travel for golf.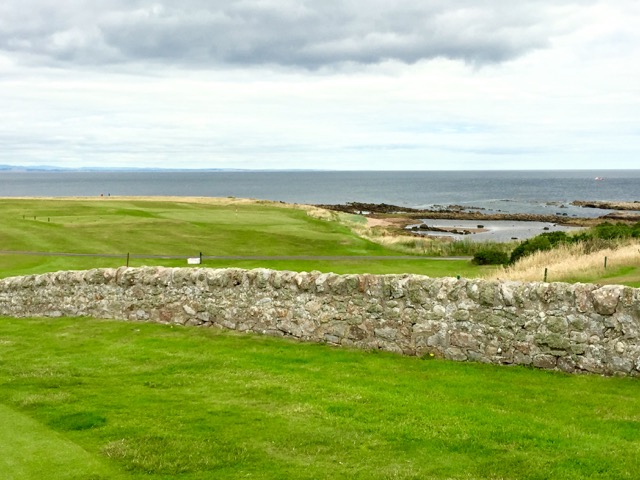 Old stone walls and the North Sea are a constant presence on both 18 hole layouts at the Crail Golfing Society.
It may seem pricey, but the $244 door-to-door shipping charge turned out to be reasonable. These days the airlines charge as much as $75 for a golf bag and because I was going to take a side-trip to London from Edinburgh before returning to drive to Crail, I wasn't going to drag my clubs to London with me. Storage fees at Edinburgh airport for a golf bag are £20 per day, or around $30 time four days. The slight extra cost was worth not dragging my clubs on trains and planes before getting to Crail.
Speaking of the flight to Edinburgh, the discount carrier Norwegian Airlines is now flying from Hartford, CT's Bradley International Airport, just 35 minutes from my home. And to spur folks to use its service, the airline has offered flights to Scotland for as low as $99; I scored one of those but, of course, one checked bag and a meal are $75 extra, and the return flight is around $275. Still, for an overseas flight, that's a bargain. Norwegian is flying from a number of U.S. airports so if you are planning a golf vacation in Scotland, it makes sense to check if Norwegian Airlines has set up shop near you. And check out LuggageForward.com to make life and travel a lot easier on yourself.
Comment
Be the first to comment