There are many ways to skin a cat but really just one way to make a search for a golf community home efficient and successful. Follow these few steps and you are on your way to find a golf home that matches your requirements.
Step One –- More Choices are not Better
Okay, you like the mountains and your spouse likes the coast. Do you really think you are going to resolve that particular issue by looking at golf communities in the western mountains of North Carolina and in Myrtle Beach? Unless you have the budget and the desire to own homes in both geographies, you are going to have to settle on one.
A compromise is necessary to keep your search from taking years. Let's say one spouse doesn't play golf and wants to be near the beach, and the other, who prefers mountains, is an avid golfer, the more courses to play the better. Perhaps the compromise here is to identify a coastal community with a beach a few minutes outside its gates and more than 18 holes of excellent golf within. St. James Plantation in Southport, NC, Landfall in Wilmington, NC, and the Barefoot Resort in Myrtle Beach all come to mind (others too). Or for the ultimate in compromise, where each gives a little, the choice could be a lakeside golf community, like Reynolds Lake Oconee in Georgia, Keowee Key near Clemson, SC, or one of the fine communities along Lake Norman north of Charlotte. One spouse gets the water view and the ability to loll by the lake, and the other gets the golf. And as a bonus, many of these inland golf communities in the Carolinas and Georgia are just a couple of hours from beach and mountains.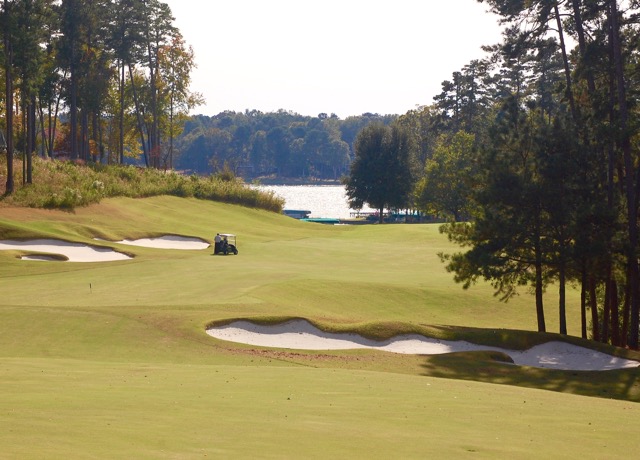 The National Course, one of six at Reynolds Lake Oconee
Step Two –- Target Golf Communities, Not Specific Homes
I have conducted searches in which the clients wanted to see an endless stream of golf community homes that matched their specs rather than the details on the golf communities themselves. This is a classic case of making perfect the enemy of good. The fact is that, except for golf communities with a limited number of properties, most people will find the home they are looking for in any golf community (or at least a home that, with a little cosmetic updating, will match their preferences). If you choose the perfect home in what turns out to be an imperfect (for you) community, you will be miserable. After all, the choice to live amongst other people implies a desire for a social life. Focus on that before you focus on the house you want.
Step Three –- Assessing the Golf Community
Let's say you have found an area that is right for you, and you have narrowed the search down to two local golf communities. At any one moment, a golf community typically has between 8% and 10% of its homes for sale, although inventories have tightened up recently. In a medium to large community, that means 80 to 200 properties on the market. You will have plenty of choices.
Since you have targeted a golf community, the quality and costs of the golf course and club should be a top priority for consideration. You probably wouldn't buy a car without driving the model you wanted; it stands to reason that you should always play your future golf course at least once to ensure it suits your eye and your game. Have lunch or dinner in the clubhouse as well, preferably with a couple of members. Check out the other amenities; okay, you don't have to swim in the pool or walk the treadmill to assess those, but you do want to know that the pool is big enough to handle the crowds and not overrun with screaming children –- unless you like happily noisy children at your pool –- and that the fitness center has the particular machines you like to use -- and enough of them.
If you are down to a choice of two communities and have no clear preference for either one, then consider yourself lucky. You can just start searching for the best home in both of them.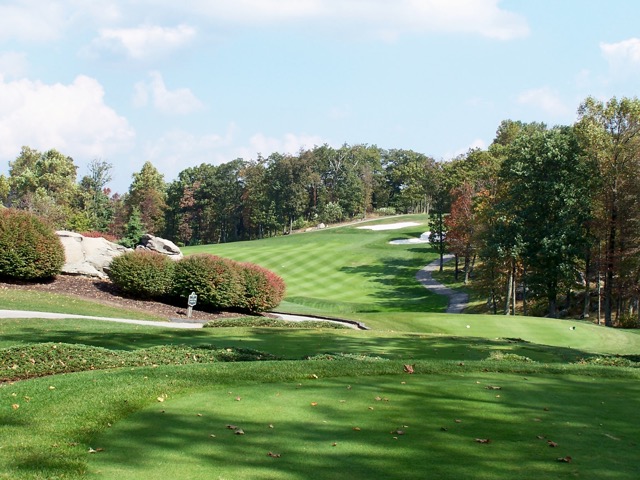 The Cliffs at Glassy is a beautifully conditioned, challenging and fun layout in the mountains of South Carolina, but it may not be to everyone's taste, given its up and down nature. It is a course you should definitely play before considering a membership.
Step Four – Home is Not (Necessarily) Where the Hearth is
That subheading is a bad attempt to communicate that a focus on one small element –- like a fireplace -– can derail an otherwise efficient search for a golf community home. In many locations in the Southeast, especially the warm ones near the coast, such an add-on is unnecessary and, frankly, a little weird. (It is kind of like maintaining an outdoor swimming pool in Alaska.) Some northerners used to a basement in their homes may be surprised and dismayed to find that the soil in many parts of the region does not support an underground room. Focus on that particular element of a home near the coast, and you will be greatly disappointed.
Other elements of a search may limit the choices. Those wishing to be in a defined golf community close to a city will need to concentrate their searches in the Wilmington, Myrtle Beach, Charleston and Savannah areas. These are typically comparably pricier choices than similar golf communities more remotely located. You may need to make some compromises. For example, my wife and I typically like to go to the movies every few weeks, but from our home in Pawleys Island, SC, it is a good 50-minute round trip to the nearest cinemaplex. We don't go to the movies except rarely when we stay in Pawleys, but we do have a Netflix subscription. One compensating factor, though, is that within four miles of our front gate, we have a choice of five supermarkets including a Fresh Market, a worthy competitor of Whole Foods. The warning here is that if you get hung up on one item on your wish list, you may be constrained in terms of choices. Flexibility is key to a successful search.
I've spent 10 years helping couples navigate the many choices in their search for a golf community home. The search can seem complicated, but it really doesn't have to be. Contact me, and I will be happy to help you work through the options -– by the lake, in the mountains or by the shining sea.

Nothing can prepare you for your first attempt at the long par 5 at Rivers Edge, a nice small golf community in Brunswick County, NC. The layup second shot must be long yet not too long to avoid the marsh. And no matter where the third shot originates, it is guaranteed to twist your knickers.
Comment
Be the first to comment