The common notion is that the pace of life in the southern U.S. is slower than elsewhere but, at least in one category, it is the fastest region in the nation. If you want to have a home built quickly, go south.
According to U.S. Census Bureau data and an article in a recent Wall Street Journal, it takes just 5.5 months on average to build a house in the South, compared with an average six months nationwide. Homes in the Northeast take the longest to build, 8.4 months, with the Midwest at 6.7 months and the West at 5.6 months. The averages, it seems, are related to weather; in winter, it is much harder to drive a nail, for example, in sub-freezing conditions than in the more balmy South. But the recession, and the fact construction workers went off and found other jobs, may also have an overhanging effect.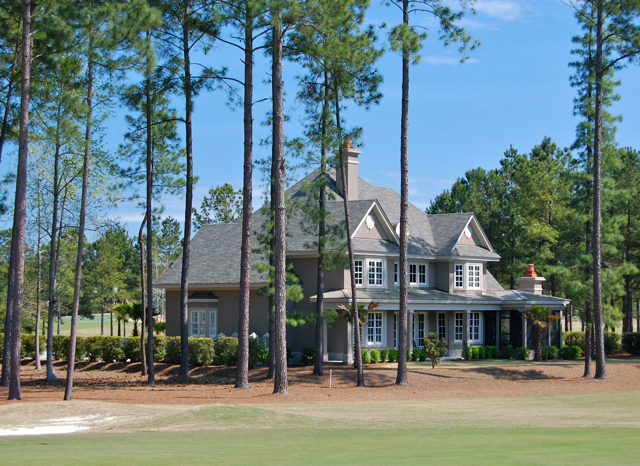 One of the beautiful homes in Berkeley Hall, Bluffton, SC.
Although most of the golf community properties our customers have purchased through the years have been already-built homes, a few who purchased lots have since built homes to their own specifications and are wildly happy with the results – despite what we have all heard about the headaches and financial vagaries of building your own home. One retired couple we worked with decided they wanted to live at Governors Club in Chapel Hill, NC, but figured it was their last chance to design a home to their dream specifications; they bought one of the relatively few lots remaining in that established golf community, rented a home for nine months, and supervised the construction of their new golf home. (It took more than the average 5.5 months, but the rock outcroppings in Governors Club are a blessing for the eye but a curse for builders.) Our couple was ecstatic with the results.
Another couple scored one of the great bargains a few years ago at the Bluffton golf community Berkeley Hall, beautifully landscaped and with two Tom Fazio golf courses just off Hilton Head Island. For just $45,000, they bought a beautiful golf home site about 200 yards beyond the tee box on a par 5 hole that gives them a 300 yard view over an adjacent pond and down the fairway. Because they spent relatively little on the lot, they were able to add some extra finishing touches to their home.
Believe it or not, there are still a number of lots in otherwise high-end South Carolina golf communities priced as low as $1. We'll explain where they are and why they are priced so low in our next article.
Comment
Be the first to comment