Big jumps for Currahee, Spring Island,
Cliffs at Keowee Vineyard and Daniel Island
It was a very good year for golf courses in communities we follow closely. A total of 35 golf community courses made Golfweek magazine's Top 100 Residential Golf Courses for 2014. Wade Hampton, the exclusive club near Cashiers, NC, weighed in at number one overall. Another Cashiers area golf community layout, Tom Fazio's Mountaintop course, came in at an impressive 12th position.
We were pleased to see that Cuscowilla, the Coore & Crenshaw understated design achievement in Eatonton, GA, just crept into the top 20. If you like classic designs on a walkable layout, you'll love Cuscowilla. Better yet, if you are in the market for a golf home, you can pair a trip to Cuscowilla with a stop at Reynolds Plantation, where its Nicklaus-designed Great Waters course on Lake Oconee holds down the 71st position on Golfweek's elite list, a whopping improvement of 21 places since the 2012 list was published. Reynolds, which boasts six excellent layouts, is now two years into ownership by MetLife, and we look for additional improvements as the months roll on. (Click here for golf homes currently for sale at Reynolds Plantation.)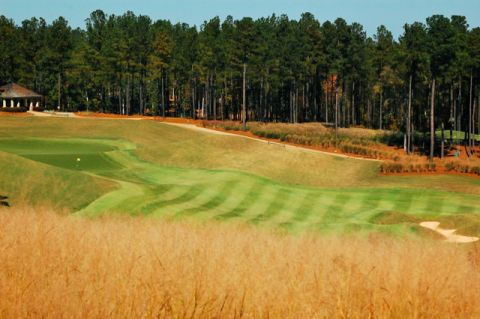 Jim Engh's Creek Club course at Reynolds Plantation might have missed the top 100 list because it isn't walker friendly and it is easier than it looks.
We were a little surprised, though, that Jim Engh's iconic Creek Club layout at Reynolds did not make the top 100 list. The unusual, somewhat odd layout is beautifully sculpted with distinctive red-tinged bunkers and meandering streams throughout and, according to the golf pro there, is way easier than it appears. Mindful that Golfweek puts a strong emphasis on shot-making challenges, the fact that most sloping at Creek Club tilts toward the holes, even on a few funneled greens, could explain Creek Club's absence from the list.
On the other hand, the best and toughest course we played in 2013, Currahee Club in Toccoa, GA, established itself at position 42 in the rankings, up a robust 20 spots from the 2012 listing. I am still thinking about a few of George Fazio's holes on the course -– he's Tom's brother – not least of them the par 3 17th, with a long, all-carry tee shot over a water-filled chasm. A Southern Living Showcase home sits a few yards from the back tee on this hole, offering its future owners not only a beautiful view, but also a bit of schadenfreude as they watch players push their luck for a go at the green. For current Currahee golf home listings click here.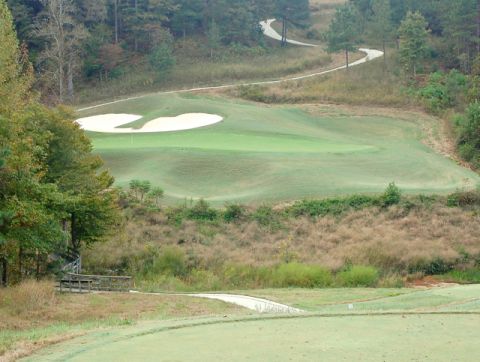 The shot over the chasm on the par 3 17th at Currahee was one of our most intimidating shots of the year.
Just behind Currahee on the list, at #43, is Spring Island's Old Tabby Links in Okatie, which is midway between Bluffton and the charming city of Beaufort. I played Old Tabby, which has an Arnold Palmer Design credit but was actually laid out by Arnie's late partner, Ed Seay, before its recent renovations and put it in my top three in South Carolina, along with The Ocean Course at Kiawah and two or three others that are tied for third. Those I know who have played it recently raved about the changes, and it is on my list for a re-visit next spring.
The Cliffs at Keowee Vineyard finished just one spot outside the top 50, but as the best of the lavishly tended Cliffs Communities' seven courses, I would have been hard pressed to deny it its due. Tom Fazio fashioned a layout that uses the adjoining Lake Keowee and its craggy coves as both hazard and eye candy. There is no more memorable par 3 in the state of South Carolina than the long 17th, 260 yards from the elevated back tees; no matter what tees you are playing, no golfer able to get a tee shot airborne will resist the temptation to have a go from the tips at the 17th. It is a view you won't soon forget (and if you make par, you won't forget that either).
If you have played a better par 3 than #17 at the Cliffs at Keowee Vineyard, please send a photo.
Brier's Creek on John's Island, just 10 minutes from downtown Charleston, solidified its spot on the list with its second straight top 70 ranking. Surrounded by a small community of high-end home sites and a relatively few homes, the Rees Jones layout is rarely in view of any current or future houses, no doubt an aspect of the course the Golfweek raters liked. We liked the typical Low Country feel of the layout which is surrounded by marsh and live oaks, some of them growing up from the edges of the marsh and providing tricky approach shots to greens (and layups on par 5s).
The fastest greens I've played in the last 10 years were at Jack Nicklaus' Colleton River course in Bluffton, SC. At the post-round lunch with the South Carolina Golf Rating Panel, the course superintendent explained that he had them rolling at over 13 on the stimpmeter, a speed that would cause PGA pros to complain. We loved it and the rest of the golf course as well. The ranking of #84 on the 2014 Golfweek list is more than deserved. A list of Colleton River golf homes for sale can be found by clicking here.
The Daniel Island Ralston Creek course, which hosts an annual October event on the Web.com Tour, is an enjoyable Rees Jones layout that combines the best aspects of the challenge a pro golfer requires and a course that a resident member can enjoy a few days each week. Ralston Creek and Daniel Island's other course, Tom Fazio's Beresford Creek, are as refined a tandem as you will find under one club membership. For current Daniel Island golf homes for sale, click here.
The Golfweek list is fair but seems to tilt toward flatter, more walkable layouts, and those farthest from adjacent housing, conditions that may have cost Champion Hills in Hendersonville, NC, its rightful spot (although Tom Fazio has no complaints since he shows up on the list way more than any other designer). But Champion Hills was redone a few years ago and later was ranked in the top 5 by the state golf-rating panel. You would think that was enough to earn the course a spot near the back end of the top 100 list.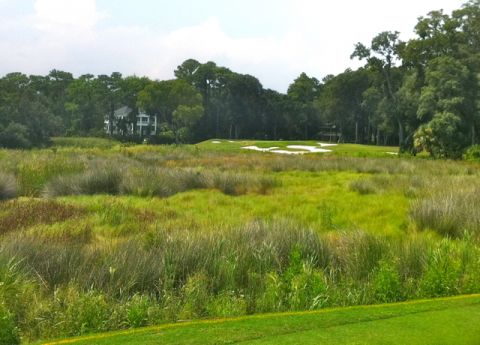 We wonder how Haig Point's Harbour Town like layout missed the raters' attention.
Rees Jones' layout at Haig Point, the community reached only by ferry (and helicopter, if you have one) is often described as every bit as challenging and scenic as Harbour Town, across the Calibogue Sound on Hilton Head. Almost, in our opinion, and that should be good enough to make the Golfweek list. The fine Pete Dye course at Ford Plantation, just south of Savannah, could also lay claim to Golfweek's list. Missing a few of the typical Dye touches like railroad ties and pothole bunkers, we thought this was among the designer's best efforts at letting the links-like land adjacent to the Oconee River speak for itself. The prevailing winds across the marsh and river can speak volumes and add another element of challenge to the experience.
We haven't read the fine print on what constitutes a "golf community" for Golfweek, but we think a golf club surrounded by housing certainly meets the definition. And if that is the case, perhaps the biggest miss on the Golfweek list is the Chanticleer layout at Greenville (SC) Country Club. There is no more finely sculpted or conditioned golf course in the golf rich state of South Carolina, and I would rank Chanticleer as fine a layout as some of the courses I have played that rank between 50 and 100 (and better than at least two of them). If you ever have a chance to play the private Chanticleer, jump at it. Better yet, check out current golf homes for sale around Greenville Country Club inside a city with great services and entertainment options and a reasonably priced club membership that includes not only Chanticleer, but also the recently renovated Riverside Course, which some raters say evokes a Seth Raynor layout. If there were a ranking for golf community clubs with two courses, Greenville Country Club would surely make that list.
You can access the Golfweek Top 100 Residential Golf Course list by clicking here.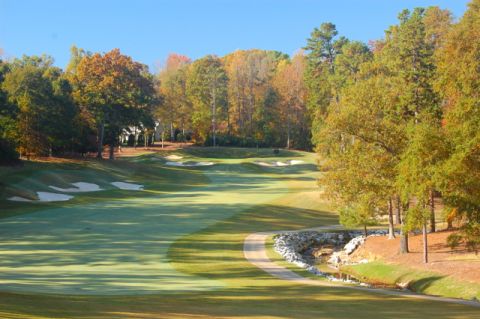 The exclusion of Greenville Country Club's Chanticleer course was the only clear miss for us in Golfweek's Top 100 ranking.
Comment
Be the first to comment