For retirees who don't mind giving up some of the conveniences of nearby urban life in exchange for a quiet, golf community centered life, we found a few gems as October turned to November and we made our final southern swing of the year. Outside Greenwood, SC, which is a sizable town with some good restaurants and all the services a couple should need, the Grand Harbor Golf & Yacht Club community is gaining
The May River Golf Club at Palmetto Bluff was the best golf course we played in 2012.
a following, given its reasonably priced real estate, vibrant lake activities, unique golf course and new ownership (Challenge Golf Group). The word ""unique" is thrown around loosely by many, but how many golf courses sport Revolutionary War ruins beside multiple holes? Designer Davis Love took advantage of local history and commissioned the structures that give golfers something to contemplate, beside their golf shots and what a good buy they got on their homes.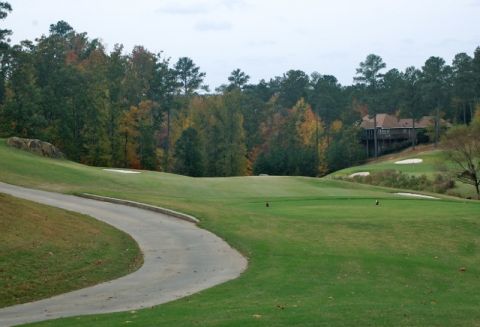 The par 4 2nd hole on the Monticello course at Savannah Lakes features the sloping, bunkers, water hazard and rock outcroppings that characterize the rest of the attractive layout.
        At Savannah Lakes, which sounds like it should be in Georgia but is actually in rural McCormick, SC, we found some of the most reasonably priced real estate anywhere, and two golf courses that will satisfy all but the most picky single-digit players. Lake Thurmond, named for the iconic late South Carolina senator, snakes its way through Savannah Lakes providing finger-shaped coves that are exquisite sites for lots and homes whose prices might surprise those dreaming of a water view. If you would like more information on Savannah Lakes, please contact me.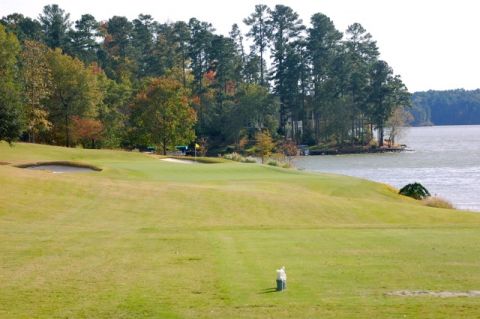 Lake Oconee comes into play on the par 3 4th on Tom Fazio's Bluff nine on The National at Reynolds Plantation.
        We had put off for way too long a visit to Reynolds Plantation, whose lush roster of amenities, including 6 ½ well-regarded golf courses and on-site Ritz Carlton resort, had always intrigued us. Frankly, we are glad we waited until after the shakeout at Reynolds, with the original developers succumbing to the toxic combination of over-spending and the recession, and white knight MetLife riding into bankruptcy court with the resources and promise to make things right. Things do seem right at Reynolds, the golf courses in splendid condition, the Creek Club (most private of the bunch) as great looking a layout as we have seen in years, and the entire community abuzz with renewed vigor (nothing like a deep-pocketed owner to restore vitality). And with a large supermarket just outside the gates, along with many doctors' offices, restaurants, an eight-screen Cineplex and a new hospital under construction, the town of Greensboro may be remote (90 minutes from Atlanta) but it doesn't lack for services. Jere Mills, the longtime real estate professional at Reynolds, features a number of golf homes for sale at Reynolds at GolfHomesListed.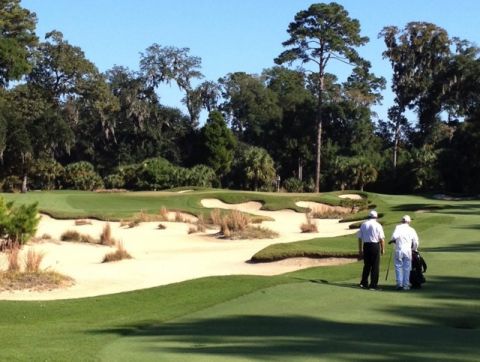 Knowledgeable caddies added to the experience of the best golf course we played in 2012, May River at Palmetto Bluff in Bluffton, SC.
        We could not have asked for a better tandem of courses to wind up our year in November than Haig Point and May River. This was our fourth visit to Haig Point, the unique Daufuskie Island golf community reached only by the community's ferry service. For those intrepid vacation and year round home seekers willing to trade daily access to life's ordinary conveniences for the romance of pure island living, Haig Point is a perfect choice. The 29 holes of Rees Jones golf was already good, but a recent rehab has made them even better and, in the opinion of some of my fellow SC Golf Rating panel members, put them in a class with Hilton Head's iconic Harbour Town links. Tom Jackson, our real estate professional in the area, owns property on Daufuskie Island and would be pleased to explain why. Contact us for a referral to Tom.
        Haig Point would have been a perfect capper to the year, but the following day, the SC Panel headed back to the mainland to play Jack Nicklaus' May River Golf Club in Bluffton, consistently ranked in the state's top 5. Playing the course with knowledgeable caddies who understood the subtle breaks on May River's impeccable greens only enhanced the experience. A driver to eight feet on the par 3 17th and a solidly stroked putt for birdie was your editor's best-played hole on the best course he played in 2012. The real estate in the surrounding Palmetto Bluff golf community is at the high end, but membership at May River is an expense some will want to bear after they have played it. One way to gain access is to book a night at the Palmetto Bluff Inn, one the best hotels in the nation. (Please contact us if you would like Tom Jackson to provide you with more information about Palmetto Bluff.)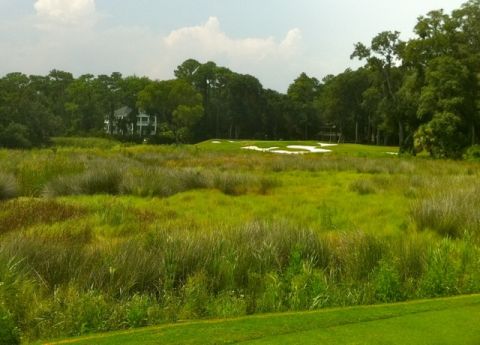 A recent renovation only improved the layout at Haig Point on Daufuskie Island.  The long par 3 15th is only one of the courses challenging one-shotters.
        The housing market also ended 2012 on a high note. All the latest reports from inside and outside the industry are positive. The real estate professionals we work with are reporting a heavier flow of customers than in any year since well before the recession. Prices have bottomed out in most high quality golf communities and are starting to inch up. If our politicians don't work their negative magic on the economy, the last piece of the puzzle -– companies hiring and relocating workers who then can purchase our primary homes at fair market prices and give us the resources to finally move south –- will fall into place. This coming year could be a big one for the leisure residential market in the southern U.S., and also for those who take advantage of the shrinking number of bargains that remain.
        Please contact me if I can assist you in thinking through the process of searching for your golf community home.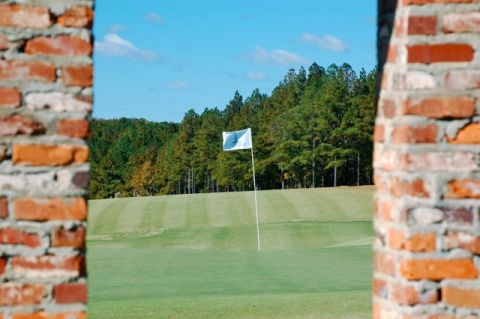 The golf course at Grand Harbor on Lake Greenwood is "revolutionary," with its mimic of ruins from a nearby battle during the War of Independence.
Comment
Be the first to comment