There is a silly little argument going on in the pages of New England Golf Monthly (NEGM), a publication where your editor once penned a column about golf community living. Typically, NEGM editorial material would be of little relevance to this blog, but in the magazine's "Gorman vs Geary" point/counterpoint section in the July issue, columnists Tom Gorman and Tim Geary go at it over the issue of the future of private golf clubs. The question for the two this month is, "Are private clubs becoming an endangered species?" Their discussion smells like class warfare, and the sniping sounds as angry as a Presidential campaign.  You can read the columnists' diatribes for yourself, but if you prefer the Cliffs notes version, here it is:
Gorman argument: The middle class is eroding and many can no longer afford membership. In addition, cliques and other stuffed shirts make for
"Do you belong here?"  "No, but I'm a member."
an uncomfortable atmosphere for new members. Competition among private golf clubs is driving down joining fees, a sure sign of trouble. The following joke Gorman offers as apocryphal: "The first guy says, 'Do you belong here?' and the second replies, 'No, but I'm a member.'" And, oh by the way, Tim Geary has a "fabled fat mouth."
Geary argument: No private clubs in New England have filed for bankruptcy (he is wrong about that; one near my home town of Avon, CT, did earlier this year and a golf professional commenting at the NEGM site references two clubs in the New Haven area that were forced to go public because of financial issues). Established golf clubs in Rhode Island, Geary maintains, are not even close to insolvency. The writer knows this, he says, because he asked them. (How many private businesses feel the need to share their financial problems, especially with a journalist?) And, by the way, Tom Gorman, who "belongs to two private clubs," has to lift up his desk to retrieve a dictionary to look up the words "erroneous" and "discern."  Personal invective as debate technique.  Classy.
        I thought at any moment, I might read the famous Saturday Night Live words "Tom (or Tim), you ignorant slut!" In any debate between opposites, it is hard to reject both arguments but, in this case, we will try. Yes, the middle class has suffered a hit, and this is a group fundamental to the sustainability of many private clubs. On the other hand, the uber-wealthy are not like the rest of us, as F. Scott Fitzgerald once said; they can continue their club dues payments during a recession. (F. Scott did not say that.) But to imply that cliques and stuffed shirts are driving people away from most clubs is to conclude that the Judge Elihu Smails (played by Ted Knight) in "Caddyshack" was representative.  Of cartoon golf, perhaps, but not of any private golf clubs we know.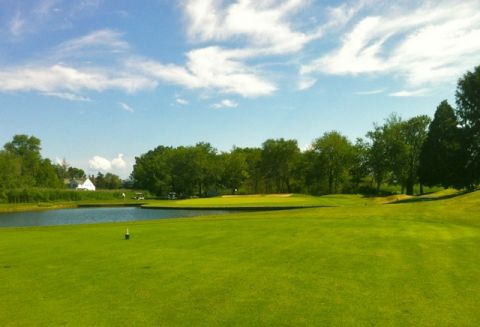 Part of the cost of a golf outing the editor took part in at the private Madison Country Club in Madison, CT, was a chance at a round for one foursome at the golf course.  As private clubs fight to remain competitive, such giveaways can be more about marketing than about largesse.  And if the Madison membership, for example, was truly snooty, then they would not permit prizes that invited outsiders.
        Geary's argument, of course, is buttressed by assumptions masquerading –- and not too well –- as facts. He should do a Google search on the terms "golf courses for sale" and he would see the carnage wrought by the recession on both public and private golf clubs. I guess he does not venture on to our site where we have discussed The Cliffs Communities bankruptcy and Reynolds Plantation bankruptcy, both as a consequence of the recession and their own developers' questionable risk management practices.
        I've been lucky this summer to play a number of private clubs in Connecticut, and they show every sign of being hungry for new members. Except at the snootiest clubs, vestiges of stuffiness have melted away as the reality of the marketplace has imposed a greater democracy on club memberships. Beggars can't be choosers and, make no mistake about it, some clubs are begging for members and choosing to be way more welcoming. This is a great time to be a buyer, of club memberships as well as of golf homes in private communities.
Comment
Be the first to comment